New sustainable composite material sculpture highlights importance of peatland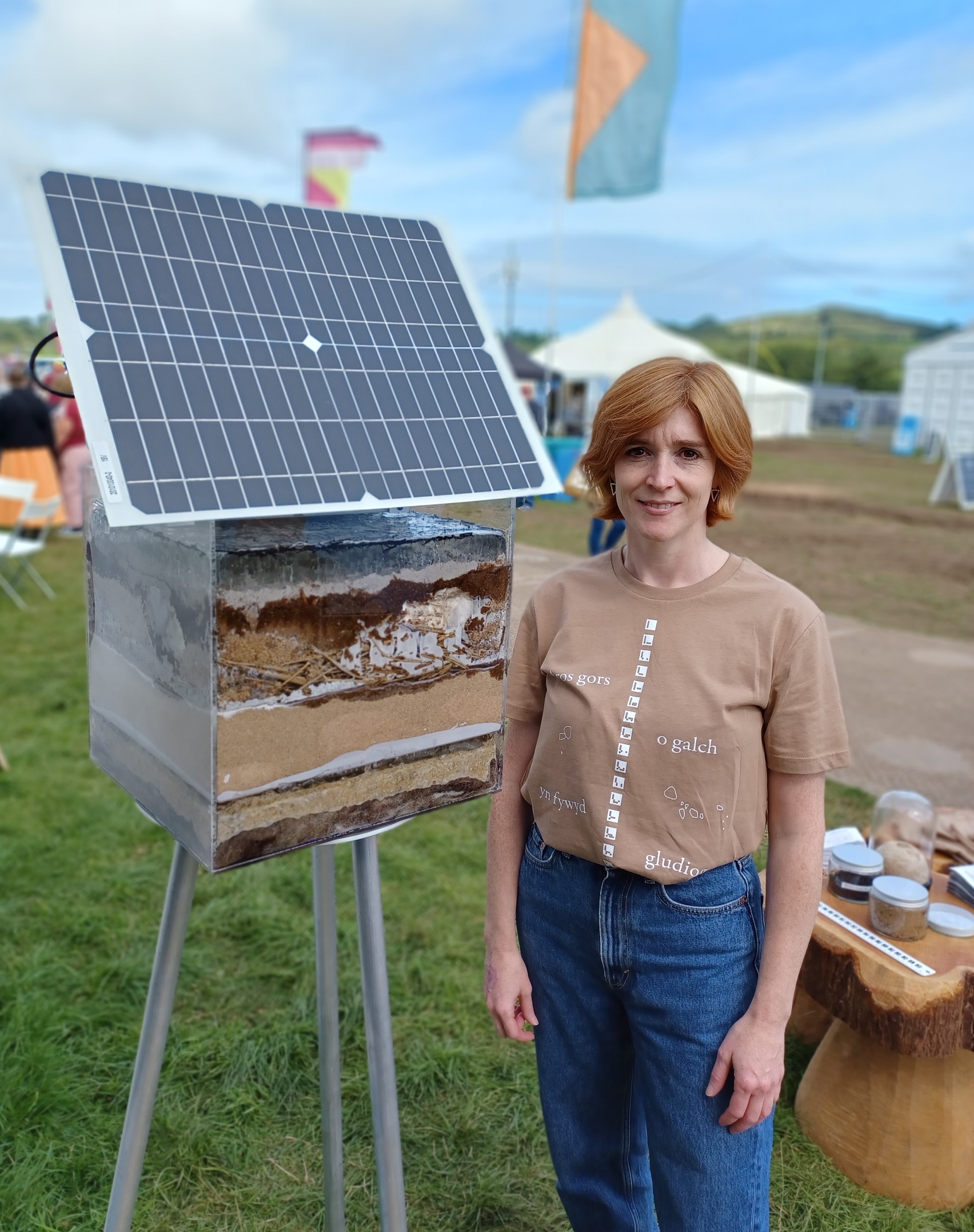 A sculpture highlighting the need to care for our natural environment has been unveiled at the Llŷn ac Eifionydd National Eisteddfod.
The sculpture is made from new composite materials, including waste grasses from Cors Erddreiniog National Nature Reserve and mussel shells from the Menai Strait, which North Wales artist Manon Awst developed with Bangor University's Biocomposites Centre.
The work, supported through Arts Council Wales is entitled 'Sticky Sculptures' and explores the unique materiality of peatlands.
Manon, who was brought up on Anglesey and exhibits her work internationally, has been undertaking site-specific research at the Anglesey Fens and Llŷn Fens Special Areas of Conservation with experts from Natural Resources Wales' National Peatland Action Programme, the strategic programme for peatland restoration in Wales.
Wales' peatland stores 30% of land-based carbon despite only covering around 4% of the country. It is estimated 90% of Welsh peatlands are in a deteriorating condition, emitting greenhouse gasses that contribute to climate change, meaning restoration work is vital.
Manon, who is studying for a PhD at Bangor University and works as a Public Spaces Creative Coordinator at the University's Pontio Arts and Innovation Centre, said: "This project is a milestone for me as an artist as it has given me the opportunity to develop new, sustainable sculptural materials.
"I have expanded my practice through collaboration with scientists and experts in the ecological field, and I am excited to further this line of research so art can influence the discussions around the future landscape in Wales.
"The composite includes waste grasses from Cors Erddreiniog, pulped and transformed into biochar, ground mussel shells and alginate derived from seaweed. These have been cast into multiple experimental layers as I've searched for the right mix.
"I'm thrilled to have been able to show my work at the National Eisteddfod and I hope we can engage diverse audiences and raise awareness of the importance of peatlands, not just in Wales but globally."
The sculpture, which is a prototype for a piece that will be placed at the Anglesey Fens later this year, was unveiled at the Natural Resources Wales stand at the National Eisteddfod on Monday, August 7 by NRW's Chief Executive, Clare Pillman.
The Anglesey Fens and Llŷn Fens Special Areas of Conservation combined are the most significant and extensive concentration of rich fen habitat in Wales and western Britain.
Combining NRW's peatland and biodiversity expertise, and collaborating through strong external partnerships, projects such as this are contributing to Wales Peatland Action's aim to restore functioning ecosystems which in turn safeguard and sequester carbon and re-establish biodiversity.
Restoring functioning peatland can also mitigate other impacts of climate change such as flooding and fire risk.
At the launch Mannon Lewis, who heads the Peatland Programme for NRW, said: "Innovative collaboration, like this with Manon Awst, contributes greatly to the wider public awareness of the benefits of peatland and its restoration. It's been a delight to see how this talented artist has used her creativity to engage with communities, scientists, land managers, and the general public through her peaty art and poetry."