New map casts light on Wales' dark skies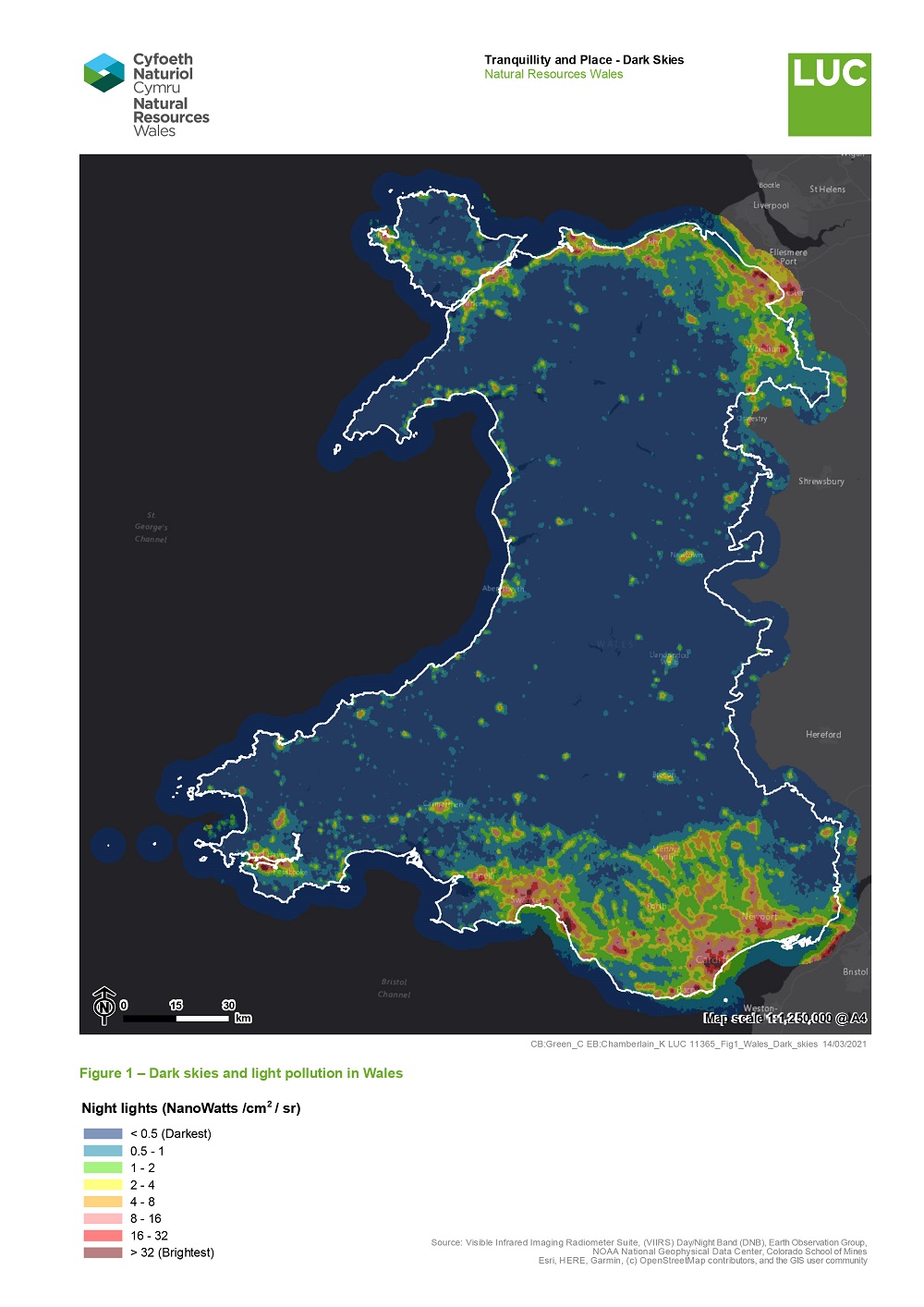 A new dark skies map has shown that Wales is doing well in tackling light pollution.
Natural Resources Wales (NRW) commissioned Land Use Consultants to create the web-based map Dark Skies and Light Pollution in Wales using satellite imagery of Wales taken at 1:30am.
It revealed more than 68 per cent of the country and 95 per cent of our National Parks and Areas of Outstanding National Beauty fall within the two darkest night sky categories. There are also indications that the amount of light emitted in cities appear to be decreasing too. 
The dark sky and light pollution map can be used to highlight dark skies as an important resource and as an evidence base for potential new dark sky reserves in Wales. 
It can also be used to promote the benefits of dark sky friendly lighting and positively encourage the consideration of light pollution in planning applications and the design of post Covid 19 green recovery developments. 
The map also provides evidence for management plans, green infrastructure assessments and well-being assessments which can help identify where reducing night light pollution could be particularly beneficial to wildlife and nature networks.
Jill Bullen, Landscapes Lead Specialist Advisor for NRW, said:
"Dark skies can affect our experience of nature, landscapes and green spaces and can benefit our health and well-being and local wildlife.
"Although dark skies are most often experienced in remote and rural landscapes, our experience of the night sky can be enhanced in towns and settlements by reducing light pollution and using dark sky friendly lighting.
"Lighting kept on for longer than it is needed or units that spill light upwards, rather than to where it is most needed, contribute to sky glow, light intrusion and add to light pollution.
"Many local authorities now have energy saving policies in place that affect lighting and contribute to a lower carbon future.
"Some lights are being dimmed, part night lit or switched off through the night where it is possible and safe to do so, upgrades that include shielding to point light downwards can help to maintain dark skies in Wales."
The web-based map of Dark Skies and Light Pollution in Wales enables anyone to have a look at levels of light radiance in their area of interest.
You can view the Dark Skies and Light Pollution in Wales here: https://luc.maps.arcgis.com/apps/opsdashboard/index.html#/1cd6ba8a1d7d4a62aff635cfcbaf4aec
Next week (5 April to 12 April) is International Dark Skies Week, find out more at https://www.darksky.org/international-dark-sky-week-2021-save-the-date/
The International Dark-Sky Association works to protect the night skies for present and future generations, their website has ideas and advice on what you can do to make a local difference and find dark sky places to visit https://www.darksky.org