More sea defence works at Fairbourne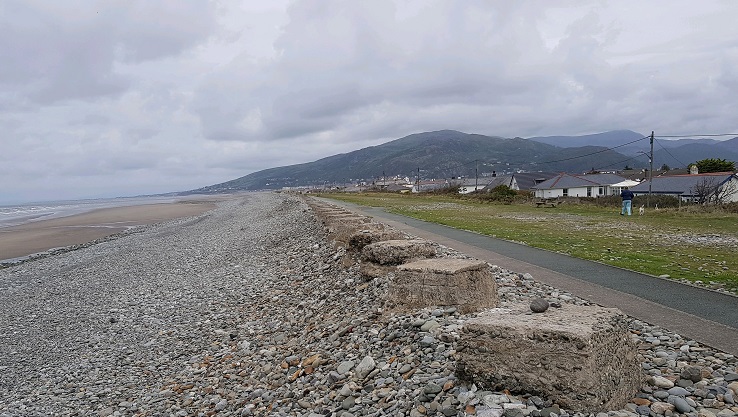 More work starts next week (13 July 2020) to help protect sea defences for a coastal village in North Wales.
Contractors for Natural Resources Wales (NRW) will move 20,000 tonnes of shingle on Fairbourne beach to fill in an eroded area in front of the village.
The shingle bank is the initial breakwater from the tide. It protects the concrete wall which is Fairbourne's sea defence.
The work will take around six weeks to complete, depending on the weather, and will be undertaken by McCarthy's Contractors Ltd in a way that adheres to the Government's current guidelines on social distancing.
An excavator and dumper truck will collect and move the shingle one kilometer down the beach, from where there are large deposits, to where it is needed.
The work will be done in a way that minimises the impact on the internationally important natural features of the Pen Llyn a'r Sarnau Special Area of Conservation.
With advice from CADW, care wil be taken not to impact the Second World War tank traps on the beach.
Dylan Williams, NRW Operations Manager in North West Wales said: "Defending Fairbourne is a challenge - we work against nature to try to reduce the risks at a time when the climate is changing and sea levels are rising.
"We are committed to maintaining and monitoring the flood defence in the short and medium term to reduce the risk of flooding for the people of Fairbourne.
"Replenishing the shingle following the winter storms is part of this ongoing commitment.
"We will continue to monitor how the sea defence performs as part of our ongoing maintenance programme.
"We are very grateful to the local community for their support and cooperation."
Anyone concerned about flooding can check their flood risk and register for free flood warnings by calling Floodline on 0345 988 1188 or by visiting www.naturalresources.wales/flooding.
NRW works in partnership with Cyngor Gwynedd and the community through the Fairbourne Moving Forward Project Board.