Mobi-Mat installed to provide flexible solution to beach access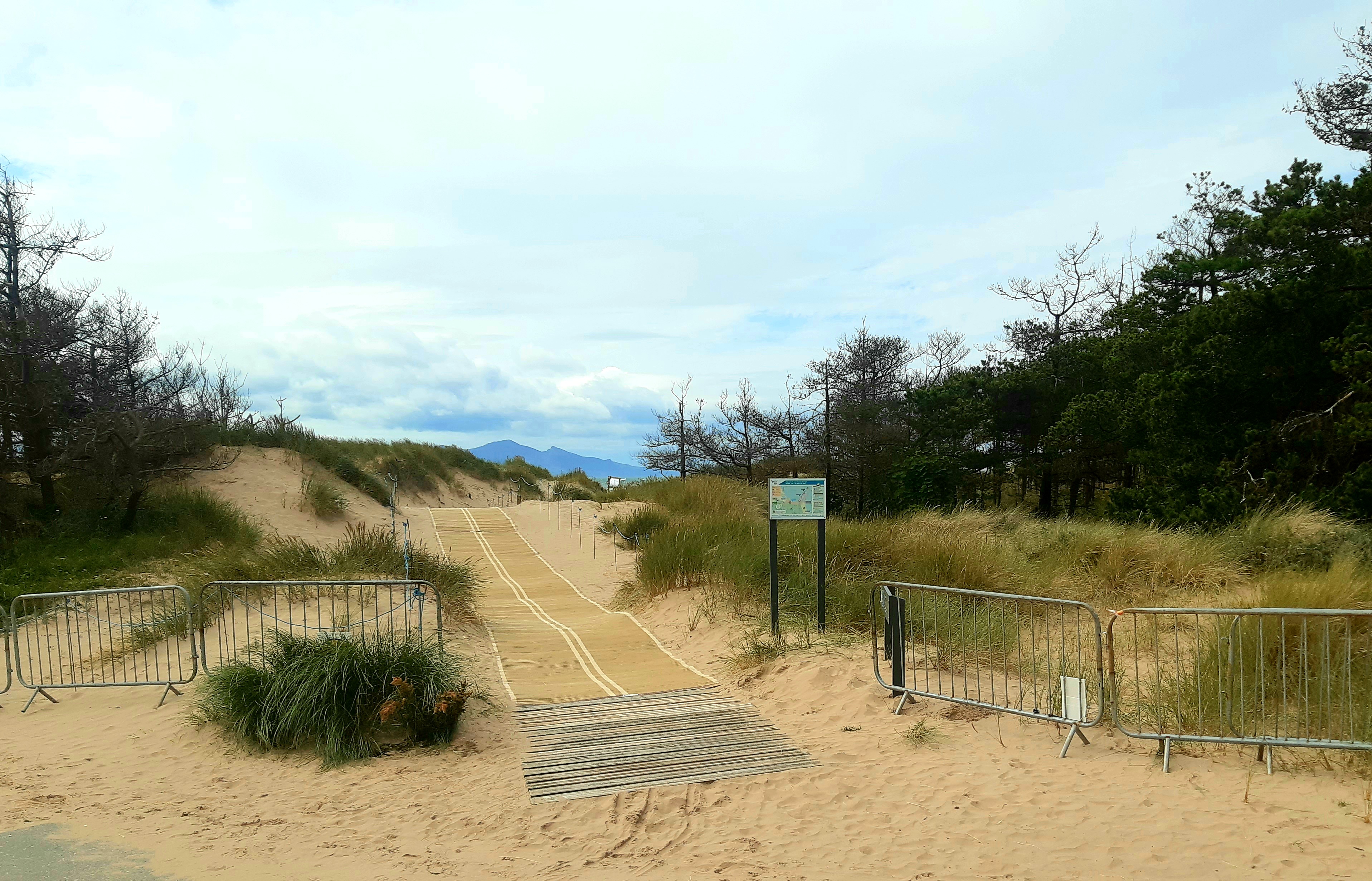 Access onto an Anglesey beach has been improved for visitors using mobility aids.
Natural Resources Wales (NRW) has installed a moveable Mobi-Mat, made from recycled plastic, to improve beach access at Newborough National Nature Reserve and Forest.
The mat was installed on July 28 and is located in an area where the current dune structure provides level access to the beach and is suitable for wheelchairs.
NRW will also be working with Isle of Anglesey County Council's Countryside and Area of Outstanding Natural Beauty Unit to provide beach wheelchairs which will allow access down to the sea.
The mat will protect the current access route from unnatural erosion from footfall and can also be repositioned, if required, due to natural dune processes.
The frontal dune structure will be protected from erosion by using a sand ladder that can also be repositioned to accommodate natural processes.
John Taylor, NRW's Recreation Team Leader, North West Wales, said:
"The dunes are part of a dynamic and shifting landscape which makes beach access difficult.

"We are committed to providing the least restrictive access to Traeth Llanddwyn while at the same time respecting the natural processes of the dune system that supports so many important species such as the vernal mining bee. 

"We believe the Mobi-Mat will provide an accessible and flexible solution for this summer season.

"Due to the changing landscape, we do not expect this to be the only solution, or a permanent solution, to beach access and we will be monitoring how successful it is this summer.

"As the Mobi-Mat is reusable we feel this is a good temporary solution while NRW looks at beach access as part of its developing Newborough People Plan."
The Mobi-Mat has been installed around 50 metres from the existing boardwalk entrance along the resident's road.
Newborough is a site of international biodiversity significance and home to some of Wales' most precious habitats supporting a range of rare orchids, amphibians, reptiles and invertebrates and attracts around 500,000 visitors a year.