Llyn Tegid reservoir safety works reach the halfway mark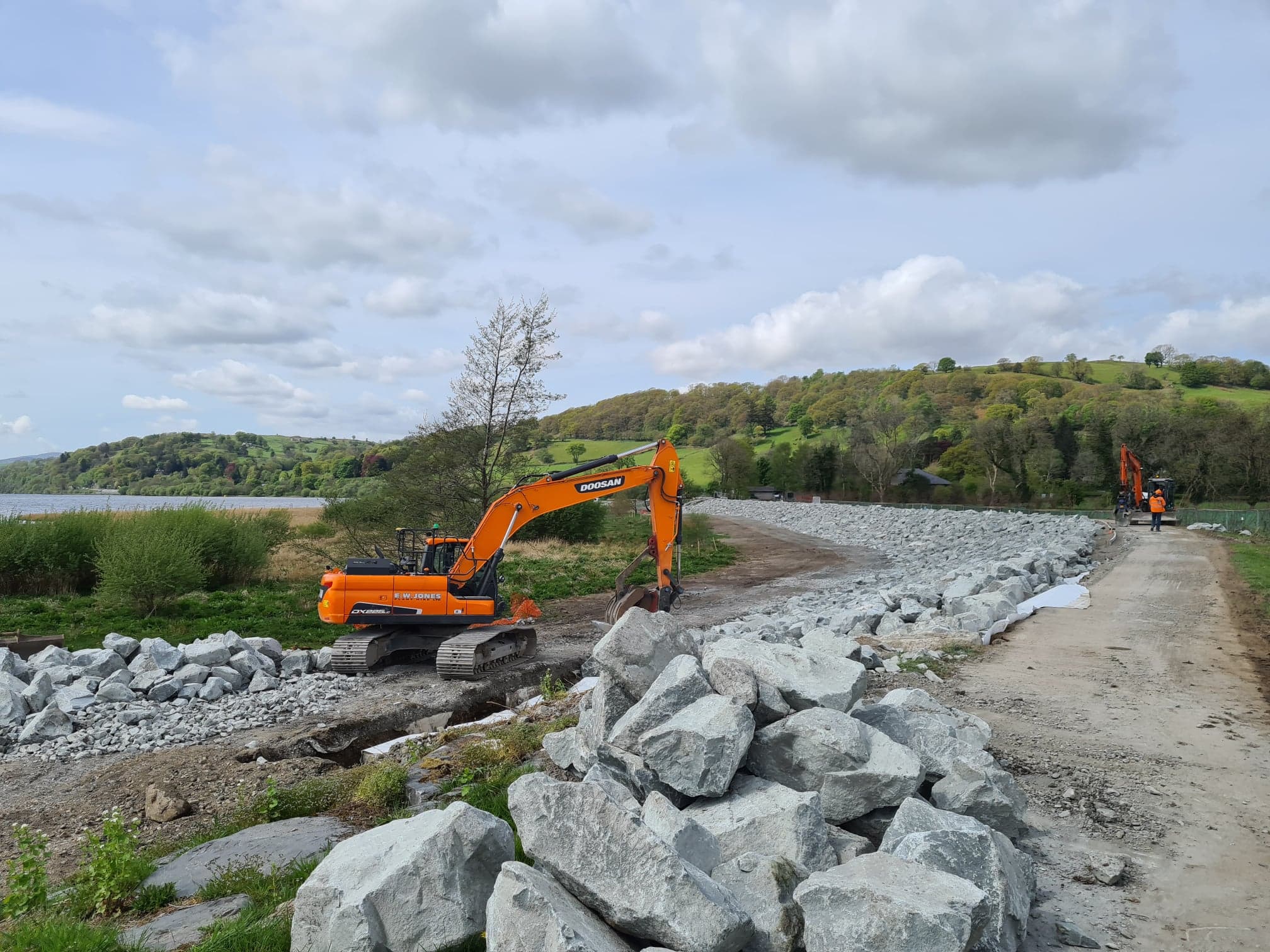 Natural Resources Wales (NRW) has reached the half-way mark in work to ensure Wales' largest natural lake remains safe in the long-term.
The work, which started in January 2022, will ensure Llyn Tegid in Bala can continue to withstand extreme weather events now and in the future, while also bringing environmental and recreational enhancements to the area.
These include better footpaths for people of all abilities, new seating areas, restored habitats, new areas of wildflower meadows and resources for environmental education.
Work to strengthen the lake's embankments and replace more than 1km of stone protection is taking place alongside facilitation works to accommodate possible future expansion of Bala Lake Railway.
The strengthening work has involved the removal of 300 self-seeded trees which were weakening the lakeshore embankment and the first phase of tree planting has already begun as part of our commitment to plant three trees locally for every tree we have had to remove.
The work is being undertaken by contractors William Hughes Civil Engineering and by landscape contractor Ground Control, with the works continuing throughout the remainder of 2022.
Footpath closures will remain in place throughout the summer in order to keep the public safe.
This includes the lakeshore embankment footpath between the lake wardens office and Bala rugby club, and the Dee embankment footpath from Dee bridge to the industrial estate.
Local footpath diversions are in place and have been signposted for those visiting the area.
Our compound is located along Tegid Street where three-way traffic lights will be in place seven days a week and there will be no access to some of the benches along the lake frontage.
Areas around the lake that have already re-opened include the upgraded area around Penllyn Leisure Centre and Woody's Cafe and an improved footpath for all abilities along Afon Tryweryn.
Martin Cox, Head of North West Wales Operations for Natural Resources Wales, said:
"The lake's embankments give vital protection from flooding to the town of Bala and we have a responsibility to make sure the town remains safe.
"Local people have fed into our project planning over the last few years and their input, especially about environmental and recreation opportunities, is being implemented alongside the reservoir safety works.
"We are continuing to update the community regularly about our progress and are undertaking these essential works as efficiently as possible while ensuring we keep the public safe and uphold stringent safety standards at all times.
"We apologise for any inconvenience this work may cause and thank members of the community for their understanding."
You can find out more on the NRW website www.naturalresources.wales/llyntegid