Temporary New Year closures at Cors Caron to allow important restoration work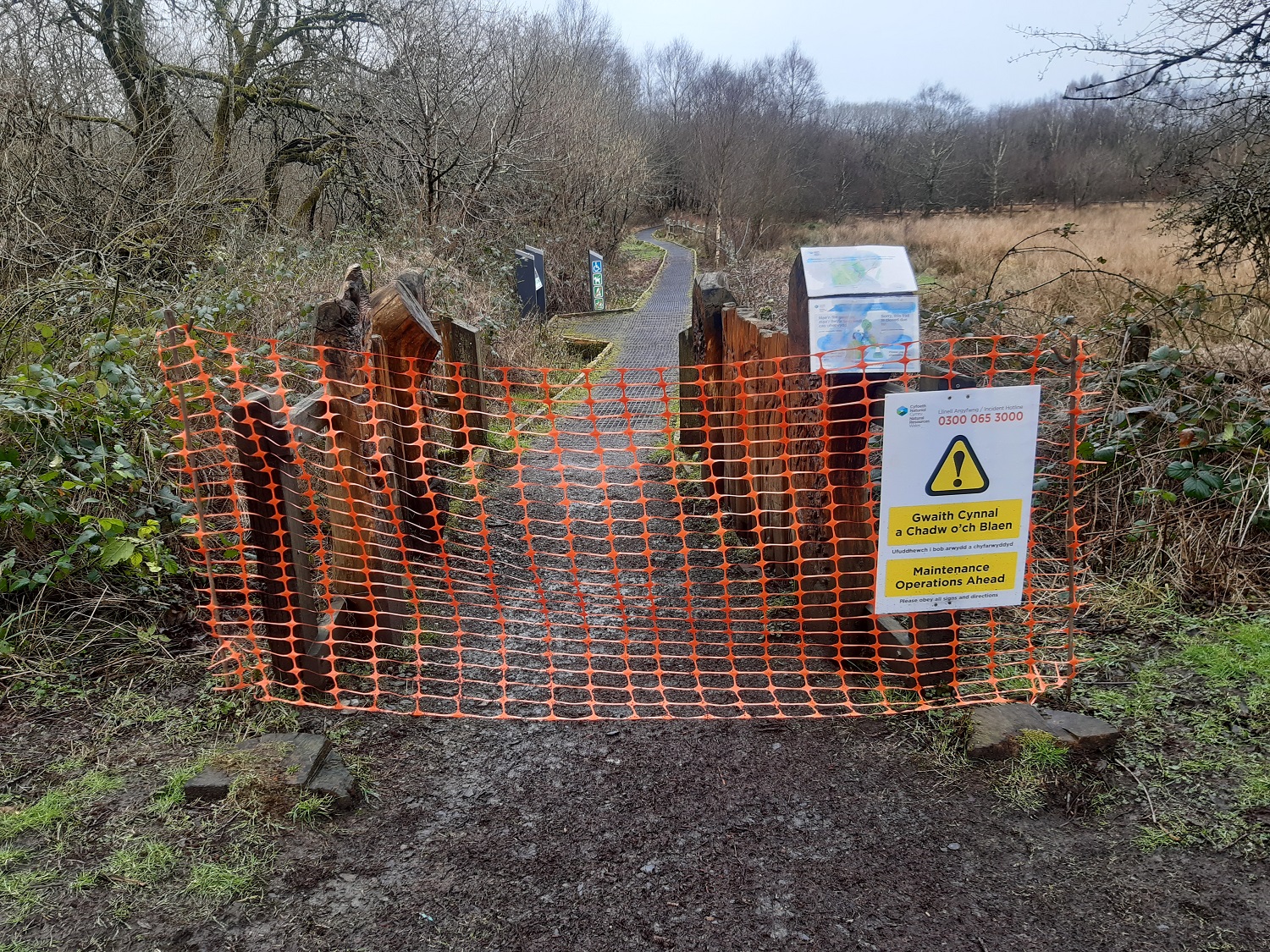 Natural Resources Wales's (NRW) LIFE Welsh Raised Bogs Project will continue its restoration work at Cors Caron National Nature Reserve (NNR) this year, which means the main visitor car park will close from Monday 9 January and the main visitor boardwalk will close in February.
NRW contractors will undertake essential repairs to the main car park at Cors Caron NNR, this will mean work to re-lay the surface and drainage works will take place.
The car park will be closed for three weeks from Monday 9 January 2023 to allow this work to take place.
Mike James, Senior Officer Land Management for Natural Resources Wales, said: "The car park needs some routine maintenance to make sure the surface stays even and to stop potholes from appearing."
"Visitors will still be able to park in the lay-by north along the B4343 road towards Pontrhydfendigaid. This gives access to the railway line walk which will remain open during the work closures."
In addition to this, the main visitor boardwalk will close from February until the end of March. The closure will ensure the safety of contractors as well as visitors to the site as restoration work by the LIFE project - which started at the end of last year- continues.
Contractors will be on the site to install low-elevation contour bunding, and the reprofiling of older bunds in the area within the main boardwalk. 
Bunds are low level banks of peat and help to plug holes and cracks appearing on some parts of the bog that have become drier. The bunds act like dams and stop water from flowing off the bog.
This work will improve the natural water levels of the bog and ensure it remains wet and spongy - ideal conditions for important plants like sphagnum, and for wildlife.
Rebecca Thomas from the LIFE Welsh Raised Bogs project said: "As well as creating the low elevation contour bunds we will also be doing some reprofiling work on the larger bunds in this area that were originally done over 40 years ago."
"This involves reducing the height of the bund itself, to prevent small trees from establishing on the crest of the bund, as well as making the pools shallower, in the hope that more sphagnum will colonise and thrive."
The railway line walk will remain open for visitors during the work closures.
Updates about the work will be posted on social media channels Facebook and Twitter