Cors Caron visitor boardwalk to close during restoration work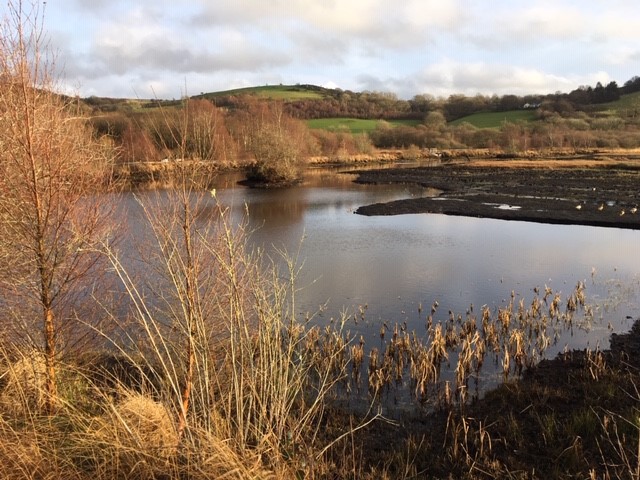 Contractors working on behalf of Natural Resources Wales's (NRW) LIFE Welsh Raised Bogs Project will begin work this week to replace the broken sluice gate and replace sections of the boardwalk at Cors Caron National Nature Reserve (NNR).
A section of the main visitor boardwalk towards the sluice gate on the site will be closed for up to two months from February to complete the work to ensure the safety of the workers and people visiting the reserve and bog.
Visitors will still be able to access the main boardwalk from the Willow Arch entrance and out to the Bog Hide, and access will also continue to be available for the Riverside Walk.
The reserve car park will remain open whilst the work takes place, as will many of the other walking trails and public rights of way on the reserve.
The existing sluice gate is made of wood and controls water levels and flow of water on the reserve. It was made from wood sliding in grooves that are set in the wooden frame in which it sits, the visitor boardwalk was then built across the top of it.
Visitors to the reserve may have noticed low water levels at the site over recent years. This is largely due to the impacts of the broken sluice gate which has slowly deteriorated since it was first installed in 2005.
Parts of the wooden boardwalk which have also deteriorated over the years will also be replaced at the same time as repairs to the sluice gates take place to reduce disruption to visitors. They will be replaced with recycled plastic slats, as has already been done on some sections of the boardwalk.
Jake White, LIFE Welsh Raised Bogs Project officer, said: "We know from conversations we've had with visitors that there has been a lot of concern about the low water levels on the reserve. The work to repair the sluice gate will restore the water levels, helping to keep the peatland wet throughout the year, restoring peatland habitat as well as storing carbon."
Iestyn Evans, Senior Officer Land Management for Natural Resources Wales, said: "Cors Caron is visited by thousands of visitors every year and we hope this short disruption will lead to the reserve returning to its former glory and enhancing visitors' experience at the site for several more years to come."
After the work takes place the LIFE project will continue to monitor the site's recovery with the aim of making it more resilient and helping to store more carbon in the face of increased climate change pressures.
For more information about the project, visit Natural Resources Wales / New LIFE for Welsh Raised Bogs