Illegal tyre waste cleared from Port Talbot site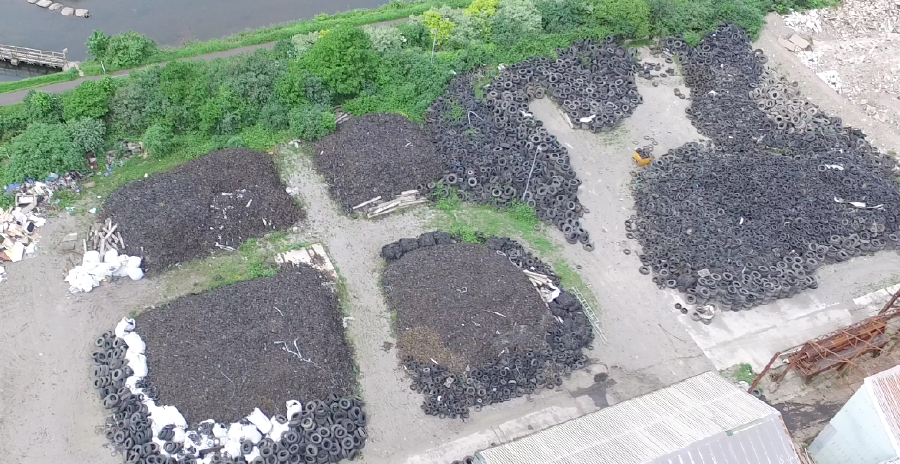 Some 10,000 waste tyres and 1,500 tonnes of shredded tyres have been removed from the former Byass Works site in Port Talbot.
The illegal waste has been cleared thanks to Natural Resources Wales (NRW) using enforcement powers against the landowner.  
The company that had stored the waste no longer existed, so NRW turned reluctantly to the landowner and issued legal notices to clear the site.  
Under waste legislation, where a company defaults on a notice to clear waste, the landowner can be held responsible. 
This course of action has removed a significant fire risk and saved the taxpayer from a £350,000 clearance bill. 
Jonathan Willington, South West Waste Regulation Team Leader, Natural Resources Wales, said:
"This has been a complex issue to resolve, but one that has now come to a safe conclusion. 
"The illegal waste posed a significant fire risk to the surrounding area, which includes the M4 motorway, schools, a hospital, as well as residential areas. 
"There has been enormous pressure for NRW to take action and remove the waste ourselves, but we do not want waste criminals to think we are here to clear their mess. We stood our ground and used our enforcement methods to make sure the tyres waste was cleared and the Welsh taxpayers' pocket was saved. 
"I must also give credit to the landowner who took a massive financial hit to clear the site." 
The warehouse full of illegally stored waste tyres and shred was discovered by NRW officers in 2014. 
The company responsible, controlled by Dennis Egan, was put under notice to clear the waste. However the company was liquidated and whilst Egan was sent to prison for failing to clear the waste, it remained on site.   
To reduce the fire risk, NRW stepped in under its emergency powers, moving the waste into large piles outside the warehouse. 
In July 2016 there was a fire at the site. This ramped up the pressure on NRW to act. 
The landowners were left with no alternative and agreed to clear the site. 
The storage of waste is tightly regulated to avoid risk of pollution and fire.  
If you suspect someone is storing waste illegally, report it to NRW on 0300 065 3000.    
For more information on the rules and regulations around storage of waste visit www.naturalresources.wales.