Iconic fish returned to North Wales lake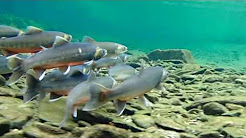 A conservation project to boost the survival chances of the rare Arctic Charr takes another step forward this week. (Wednesday and Friday 21 &23 October 2020).
Some 7500 juvenile Charr, reared in Natural Resources Wales' (NRW) Cynrig Hatchery, are being released into their native lake in Llanberis, Gwynedd.
A remarkable survivor from the Ice Age, the Arctic Charr is found in only a few deep freshwater lakes in Wales.
In December 2019, NRW collected Arctic Charr eggs from Afon y Bala, which flows into Llyn Padarn. Now, after ten months of care and hard work, the young Charr are ready to be released into the lake.
Walter Hanks, Environment Officer for Natural Rersources Wales said: "The breeding programme went well and now, with the Charr measuring around12cm in length and weighing around 13.25 grams, it's great to see them returning to their natural habitat to continue their life cycle.
"Work has been done over many years to improve water quality in Llyn Padarn, Wales' only designated inland bathing water, which is now graded as excellent. This work is paying dividends, helping to conserve and enhance these enigmatic fish.
"We will continue to build on this work so that wildlife continues to thrive in and around Llyn Padarn.
"A vibrant and healthy natural environment is not just great news for the natural world – it's a boost to the local community and visitors to the area. This, in turn, benefits the local economy."
Enjoy the sight of the Arctic Charr in Llyn Padarn here: https://www.youtube.com/watch?v=jIgt7BR7vKY