Horse logging operations to continue at Tyn y Coed Forestry in 2023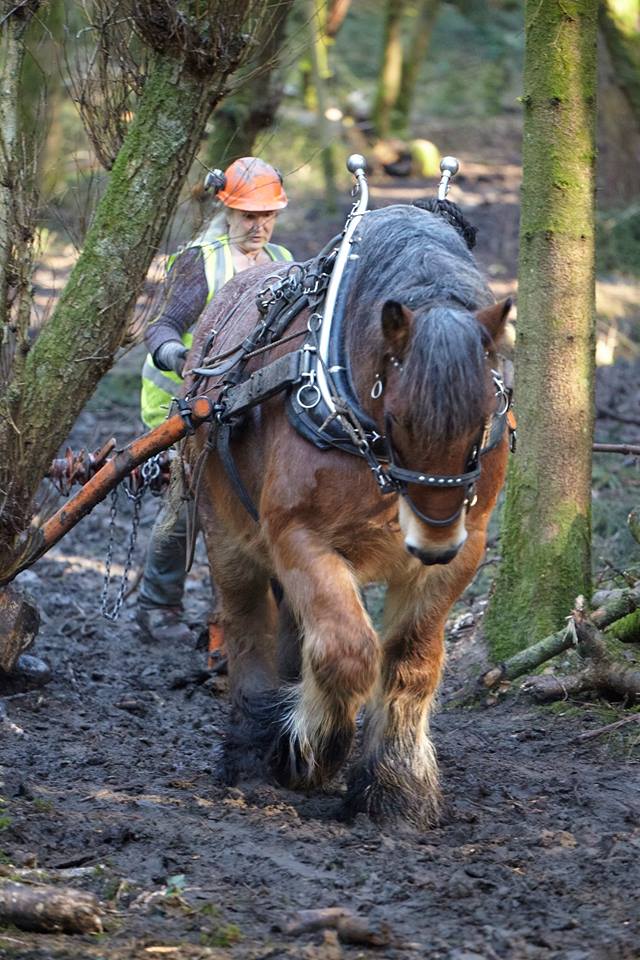 Natural Resources Wales's (NRW) Forestry Operations and Land Management Team will be turning back the clock to use traditional forestry skills to thin an area of sensitive woodland at Tyn y Coed near Llantrisant.
Building on the award-winning project delivered in 2019, horses will again be used to manage this woodland under continuous cover forestry. This intervention aims to increase the canopy cover of mature native broadleaved trees whilst gradually reducing the canopy of conifer trees.
As a Planted Ancient Woodland Sites (PAWS) woodland, this work will help to restore and improve its ecological potential.
The woods are situated in the middle of a former coal mining area and the surrounding landscape is unsuitable for heavy machinery and modern-day forestry operations. Precision felling and timber extraction is required to avoid damaging the surrounding broad leave trees and other important archaeological features.
Horses, horse boxes, welfare provisions and associated equipment will be kept on site for the duration of the operation. While the car park will remain open, visitors to the woodland are asked to adhere to any prohibition signs in and around the live site.
Chris Rees, Forest Operations Team Leader South Wales Central at Natural Resources Wales said:
"This ancient art of horse logging is a viable and sustainable option in modern day forestry operations. Working horses are ideally suited to environmentally sensitive areas where mechanical extraction is not possible. They are a low impact and sympathetic tool particularly when it comes to the management of ancient woodlands and archeologically important sites'' 
"As a team we are very much looking forward to delivering this exciting project and to be part of this wonderful opportunity to experience a horse's traditional role on the land."