Former picnic site at Abercarn given new lease of life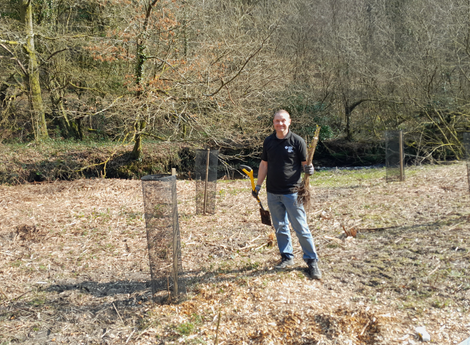 Restoration work carried out at Abercarn picnic site situated to the north of Cwmcarn in Caerphilly, is reaping positive results, thanks to efforts from Natural Resources Wales (NRW) officers and liaison with the local community.
The overgrown picnic site, had not been used for nearly two decades and had become the target of anti-social activities, including the illegal use of off-road vehicles, which cause environmental damage to footpaths and features of the landscape, as well as disturbing habitats for wildlife.
Local contractors were brought in by NRW officers to carry out restoration work that has helped to revitalise the site.
Work was carried out to lift the tree canopy, which has helped to improve public access and safety, as well as helping to increase light and diversity within the ground vegetation and promote natural regeneration.
Cherry trees have been planted in the area to help increase biodiversity, vegetation has been cleared and stone walls and footpaths have been reinstated to help encourage quiet recreational use of the site so it can once more be enjoyed by local residents.
A small number of trees that had become infected with Phytopthora ramorum (more commonly known as larch disease) have been removed, and the timber will be used to create boundary fencing to  help deter off road vehicles and keep visitors to the site safe.
The timber will also be used to create bat habitat boxes and natural log seating. Surplus timber will also be used at some of NRW's other sites for natural water management using monk boards - a type of sluice gate used for regulating water level of pond structures) and to create leaky dams.
Jo-Anne Anstey Senior Officer, Land Management for Natural Resources Wales said:
Our green spaces are invaluable and provide communities with safe recreational places that help improve people's physical and mental well-being.
The picnic site at Abercarn had become a hotspot for anti-social activities, including the use of illegal off-road vehicles and it's been really rewarding to see it restored to a safe space for everyone to enjoy.
We've planted a number of cherry trees at the site to help increase biodiversity and are working on future plans to create a wildflower area and habitat piles to help enhance conservation.
We look forward to the next stage where we will be working closely with the local community once their proposed constituted group is up and running and they can be actively involved now NRW have finished the primary preparation of the site.