Foresters past and present celebrate centenary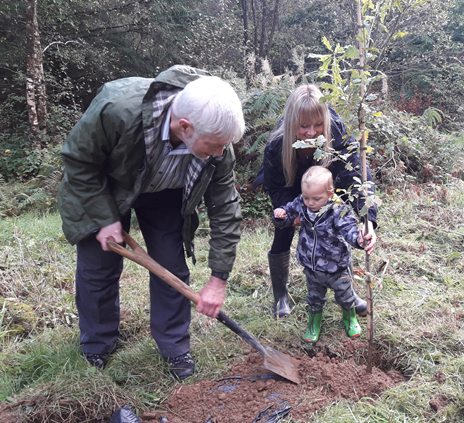 An oak tree has been planted in Cwm Rhaeadr forest, Carmarthenshire, to celebrate the centenary of the Forestry Act and the creation of the Forestry Commission. 
The event, which was part of an organised walk (on Friday 27 September), was attended by representatives from Natural Resources Wales (NRW), as well as former foresters, with more than 400 years of accumulated service. 
NRW staff members with the longest and shortest service - Terry Davis (48 years) and Caroline Riches (10 years) - planted the native oak tree, aided by 2-year old Alfie Riches.  
The Forestry Commission was established to reforest the UK after the depletion of timber in the First World War. 
Now part of NRW, its remit is to maintain Wales' forests, promote research in sustainable forestry, help to make woodlands more productive, wildlife friendly, and adaptable to the challenges of a changing climate. 
It works to maintain the UK's forests, promotes research in sustainable forestry, helps to make woodlands more productive, wildlife friendly, and adaptable to the challenges of a changing climate. 
Event leader Brian Hanwell, NRW Senior Officer Land Management for Llandovery Forest District, who took part in the event, said: 
"From those small shoots in 1919, the Woodland Estate that we manage for the Welsh Government now covers an area of 126,000 hectares – that's 6% of Wales - and it supplies over 50% of all timber in Wales. 
"The commemoratory walk and tree planting ceremony was a fitting tribute to mark 100 years of the public forest and to celebrate its future. 
"We all know that trees absorb carbon, making tree-planting a great way to tackle climate change. The government's own climate change advisors say that maintaining a plentiful tree population is a vital way of us hitting our climate targets. 
"Among other benefits our sustainable and renewable woodlands also help to reduce noise pollution, improve air, soil and water quality, provide shelter for livestock and mitigate flood risk. Additionally, they are known to improve our health and wellbeing by providing recreational opportunities and are havens for all kinds of biodiversity.
"The walk was followed up by a social get together and buffet and we're very grateful to Carmarthenshire Scouts for use of their barns".