Fires cause £100k of damage to Afan Valley and Seven Sister Forests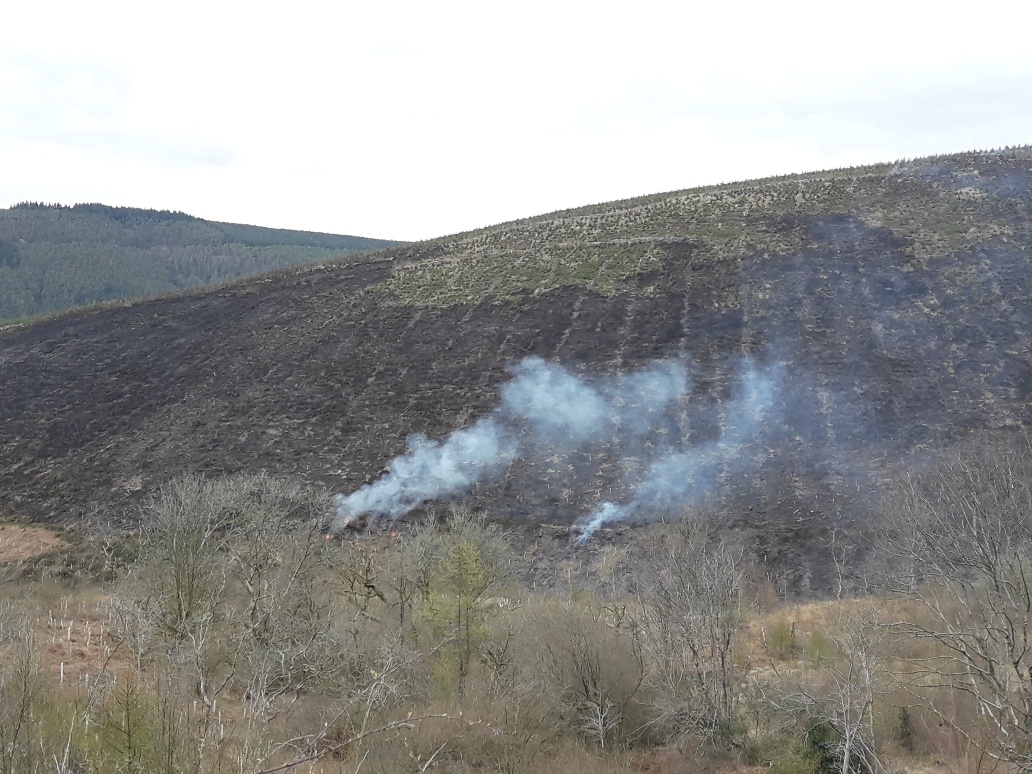 Five fires that set sections of the Afan Valley and Seven Sisters forests ablaze have caused over £100k worth of damage.
The fires have destroyed almost 140 hectares of Natural Resources Wales (NRW) managed forestry at Penhydd, Ynyscorrwg, Glyncorrwg, Abercregan and Seven Sisters, this includes 80,000 newly planted trees.
At a time when the country is on lockdown because of the coronavirus pandemic, fire and rescue officers had to put themselves at risk to put the fires out.
Three of the five fires are being investigated as suspected arson by South Wales Police. The fire at Penhydd on Tuesday 31 March and the fires at Abercregan and Seven Sisters on Sunday 5 April.
The Ynyscorrwg fire took place on Wednesday 25 March and the Glyncorrwg fire on Tuesday 31 March.
NRW officers are working to establish the level of damage caused, including the impact on the environment.
James Roseblade, Senior Land Management Officer for Natural Resources Wales, said:
"These fires have not only caused massive financial loss to NRW, but will have impacted on the environment, killing wildlife, polluting the air and water.
"At a time where we should all be observing the government rules around staying at home and social distancing, I urge people to think about the impact their firesetting could have on people's lives and the environment.
"Consider what is essential during lockdown. Stay at home most importantly. But also, a garden bonfire is not essential and can easily get out of control, putting unnecessary pressure on emergency services.
"NRW is working with the fire and rescue service, police and other partners through Operation Dawns Glaw to prevent fires of this nature and I would urge the public to report any suspicious behaviour to police by calling 101."
Richie Vaughan-Williams, Arson Reduction Manager, Mid and West Wales Fire and Rescue Service, said:
"Deliberately setting fires is illegal and irresponsible. Operationally, wildfires often require multiple crews working hard together, sharing equipment and on difficult terrain. This is a concern when we are trying to operate distancing procedures as much as possible to protect those crews. We would like to appeal to you to help us and other essential services in preventing these incidents from occurring."
Community Safety Chief Inspector Declan Cahill, of South Wales Police, said:
"Often fires like these are set by young people and I am requesting support from parents and guardians who should know exactly where their children are and what they are doing, especially during a time when everybody's movements have been restricted.
"We will investigate reports of deliberate fire setting - anybody who is found to be responsible faces the prospect of being prosecuted. I'd urge children and parents to be mindful of how a criminal record can impact on somebody's future. Ultimately, their actions could cause a loss of life, serious injury and significant damage to land, property and wildlife."
Do you have information about who set these forest fires? Report information to South Wales Police by calling 101. To pass on information anonymously, call Crimestoppers on 0800 555 111.