Denbighshire school pupils awarded Digital Acorn Award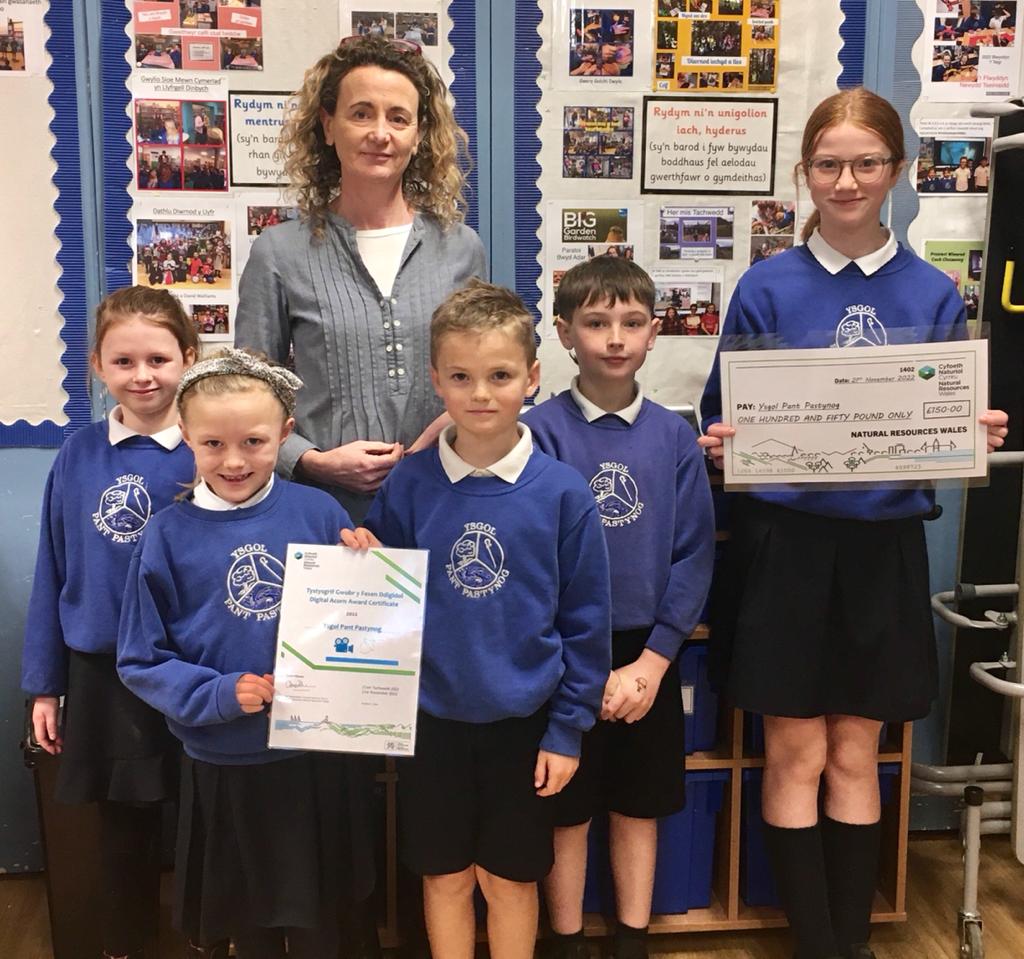 Pupils from a school in Denbighshire have been awarded the first-ever Digital Acorn Award following this year's Acorn Antics campaign held annually by Natural Resources Wales (NRW).
Ysgol Pant Pastynog, of Prion in Denbighshire, have been crowned Digital Acorn Award winners – an award presented to the education setting that shares the best enviro-vlog documenting their Acorn Antics adventure. The school has been awarded a £150 voucher for its efforts.
During their Acorn Antics journey the school pupils collected seven bags of acorns. These collected acorns will help NRW grow native trees from the seed of healthy local tree stock.
Increasing the tree canopy across Wales is a crucial part of efforts to tackle the climate and nature emergencies and to help achieve the nation's net zero carbon ambitions.
Through its delivery of campaigns like Acorn Antics, Natural Resources Wales is playing a key role in achieving this ambition whilst encouraging learners big and small to get outside and connect with the Welsh natural environment.
Aled Hopkin, NRW Specialist Advisor: Children, Education, Lifelong Learning and Skills, said:
"We would like to commend Ysgol Pant Pastynog for their brilliant video showcasing their Acorn Antics journey this year. They are truly deserving of the first-ever Digital Acorn Award and the £150 prize.
"We would like to thank the school's staff, pupils and the local farmer who allowed them access to their land, for their roles in this important campaign that will help create a better environment for our future generations."
Mali Williams, a teacher at Ysgol Pant Pastynog, said:
"Pupils and staff at Pant Pastynog are very proud to receive this award, as we have taken part in NRW's Acorn Antics campaign for many years.
"We have an excellent relationship with a local farmer who has oak trees on land near the school; pupils and staff very much enjoy our annual acorn gathering visits. The Acorn Antics campaign has made a valuable contribution to the health and well-being of pupils and increased their environmental awareness."
The video produced by Ysgol Pant Pastynog pupils.