Crucial winter sand dune work completed at Pembrey Burrows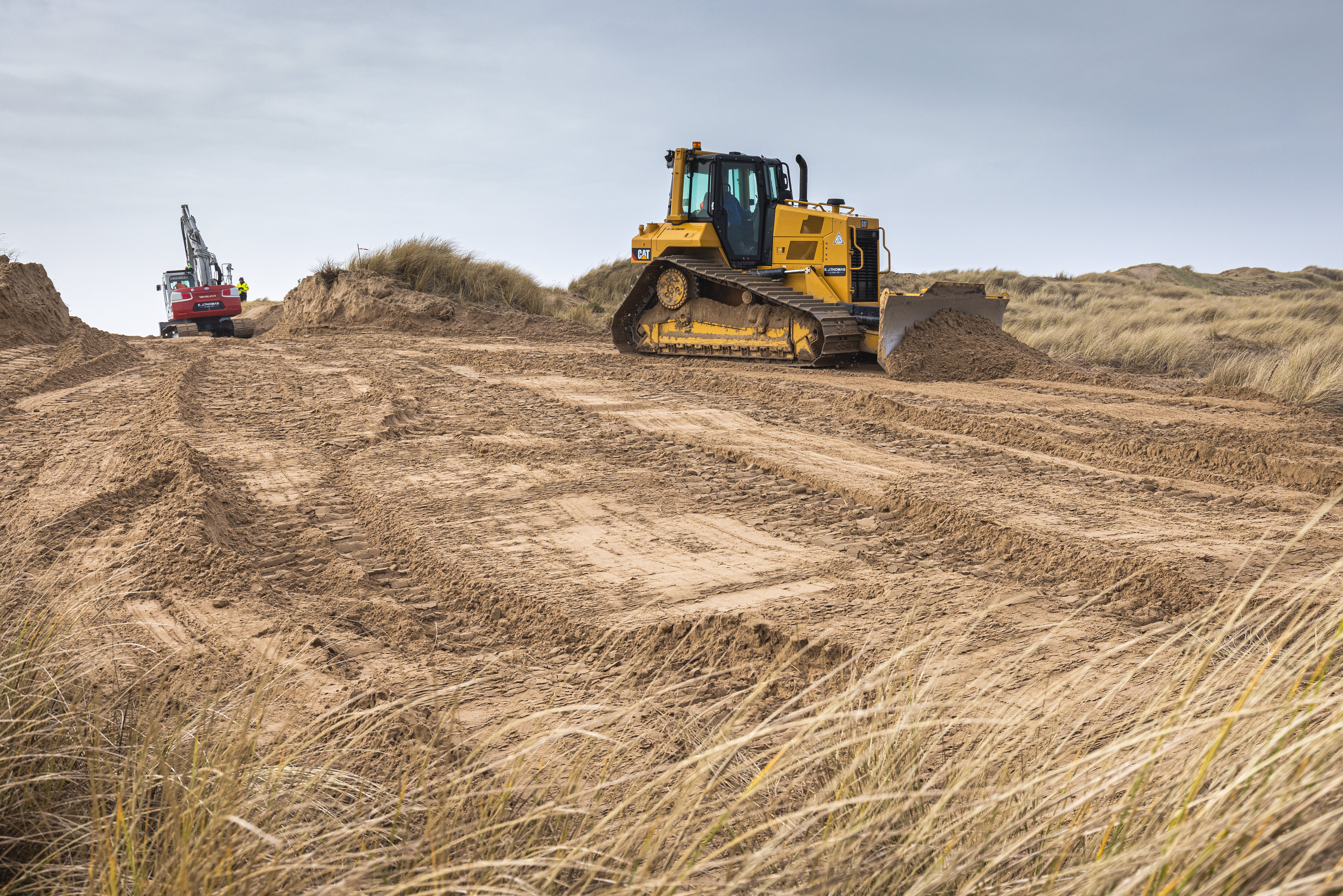 Winter work by a conservation project designed to keep the habitat healthy on the internationally important sand dunes at Pembrey Burrows has been completed.
Sands of LIFE, an EU-funded conservation project led by Natural Resources Wales (NRW) aims to revitalise sand dunes across Wales. The winter work at Pembrey Burrows saw the creation of three dune notches - or gaps in the front of the dune - and stripped turf from areas of dune grassland and low-lying dune slacks to expose bare sand.
This work was necessary to help boost some of Wales' rarest dune wildlife that depends upon bare sand habitat. The work should also increase the natural movement of sand in the dunes.
Sands of LIFE has also previously completed extensive fencing work at Pembrey Burrows. Over 2km of chestnut fencing was erected to help protect and control the cattle and ponies which perform the crucial task of grazing the dune grassland.
All these project works are part of an ambitious range of actions to rejuvenate sand dunes across Wales.
Over the last 80 years, open sand has largely disappeared from Welsh sand dunes, being replaced by dense grass and scrub. This change has been caused by factors such as the introduction of non-native plants, lower levels of grazing, climate change and air pollution. As the dunes have become more stable and overgrown, rare wildlife has declined.
The project worked closely with colleagues at NRW and Carmarthenshire County Council – owners and managers of the site – to plan all works thoroughly and ensure they were carried out to the highest standard.
Laura Bowen, Sands of LIFE Project and Monitoring Officer South, said:
"We are very happy to have completed our winter work at Pembrey Burrows. The dune notches and sand scrapes work may sound and look extreme initially; however, it is crucial to help recreate bare sand habitat that's been disappearing from Wales' sand dunes at a rapid rate. The dune notches will also increase the movement of sand which is essential to keep the sand dune healthy.
"Scrub and rank vegetation will outcompete specialised, low-growing dune plants. Thanks to this completed work a range of plant species can thrive and invertebrates and other fauna will now have more bare sand habitat to call home."
Overall, Sands of LIFE is restoring over 2,400 hectares of sand dunes, across four Special Areas of Conservation, on 10 separate Welsh sites. The project runs until December 2022. Separate Sands of LIFE winter work took place at eight other sites around Wales to further boost this special habitat.
This isn't the only active conservation project at Pembrey. On a different part of the site, Dynamic Dunescapes, a project with an UK-wide scope to help sand dune habitat, have also been hard at work completing invasive sea buckthorn removal.
David Kilner, Dynamic Dunescapes Engagement Officer for Wales, said:
"We are glad to see Sands of LIFE work being completed as this will help boost the sand dunes at Pembrey Burrows, along with our very own important work.
"The vital work of both the Sands of LIFE and Dynamic Dunescapes projects will help create a safe haven for our dune wildlife. They pollinate our food, breathe for us and connect us. Mobilising the dunes creates healthier self-managing habitats that will thrive."
Laura Bowen added:
"We would like to thank all parties included in the work, including Carmarthenshire County Council and our contractors EJ Thomas & Sons and John Davies Agricultural and Plant Ltd. Completing work during Covid-19 restrictions can prove challenging, however it is our priority to complete all work safely and in line with government guidelines."
For further information about the Sands of LIFE project, please email SoLIFE@cyfoethnaturiolcymru.gov.uk or visit their twitter and facebook pages @TwyniByw.