Connectivity is the theme of NRW partnership event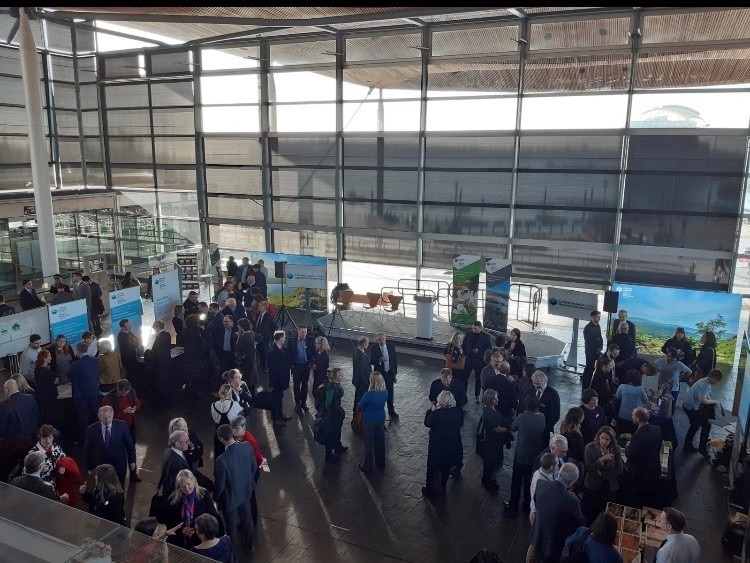 An event to celebrate collaboration and developing partnerships to meet the growing challenges facing the Welsh environment has taken place at The Senedd.
Hosted by Natural Resources Wales (NRW) and sponsored by the Minister for the Environment, Energy, and Rural Affairs Lesley Griffiths AM, the Making the Connections event focussed on how NRW works with other organisations for a greener, safer and prosperous Wales.
NRW's Chief Executive Clare Pillman explained:
"Each week, indeed every day, we are witnessing new global and national commitments for nature and the environment – and that is both challenging and exciting. 
"And I'm glad to see that Wales – and NRW – is at the forefront of making these commitments.
"But of course, we can't do this alone, to succeed we need to build positive working relationships focussing on customer service and working in collaboration with partners old and new and this is what this event is all about."
Following keynote speeches by NRW's Chair Sir David Henshaw, Clare Pillman and the Minister, an informal networking session took place where guests were able learn more about specific areas of partnership working.
Topics including waste crime, tourism, timber sector, land management, education, health and wellbeing, metal mines, flooding and LIFE projects were represented by organisations as diverse as the Welsh Revenue Authority, Confor, Dwr Cymru Welsh Water, Brecon Beacons, Pembrokeshire and Snowdonia National Parks, Met Office, Public Health Wales, Coal Authority, Cardiff County Council and the farming unions.
Lesley Griffiths, the Minister for Environment, Energy and Rural Affairs said,
"I am pleased NRW is taking this opportunity to showcase the work they carry out with their partners and for us all to have this opportunity to build networks and new partnerships.
"It is vital we all work together to reverse the effects of climate change and respond to the challenges of the climate emergency."
The Minister also took the opportunity to thank NRW staff for their 'expertise and professionalism' in protecting communities from the effects of climate change, their work to tackle pollution which harms habitats and species and the complex policy and evidence work behind Wales' drive to achieve net zero emissions.
The Environment Act makes collaborative working a legal requirement in Wales and the interest in the Making the Connections event demonstrates its importance in developing innovative and sustainable solutions. 
In his closing remarks Sir David Henshaw said:
"The challenges we face are considerable but so are the opportunities and we have, amongst us all, is a remarkable wealth of knowledge and ingenuity on what needs to be done.
"So, our message is straightforward, not only do we want to develop partnerships, we want to make it easy for others to partner with us for the benefit of both the natural environment and for everyone who lives in or visits Wales."