Communities urged to help shape the future of Afan Forest Park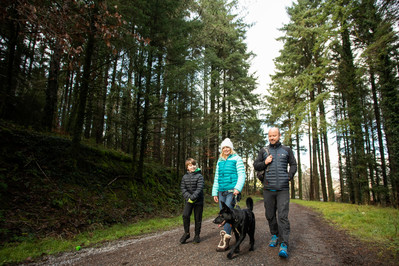 Communities, businesses, and visitors interested in the development of Afan Forest Park, Port Talbot, are invited to have an input in shaping its future.
Managers of the forest - Natural Resources Wales (NRW) and Neath Port Talbot Council - have launched a consultation to find out what people would like to see improved and developed at the site.
Responses to the consultation will help shape a 'masterplan' that is being drafted to inform the future development of the Afan Valley as a visitor destination.
Initial consultation has already taken place with tourism stakeholders.  
Current themes in the draft masterplan that require public feedback are to:
Explore opportunities to improve existing car parking facilities;
Develop more family trails and facilities;
Look at the possibility of building a new off-road link with Margam Country Park;
Outline effective partnership working and to
Provide better opportunities for volunteers and ensure Afan Forest Park is effectively promoted as a tourism destination.
Once finalised, and subject to funding, the masterplan will be delivered through a partnership between Natural Resources Wales, Neath Port Talbot Council, and local tourism partners.
Dave Charlesworth, Natural Resources Wales' Senior Officer working on the Afan Forest Park Masterplan, said:
"I urge people to have their say on the future of Afan Forest Park. Their views and ideas will help us build a picture of what matters to those that use the forest park for recreational purposes.
"Future development of Afan Forest Park's recreational offering must be balanced with the requirements of an operational forest, and ensure the protection and nurturing of nature and conservation.
"Feedback from regular visitors will help us shape Afan Forest Park into a place that can people can gain significant health and wellbeing benefits from for years to come."
The area is steeped in history and has already undergone a dramatic transformation from industrial coal mining to an area of forestry.
Afan Forest Park already attracts mountain bikers from across the UK due to its extensive trail network. Significant investment has been made in the forest over the years, particularly with the re-opening of the Skyline trail, which spans 46 kilometres.
It is also a popular recreation site used by local communities for walking, running, and horseriding. But managers of the forest park agree with local businesses, that the forest has much more potential.
Cllr Steve Hunt, Leader of Neath Port Talbot Council said:
'It is important that the local community and visitors have their say in shaping the future of Afan Forest Park. The new masterplan will assist the council and Natural Resources Wales to work in partnership and alongside stakeholders to deliver improvements within the Afan Valley."
The online consultation will remain open until Monday 22 August. https://bit.ly/AfanConsultation 
It takes a few minutes to complete and there is an option at the end of the survey to subscribe for masterplan updates.
For anyone unable to complete the survey online, please call 0300 065 3000 to complete the survey over the phone or to request a hard copy.