An angler caught using a barbaric and illegal fishing method at Loughor Estuary has been fined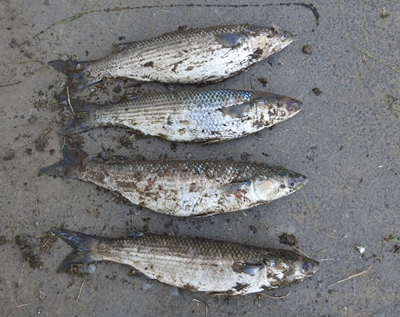 An experienced angler from Llanelli caught using an illegal method of fishing at the river Loughor has been fined by the courts.
Arkadiusz Kazimierz Banachwicz, of Nevill Street, was charged with foul hooking fish under the Salmon and Freshwater Fisheries Act 1975 after being observed by Natural Resources Wales Enforcement Officers using the barbaric method on 30 May 2022.
Banachwicz appeared before Swansea Magistrates' Courts on Thursday, 12 January 2023, and pleaded guilty to the offence.
He was fined £200 and ordered to pay £500 NRW investigation costs, and a £34 victim surcharge.
The judge also gave NRW permission to confiscate the 10 fish, all the fishing tackle and equipment that was seized at the time of the incident.
Mark Thomas, Enforcement Officer for NRW, said:
"The damage caused to the fish by foul hook method of fishing is totally barbaric, vicious and wholly indiscriminate on what size or species of fish it damages or kills in the process.

"We would like again to thank Dyfed-Powys Police, local residents and law-abiding anglers in the area for their continued support in reporting these illegal fishing activities to NRW.

"These reports and other recent NRW prosecutions for foul hooking at Loughor bridge has helped hugely in reducing the usage of this illegal method repeatedly occurring in the area in 2022 and we hope this will continue throughout 2023.

"NRW Enforcement Officers and the local police forces takes these incidents seriously. Hopefully the small minority of anglers who think of using illegal fishing methods will take heed of the action taken against Mr Banachowicz and think again."
NRW received calls to their 24/7 incident number of an angler illegally fishing at the river Loughor at Bynea, on 30 May 2022.
NRW Fisheries Enforcement Officers visited the area and witnessed Banachowicz constantly and deliberately using the illegal foul hooking method of fishing. He was also witnessed using deliberately tampered multiple treble hook points on a metal fishing lure to catch as many fish as possible from the river Loughor.
The fish that Banachowicz had caught using the foul hooking method had all been hooked and landed via their tails or backs, not their mouths.
NRW aims to increase the leisure fishing activity in Wales, whilst ensuring that fish stocks are protected for future generations to come. Promoting legitimate angling requires the creation of a level playing field for those who buy rod licences and comply with any fisheries byelaws.  Action taken against those who seek to exploit wild stocks of fish that are in or entering and exiting our rivers has to be robust to deter others carrying out illegal angling methods.
That area of the river Loughor is classed as a Bass nursery where juvenile fish such as Bass and Mullet receive some shelter from the open ocean environment and its larger predators.
The particular time of year in which Banachowicz was foul hooking/snatching fish, is when the Iconic migratory fish species of salmon and sea trout (Sewin) happen to be in the river Loughor catchments. This migration of the salmon and sewin from their open ocean environment to the freshwater system environment of the river Loughor is for the sole purpose to repopulate and breed in the higher river catchments in the winter months.
If you see any suspicious or illegal activity on our Welsh rivers, lakes or coastlines please report it to the NRW incident hotline on 0300 065 3000.