Ammanford man convicted of fishing offences following Natural Resources Wales investigation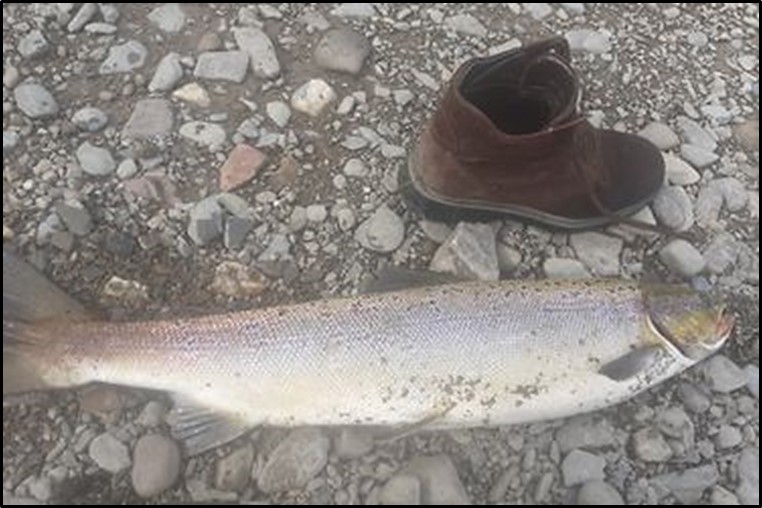 Fishing illegally out of season and with the incorrect rod licence has cost an Ammanford man a total of £1,448.
Following a Natural Resources Wales (NRW) investigation, Terrance Purvey, of High Street, Ammanford, admitted committing the offences when fishing on the River Tywi in Llandeilo on 3 October 2022. He was convicted at Llanelli Magistrates' Courts, on 21 April, 2023.
Purvey was fined £80 for the out of season fishing offence, £240 for unlicensed fishing, £128 victim surcharge and made to pay £1,000 towards the cost of the NRW investigation, bringing the total to £1,448.
Purvey was prosecuted for a similar offence of fishing out of season four months previously on the river Teifi.
Mark Thomas, Enforcement Officer for Natural Resources Wales, said:
"Once again, we see an angler receiving a weighty fine imposed by the courts following an NRW investigation in south west Wales.
"NRW will continue to pursue offenders through the courts and NRW enforcement officers will not hesitate to take enforcement action against the small minority of anglers who commit these types of offences.
"I would again like to thank the support from Dyfed-Powys Police for their continued assistance in these NRW cases.
"Illegal fishing, such as this case on the river Tywi, undermines NRW's efforts to make fishing sustainable and enjoyable for the vast majority of anglers in Wales who fish legally and responsibly.
"We carry out routine and random rod licence patrols on a daily basis and we encourage members of the public who believe someone is fishing illegally, such as it was in this case, to report to NRW on our 24/7 hotline number 0300 065 3000 or report online via our website."                  
Members of the public provided information to NRW regarding Purvey's illegal fishing activity.
An NRW Enforcement Officer and an NRW seconded Police officer from Dyfed-Powys Police investigated the allegations further. They visited Purvey at his home address where he was interviewed under caution and he admitted the offences of fishing without a valid migratory rod licence and for the out of season fishing. He was then informed that he would be reported.
During  the visit, Purvey gave details to the NRW Officer of his very poor catch and release technique and also how he caught a salmon with a worm, which is an unpermitted bait to fish for salmon.
The salmon which Purvey said to officers was released, would have had a very low chance of survival to reach its spawning potential. Purvey detailed how the fish was out of the water and to which he placed directly onto dry river gravel, all in the while he took time to take off his boots to lay next to the salmon for a size comparison, photographed the fish next to his boot and exposing the salmon to being out of the river for a prolonged period of time.
Mr Thomas added:
"Any angler aged 13 or over who is fishing in a river, stream, drain, canal or any stillwater fisheries such as a private or commercially operated lakes/ponds need a valid fishing licence. (Rod licence is free for ages between 13 to 16 years)
"Revenue created via rod licence sales is vital to fund NRW work to protect and improve fisheries. These includes improving fish habitats, amenities for anglers and dealing with illegal fishing incidents."
Information about fishing rod licences is available on the NRW website.
To report suspected illegal fishing activity call NRW's 24/7 incident line on 0300 065 3000 or report it online.
PIC CAPTION: A photo taken by Purvey of the salmon he caught illegally, including his shoe to demonstrate the size of the fish.