Acorn Antics results sees two schools awarded the Golden Acorn Award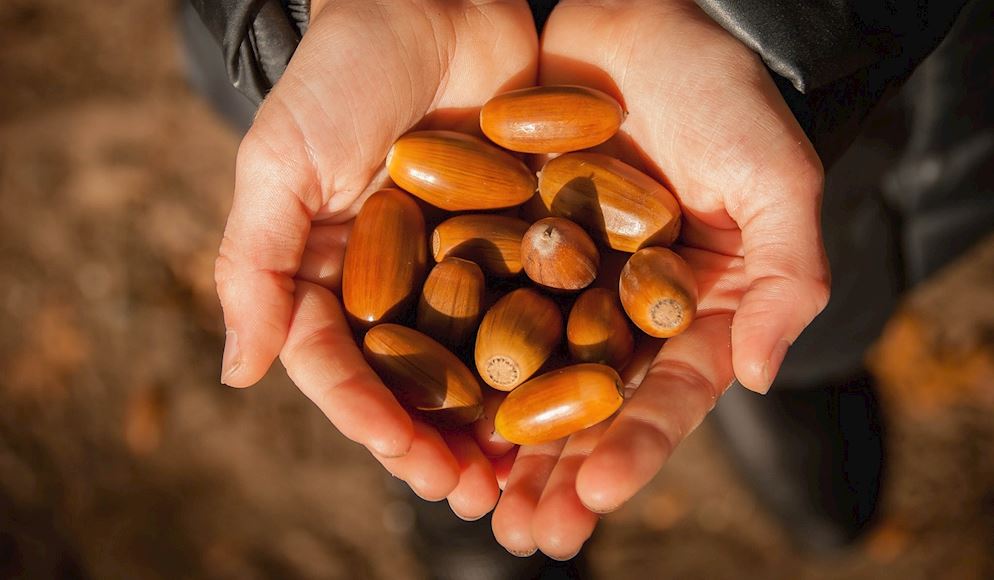 Natural Resources Wales (NRW) has announced the winners of this year's Golden Acorn award following the annual Acorn Antics campaign which took place over the autumn.
Ysgol Maesglas, Flintshire, and Ysgol Calon y Dderwen, Powys, have both been awarded the Golden Acorn Award and receive a £150 prize in addition to the value of their collected acorns. Between them they collected over 60kg of acorns with a total value of £296.56.
A total weight of 825.13kg was collected from 40 locations across Wales during the 2022 campaign. This generated £3,442.15 for the education settings that rolled up their sleeves, embraced the fresh air and scoured the ground for acorns.
The collected acorns will allow NRW to grow native trees from the seed of healthy local tree stock whilst connecting young acorn collectors with the Welsh natural environment.
Aled Hopkin, NRW Specialist Advisor: Children, Education, Lifelong Learning and Skills, said:
"We are proud of the Acorn Antics campaign's continued reach across Wales and value each group's participation as we look to help our natural environment.
"Education groups from across Wales collected from school fields, parks, farms, village hall grounds and housing estates.
"The tree nursery found it too hard to choose between Ysgol Maesglas and Ysgol Calon y Dderwen, therefore thought it only fair to award both settings a Golden Acorn Award for collecting the best quality acorns.
"We want to extend a huge thank you to everyone who took part as we continue to work together to ensure there will be plenty of Welsh oaks for our future generations to enjoy."
Increasing the tree canopy across Wales is a crucial part of the effort to tackle the climate and nature emergencies and to help achieve the nation's net zero carbon ambitions.
Through its delivery of programmes like Acorn Antics, Natural Resources Wales is playing a key role in achieving this ambition.