A snapshot of our impact on the natural world to help shape a sustainable future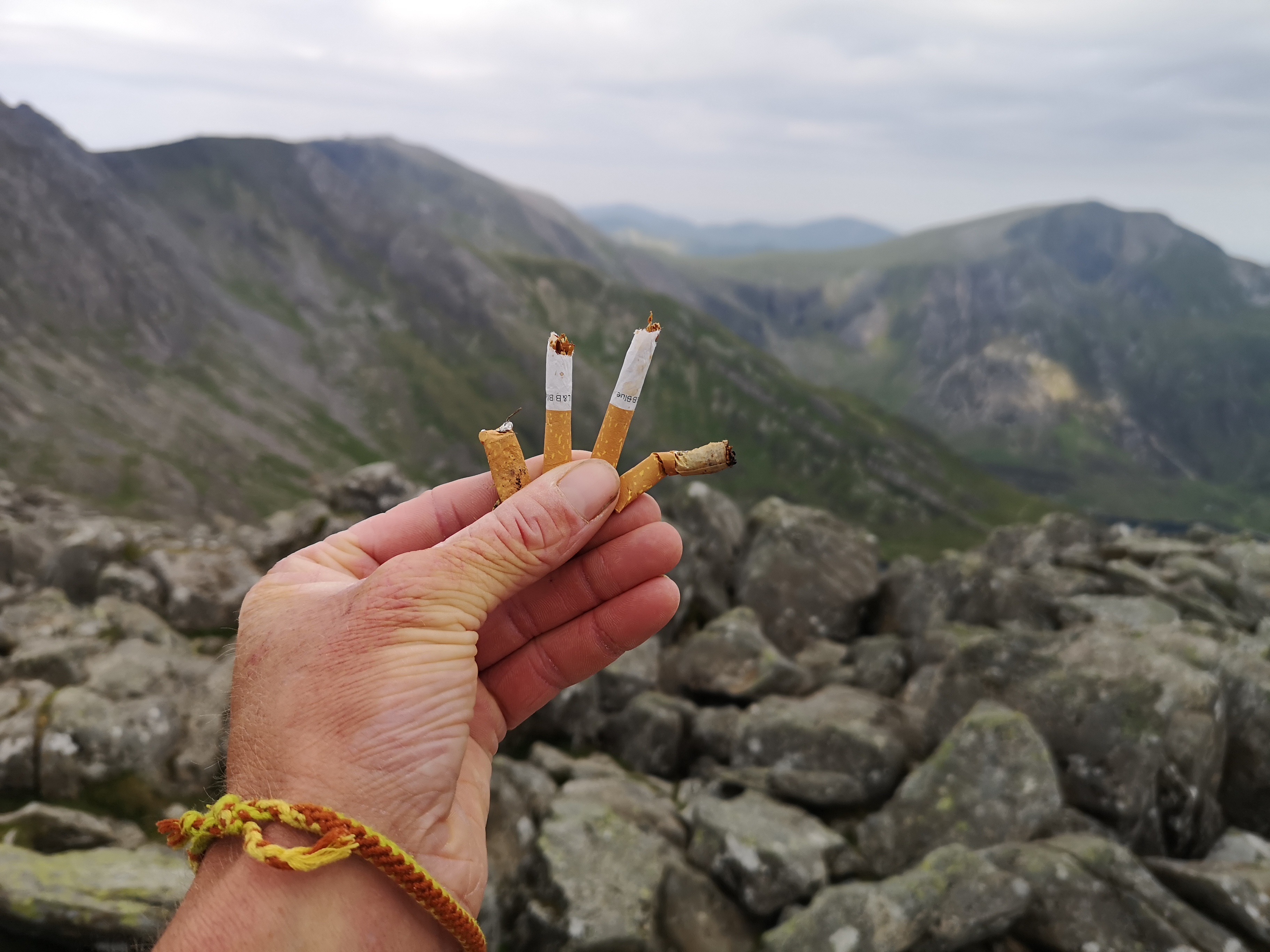 North west Wales' most popular visitor sites recorded fewer wildlife observations and greater environmental threats during the Summer of 2021, according to a recent study.
The assessment looked at key visitor areas, comparing the lockdown period in June 2020 with the busy tourist season that followed in June 2021.
Whilst just a snapshot, there are some interesting observations which can be considered to manage tourism in a more sustainable way as part of Wales' green recovery out of the pandemic. It shows we all have a part to play in helping to tackle the Nature Emergency.
The original lockdown survey, undertaken in June 2020 at key sites in North West Wales, revealed that some bird life and plant life responded positively to the reduced disturbance, and levels of littering were greatly reduced. The opposite was found at the sites revisited in 2021 - less abundance and diversity of bird life was recorded, along with more litter and more footpath erosion.  
Naturalist Ben Porter was commissioned by Natural Resources Wales (NRW), Snowdonia National Park Authority and the National Trust to undertake the surveys. He visited the four upland sites of Yr Wyddfa/Snowdon, Cadair Idris, Carneddau and Cwm Idwal, and the lowland areas of Coed y Brenin, Ceunant Llennyrch and Newborough/Llanddwyn.
Reflecting on the surveys, Ben Porter said: "Whilst we know that longer-term data are needed for more reliable comparisons to the exceptional period of 2020 lockdown, there are clear signs here about our impact on the natural world."
Fewer bird species were recorded after lockdown compared with during lockdown - a total of 65 bird species across the upland sites in 2020, compared to 50 in 2021.
In 2020, many bird species, including Meadow pipits, Wheatears and even Ring Ouzels, were breeding close to the usually popular pathways, especially in upland areas. Unsurprisingly, this was not the case in 2021, with few birds nesting close to paths.
On Ynys Llanddwyn, there was no sign of Ringed Plovers which were recorded nesting on the small beach near Twr Mawr in 2020. A species very sensitive to disturbance, the absence of Ringed Plovers could well be attributed to increased disturbance from visitors during 2021. Similarly, just a single pair of Oystercatchers were seen around Ynys Llanddwyn in 2021, where seven pairs were recorded breeding in 2020 – another difference potentially attributed to a return to high visitor numbers during the breeding season.
There were other factors at play during the survey that likely played a big part in these differences too, especially in the upland areas. There was a stark contrast in the two seasons' weather conditions, with a very cold spring in 2021 delaying breeding seasons for many bird species in the upland areas, leading to fewer fledgling birds recorded at the time of the survey in 2021.
Nevertheless, the role of increased disturbance from the return of high visitor numbers in some areas is a key factor that has played a part in the differences between 2020 and 2021.
A disheartening and clear contrast between 2020 and 2021 was of the amount of litter and waste recorded. In the uplands, 418 pieces of litter were recorded during the 2021 survey visits, compared to 93 items in 2020. Litter was worst on Yr Wyddfa and the Ogwen Valley, with Newborough most impacted by litter of the lowland sites.
The issue of fly camping was observed during the study - a significant problem since the re-opening, post-lockdown, with large numbers of people camping unlawfully around popular sites, often leaving litter, waste, and toiletries.
Popular footpaths were showing signs of widening and erosion as visitors returned. For example, the main footpath ascending Y Garn from Twll Du (Cwm Idwal) is in danger of widening further and impacting the sensitive communities of Dwarf Willow. In Ceunant Llennyrch and on the Watkin Path to Yr Wyddfa, footpaths are impacting on important communities of ferns and mosses in some areas.
Dafydd Roberts, Senior Ecologist for Snowdonia National Park Authority, said: "The report raises many questions about how we manage the interaction between people and nature in the future as we try to strike the right balance between enabling people to enjoy this area's fantastic natural heritage without disturbing and degrading the environment we all enjoy."
Molly Lovatt, Senior Planning and Partnerships Officer for Natural Resources Wales said: "This was a unique opportunity to look at the impact of people on wildlife and the environment. The surveys underline the importance of the 'tread lightly' message as people visit our countryside and coast. We need to be sensitive to nature, to leave no trace of our visit so that wildlife can thrive for future generations to enjoy."
Laura Hughes, Visitor Experience Manager for the National Trust said: "It's great that so many of us are enjoying outdoor spaces, but we ask people to treat the countryside with care when you come and experience it."
There are plans to repeat the survey in years to come.
A detailed summary and individual site-by-site reports are available on the Snowdonia National Park Authority website https://snowdonia.gov.wales/protect/conservation-work/wildlife-in-lockdown/