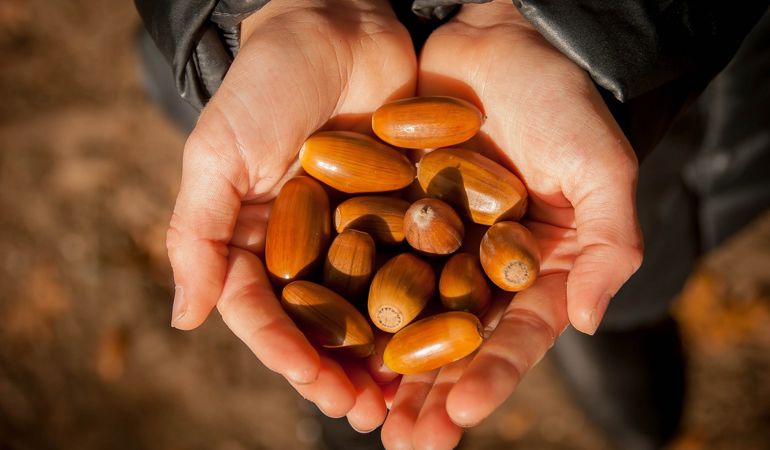 Collect seeds from trees and help raise funds for your education group
Each year we run our Acorn Antics campaign to highlight the importance of seed collection and help grow more trees from locally collected seeds. 
This year we need acorns from sessile oak trees.
The acorns that are collected will help us grow native trees from the seed of healthy, local, tree stock whilst encouraging learners big and small to get outside in the fresh autumnal air and connect with our wonderful Welsh natural environment.
Want to learn more about the campaign and what happens to the acorns?
From being collected in a woodland near you, to being sorted and grown on at the tree nursery before being planted out as a young oak in one of our forests, our video explains the Acorn Antics story and why we need acorns.
How do I get involved in Acorn Antics?
Education groups based in Wales or anyone fundraising for their local Wales based education group are welcome to take part.
To get involved you must first register your setting. You'll need to complete some paperwork and be able to provide evidence of landowner's permission.  Once we've received your registration form, we'll send you acorn collecting sacks and then you're good to go!
This year, registered groups will not only be paid for their acorns, they'll also be able to compete for two awards:
Golden Acorn Award – Quality not quantity, this award will be awarded to the setting the tree nursery decides has collected the best quality acorns.
Digital Acorn Award – Ask your learners to keep an enviro-vlog using our activity plan to document their Acorn Antics adventure. The enviro-vlog that is deemed to be the best by our panel of judges will be used to promote the 2022 Acorn Antics campaign.
The 2021 Acorn Antics campaign will launch on the 13 September and settings will have until the 15 November 2021 to register, collect and drop their acorns off with us. 
Looking for learning resources on trees and woodlands? 
To maximise the learning opportunities of taking part in our Acorn Antics Campaign have a look at our Trees and Woodlands webpage, where you will find resources and activity plans suitable for learners of all ages covering everything from how to measure a tree's height to instructions on how to grow an acorn.
For more information email us at education@naturalresourceswales.gov.uk