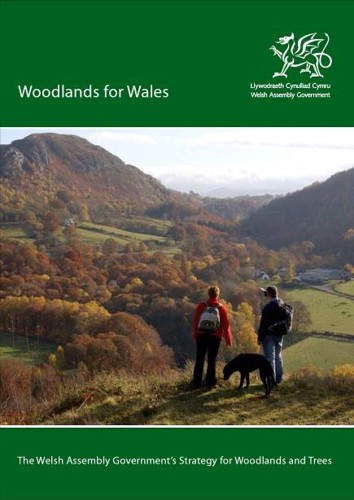 This is the challenging 50 year vision set for the Welsh Forest Resource by the Welsh Government's strategy for trees and woodlands, Woodlands for Wales. An Action Plan, refreshed every five years, sets out the steps we must all take if we are to make the most of all the trees, woodlands and forests in Wales.
Forestry policy in Wales
Forestry policy in Wales has been developed within a conceptual framework of Sustainable Forest Management committed to at International, European and UK level over the last two decades.
Woodlands provide multiple benefits for the economy, environment and people of Wales, in the same place and at the same time. The importance of providing a balanced set of benefits is key to forestry policy.
Forestry milestones
Important milestones have included:
Setting standards of sustainable forest management
Adoption of multi-purpose forestry policies
Implementation of regulations for sustainable forestry policy
Publication of guidelines and best practice
Implementation of forestry certification schemes
Establishment of a UK Woodland Carbon Code
Our role and responsibilities
Natural Resources Wales have an important role to play in turning forestry policy into action. We can do this directly through our management of Wales's publicly owned forests – the Welsh Government Woodland Estate – through our land management activities and the work we do in partnership with others.
We have responsibility for regulating forestry activities and tree health issues. We work closely with the Welsh Government to advise upon the policy, action and funding that promotes the interests of forestry. We work with many partners to protect our valuable woodland assets, help bring more woodlands into management, promote new woodland creation and sustainable timber production to get the best from the Welsh Forest Resource.
Further information
To find out more, read the Woodlands for Wales Strategy, Policy Positions and Action Plan on the Welsh Government website. See what progress we are making in Wales by reading the Woodlands for Wales indicators. Use the links to learn about the wider UK, EU and International forest policy.
Find out what we are doing to meet the 50 year vision for the Welsh Forest Resource, and how you can get involved, by having a look at our project pages.
If you would like to contact the Sustainable Forest Management Team in Natural Resources Wales you can send your enquiry to sfmt@cyfoethnaturiolcymru.gov.uk