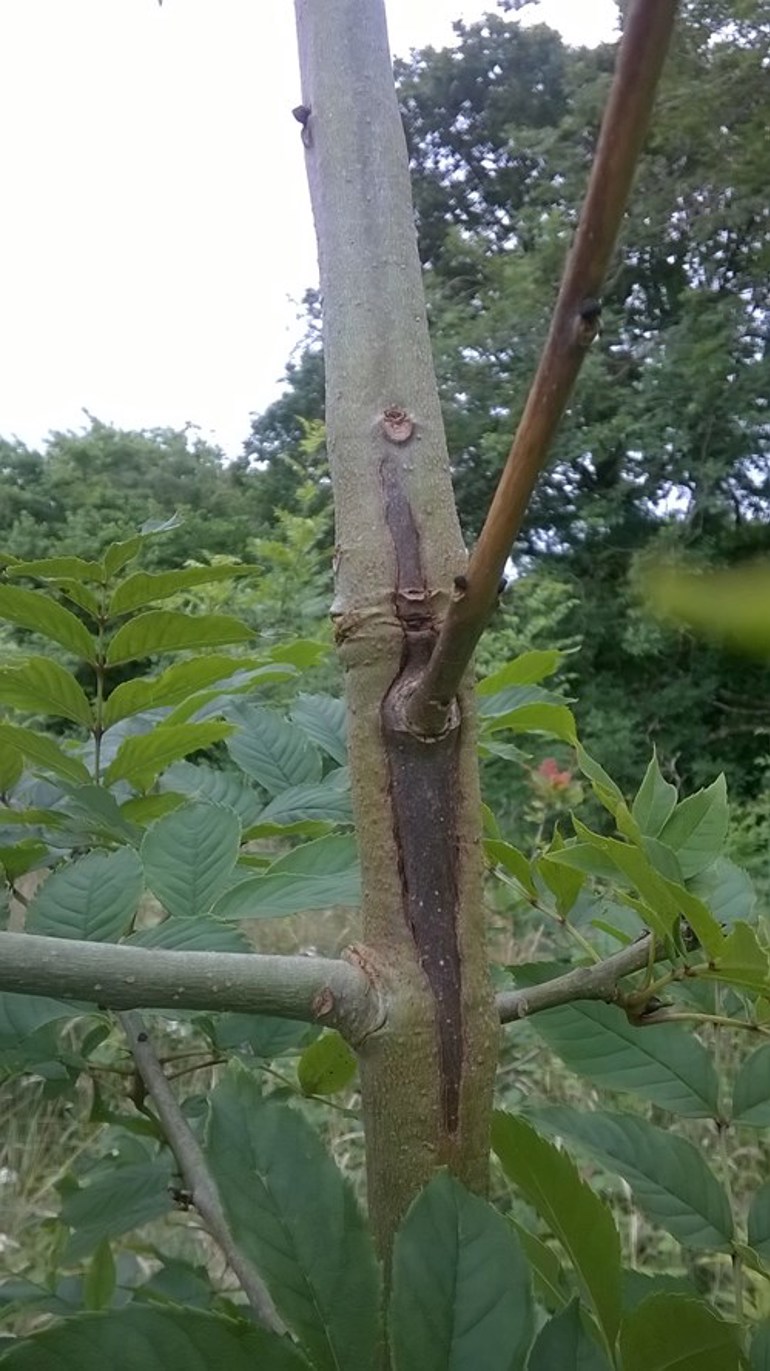 Which trees are affected?
Chalara ash dieback, also known as Chalara or dieback of ash, is a disease of ash trees caused by a fungus called Hymenoscyphus fraxineus. The fungus was previously called Chalara fraxinea, hence the widely used common name of the disease. 
Chalara ash dieback is especially destructive to common or European ash (Fraxinus excelsior), including its 'Pendula' ornamental variety. Narrow-leaved ash (Fraxinus angustifolia) is also susceptible.
In Wales, ash makes up a significant proportion of woodland cover as well as contributing to a vast network of hedgerows. Ash, as well as many other species of tree, supports a host of wildlife and habitats and any loss of would have a negative impact on our natural environment. 
Symptoms
Once a tree is infected by Chalara ash dieback, the disease is usually fatal. This can be either directly or indirectly by weakening the tree making it more vulnerable to attacks by other pests or pathogens, such as honey fungus. 
Chalara ash dieback produces small, white fruiting bodies on the stalks of fallen infected ash leaves. Spores are released from these fruiting bodies and can spread locally up to some tens of miles, maybe by wind. Over longer distances the risk of disease spread is most likely to be through the movement of diseased ash plants. Movement of logs or unsawn wood from infected trees might also be a pathway for the disease, although this is considered to be a low risk.
Chalara ash dieback causes:
leaf wilt and loss
twig and branch dieback
characteristic diamond shaped lesions on the bark
epicormic growth below the dieback section of the tree
fruiting bodies on leaf stalks of fallen ash leaves
Where has it been found?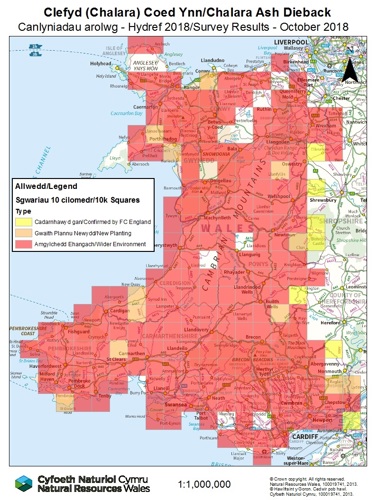 Ash trees suffering with the infection have been found widely across Europe since trees were first reported dying in large numbers in Poland in 1992. These have included forest trees, trees in urban areas such as parks and gardens, and also young trees in nurseries.
It was first confirmed in the UK in February 2012 when it was found in a consignment of infected trees sent from a nursery in the Netherlands to a nursery in Buckinghamshire, England.
In October 2012 a small number of cases of Chalara ash dieback were confirmed in Norfolk and Suffolk in ash trees at sites in the wider natural environment, including established woodland. These did not appear to have any connection with recently supplied nursery stock.
In May 2013 the first wider-environment case in Wales was found in the south-west. This was the farthest west confirmed site in the wider environment in Britain at that time. By now Chalara ash dieback has been found found throughout Wales, England and Eastern Scotland.
The fungus is believed to have entered Britain on plants imported from nurseries in continental Europe.
However, now that the infection has been found on older trees with no apparent connection with plants supplied by nurseries, it is possible that it might have entered the UK by natural means.
These include being carried on the wind or on birds coming across the North Sea and English Channel or on items such as footwear, clothing or vehicles of people who had been in infected sites in Continental Europe.
According to the European Plant Protection Organization (EPPO), the disease has been observed widely across Europe.
What's being done about it?
Research into Chalara ash dieback is being carried out by Forest Research. They are looking into disease resistance within the range of ash provenances across Britain, Ireland and near-continent. A range of ash species are being tested for their tolerance to Chalara ash dieback as well as exploring the biology and genetics of the fungus.
If you own any ash tree, you are not required to take any particular action unless we or another plant health authority serves you with a statutory Plant Health Notice requiring action.
It would be best to keep an eye on the trees' safety as the disease progresses and prune or fell them if they or their branches threaten to cause injury or damage.
Welsh Government tree Health Management plan on Ash Dieback here
Regulatory control
The fungus that causes Chalara ash dieback is treated as a quarantine organism under national emergency measures and any suspected sighting must be reported.
The UK Government introduced legislation in 2012 to implement requirements to protect Great Britain's ash trees against the threat from the Chalara ash dieback.
The legislation:
prohibits

all imports and movement of ash plants, trees and seeds into Great Britain until further notice (because no pest-free areas are established)

continues to permit

logs, woodchips and firewood, which pose a very low risk of disease transmission especially when they are kiln dried, to be imported from EU countries. In the unlikely event that this material is found to contain infection, action such as destruction will be ordered;

continues to permit

movements within Great Britain of all ash timber, which poses a very low risk of disease transmission;*

continues to permit

imports of sawn ash timber from certain countries abroad under existing regulations against the forestry pest Emerald Ash Borer. These require the material to be accompanied by official phytosanitary (plant health) certificates declaring that the material either originated in areas known to be free of Emerald Ash Borer, or that the wood is bark-free (which addresses the Chalara ash dieback risk as well) before entering Great Britain. Imported woodchips and bark of ash material have the same certification requirements as for wood, but the alternative to originating in an area of pest freedom is that the material has been processed into pieces of not more than 2.5cm thickness and width
* Although there are no specific measures on logs and firewood in the legislation, the general prohibition on spreading Chalara ash dieback means that movement is prohibited within Great Britain of logs and firewood from woodlands and other sites with confirmed Chalara ash dieback infection and which have been served with a statutory Plant Health Notice.
Biosecurity – What can be done to help?
In areas such as parks and gardens, you can help to slow the spread of the disease by removing and disposing of infected ash plants and collecting up and burning (where permitted), burying or composting the fallen leaves. This will break the fungus's life cycle.
Remember you can help stop the spread of tree pests and diseases by taking some simple precautions: 
Make sure your shoes and boots are clean before you visit the countryside
Make sure any vehicles are cleaned regularly preventing any build-up of mud especially around the wheels and wheel arches
Keep to the hard tracks where practical
Take note of any signs or instructions
Planning for the future
By ensuring a woodland area is diverse in terms of tree species can provide a greater resilience to the changing threat of pests and diseases in Wales. When planning new woodlands or replanting a felled area, consider choosing a mix of species. This would allow the area a greater chance of recovery should it succumb to an attack by a pest or disease. You can find information on diversifying tree species on our planning for the future pages. 
Advice on options to mitigate the impact of the loss of ash
Ecological impacts of ash dieback and mitigation methods
How to report
If you think you have spotted the disease, please check the symptoms before reporting it using Tree Alert
Sorry, but we cannot respond to each report individually, however, every one of them will be assessed.
If you wish to contact us for other tree health related issues, please email us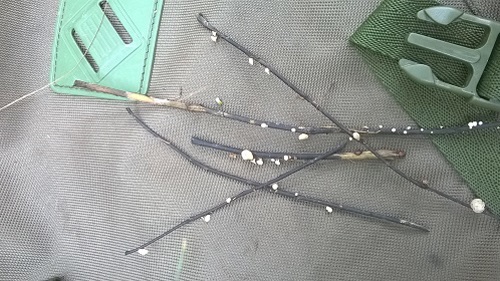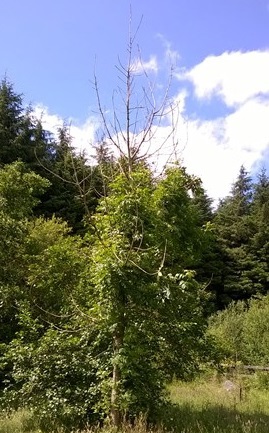 Related document downloads