Which trees are affected?
Phytophthora ramorum (P. ramorum) is a fungus-like pathogen that causes extensive damage and kills a wide range of trees and other plants.
Larch trees are particularly susceptible and large numbers have been affected.
It is the most serious tree disease to have affected forests in Wales and has a very serious economic, social and environmental impacts.
The disease has infected approximately 9,000 ha of larch trees in Wales and kills the tree once it is infected.
The first UK finding was made on viburnum (a type of shrub) in February 2002 at a garden centre in Sussex.
In 2009 P. ramorum was found to be infecting and killing larch trees in south west England and subsequently spread to many western parts of the UK, leading to widespread felling. It has also been found to infect rhododendron and native bilberry.
Although larch are the main tree species affected, the following trees can also be susceptible to infection:
northern red oak (Quercus rubra)
turkey oak (Quercus cerris)
holm oak (Q. ilex)
beech (Fagus sylvatica)
sweet chestnut (Castanea sativa)
horse chestnut (Aesculus hippocastanum)
Douglas fir (Pseudotsuga menziesii)
Sitka spruce (Picea sitchensis)
Symptoms
On larch trees:
Shoots and foliage can be affected and look wilted with withered shoot tips and orangey needles turning to black, known as 'branch dieback'. The infected shoots shed their needles prematurely. Trees with branch dieback can have a number of resin cankers or wounds on the branches and upper trunk.
These resin cankers ooze fluid from infected bark. These are visible as a black resin, which can dry to a crust on the trunk.
The inner bark under this bleeding area is usually discoloured and dying. When the cankers become extensive on the main trunk, the tree dies.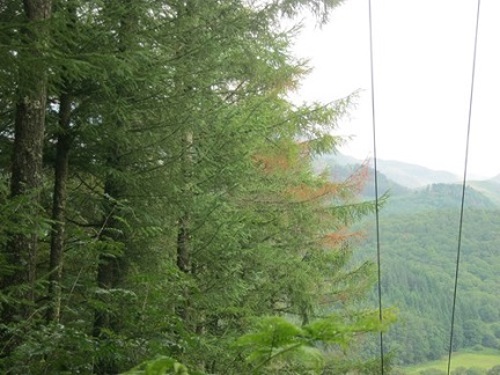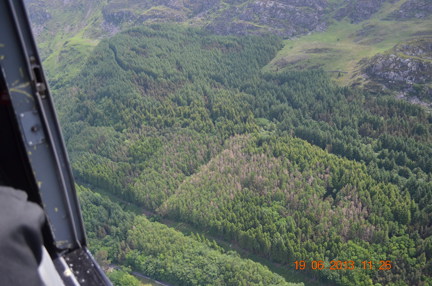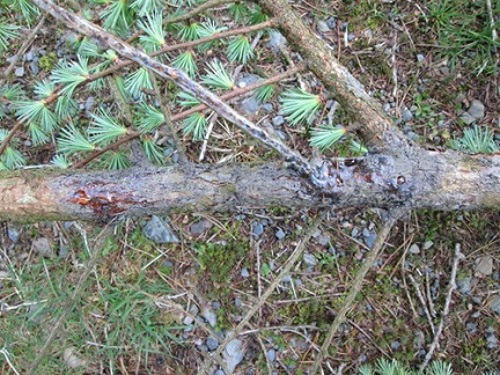 On other plants:
P.ramorum infects the leaves and shoots of ornamental shrubs such as rhododendron, viburnum, pieris and camellia. Although it does not usually kill these plants, infected leaves of some of these 'foliar hosts' can generate many spores and in sufficient numbers these spores can then infect the bark of some tree species.
Typical symptoms on rhododendron include leaf-blackening, wilted shoots and die-back. On individual leaves, blackening of the leaf stalk usually extends into the leaf along the mid-vein, although blackening at the leaf tip can also occur. The progress of the disease can be so rapid that shoots wilt and the leaves hang down.
Where has it been found?
Few trees in the UK were affected until 2009, when P. ramorum was found infecting and killing large numbers of Japanese larch trees in South West England.
By 2011 it had been found on Japanese larches across the whole of the British Isles.
In Wales, P ramorum is now widespread. It is affecting large areas of larch across Wales with the greatest impact being in the south.
Contrary to some views, research has shown that P ramorum did not arrive in the UK from the USA, where different forms of the pathogen occur.
The evidence suggests that P. ramorum is native to Asia. Germany and the Netherlands are now known to have had findings of the pathogen (as a then unknown Phytophthora) on shrubs dating back to 1993, but these are also likely to have been introduced.
P. ramorum has now been found on nursery stock in a number of countries across Europe.
Evidence indicates that P. ramorum can be spread over several miles in mists, air currents, watercourses and rain splash. We also know that Phytophthora pathogens can be spread on footwear, dogs' paws, bicycle wheels, tools and equipment etc.
Movement of infected plants is also a key means of spreading it over long distances.


What is being done to prevent the spread?
Where outbreaks of P ramorum infection are identified, the trees must be felled to remove the living tissue on which the pathogen lives and spreads its spores. We issue a Statutory Plant Health Notice to the owners of the diseased trees.
Timber from infected larch can still be used, so the felling provides us with an opportunity to recover some of the economic value of the timber that is subsequently reinvested into the Welsh Government's Woodland Estate.
Larch from infected woodland can be taken under licence to authorised processing facilities with appropriate biosecurity precautions in place to prevent accidental spread. These precautions must be in place from the forest gate to the disposal of the sawmill residues.
The disease is detected by a combination of visual inspection and field tests of symptomatic bark and needles with test kits known as lateral flow devices (LFDs).
Laboratory tests are required to either isolate the pathogen or detect its DNA to confirm the exact species. There are a number of technical challenges when doing laboratory tests to diagnose P. ramorum in larch bark and foliage and return a conclusive result in about 80% of all symptomatic material sent in for testing, so we cannot rely solely on laboratory tests.
If, however, laboratory analysis confirms the presence of another causal agent, the site will not be classed as infected, but will be kept under surveillance.
Risk zones:
The UK is categorised into risk zones and all of Wales falls into the highest risk, zone 1, but within this risk zone, Wales is divided into two further zones:
Core Disease Zone (CDZ) - areas with high levels of infection in larch stands and that have a geographically defined outer boundary. The emphasis here is on effective land management and the fate of infected material.
Disease Limitation Zone (DLZ) - covers the rest of Wales where infection levels are very slight or non-existent. Statutory Plant Health Notices will require rapid felling of infected larch.
We manage tree felling differently in the two zones and focus effort on reducing the spread of the disease further and protect the non-infected larch in Wales.
Core Disease zone in Wales showing confirmed cases of P ramorum:
If you wish to fell larch trees in Wales, please refer to our tree felling pages. Welsh Government has a strategy for Phytophthora management.
Many areas of larch that have previously been felled on NRW land are now being replanted
How we regulate spread of the disease
Given the seriousness of this pathogen, we serve statutory Plant Health Notices on woodland owners requiring their infected trees to be felled.
We ensure that private-sector interests are addressed and taken into consideration as we refine the strategy for dealing with this threat, through representation on our P.ramorum Processor Licensing Working Group, the Confederation of Forest Industries (ConFor), the UK Forest Products Association (UKFPA) and through meetings with key sector representatives.
We have extensive infection within our own Japanese larch woodlands and undertaking felling on all of our infected sites as well as replanting of the woodland sites.
Help stop the spread
Remember you can help stop the spread of P. ramorum and other tree disease by taking simple precautions:
Make sure your shoes and boots are clean before you visit the countryside
Make sure any vehicles are cleaned regularly preventing any build-up of mud especially around the wheels and wheel arches
Keep to the hard tracks where practical
Take note of any signs or instructions
Planning for the future
By ensuring a woodland area is diverse in terms of tree species can provide a greater resilience to the changing threat of pests and diseases in Wales. When planning new woodlands or replanting a felled area, consider choosing a mix of species. This would allow the area a greater chance of recovery should it succumb to an attack by a pest or disease. You can find information on diversifying tree species on our planning for the future pages.
How to report
If you think you have spotted the disease, please check the symptoms before reporting it using Tree Alert
Sorry, but we cannot respond to each report individually, however, every one of them will be assessed.
If you wish to contact us for other tree health related issues, please email us.
Related document downloads