Mawddach & Wnion Valley Forest Resource Plan
View and comment on our proposed plans for the Mawddach & Wnion Valley forests.
Background
The woodlands that make up the Mawddach and Wnion Valley plan are spread around the Mawddach estuary and in the lower Mawddach and Wnion valleys. The core area is around Brithdir, Dolgellau, Llanfachreth and Llanelltyd as well as smaller blocks to the north and south of the estuary. The plan area is wholly within Snowdonia National Park planning authority (all within Gwynedd County Council) and covers an area of 754 hectares.
These forests are a mix of highly productive forests for timber and less productive forests where amenity and ecological drivers are stronger, however soils and climate throughout the area are very good and suitable for growing a wide variety of tree species. The more productive forests are predominantly Sitka spruce, Douglas fir and pines, with significant areas of native broadleaved woodland. To date there has only been a limited impact of Phytophthora ramorum on the larch, but it is accepted that this species will need to be removed in the coming years as part of the larch replacement programme currently being implemented across the Welsh Government Woodland Estate.
Ancient woodland is designated over approximately 340 hectares of the plan area in varying ecological condition from Ancient Semi-Natural Woodland (ASNW), to significant areas of Plantation on Ancient Woodland Sites (PAWS) with few remnant features. Industrial heritage is an important feature of the area with large relic mines (slate) scattered within and surrounding the forest. There are numerous remnant agricultural features such as walls, farmsteads and other buildings throughout the woodlands.
There are a number of Special Areas of Conservation (SAC) and Sites of Special Scientific Interest (SSSI) adjacent to the forests in the Mawddach and Wnion Valley area. Management of the forest adjacent to these sites will need to be aware of any potential impact on the designated sites and aim to compliment them where possible.
There is regular usage by the community for dog walking, etc, though there are areas with more significant use such as the New Precipice Walk. Much of the woodland in this plan is highly visible and can be seen from communities along the valley and tourist focal points such as the Mawddach Trail, the Precipice Walk and Cadair Idris.
Summary of objectives
Maintaining timber production

- Parts of the Mawddach and Wnion Valley plan area areproductive timber forests with high yielding crops. There is

significant potential for diversification

across the plan area and it will remain a priority to maintain this productivity but ensuring both structural and species diversity are introduced

Management systems

on steep terrain which limits opportunities for forest management, systems chosen for management should be appropriate to the site and promote good silvicultural management practices

Investment in infrastructure

(tracks) will be necessary to support the move to Low Impact Silvicultural Systems (LISS). It is also essential that planned roads in Llanelltyd and improved access to other forest blocks in this plan area are achieved, in order to facilitate effective management
There is significant potential for increased

thinning

of both conifer and broadleaved areas,

maximising the thinning potential

generally is essential to the delivery of economic, social and environmental outcomes of the Mawddach and Wnion Valley woodlands. This will support the development of LISSs,

reduce the need for large scale clearfelling

in the future and aid the development of structural diversity of the forest
Key habitats for

European Protected Species such as dormice and otters

should be protected and enhanced, this again will benefit from an improved delivery of silvicultural thinnings

Industrial and agricultural heritage

are major features of the area with many features (for example Foel Ispri SSSI) within or adjacent to the forest, these should be protected and it should be ensured that any harvesting work follows best practice
Forest management should be sensitive to the increasing potential for public access and

recreational use

of the forest. This will link with other objectives and may include diversification of the forest and native and amenity plantings, where silviculturally appropriate

Ancient Woodland

- There is approximately 340ha of native woodland that is Ancient Semi-Natural Woodland (ASNW) or Plantation on Ancient Woodland Sites (PAWS), this accounts for 45% of the plan area. Significant improvements have been made in some areas already, but there is still considerable potential for improving the biodiversity of these woodlands. It should including increasing the proportion of native species, improving habitat networks and increased structural and species diversity (native and non-native), as well as increasing the amount of deadwood habitat
Location Map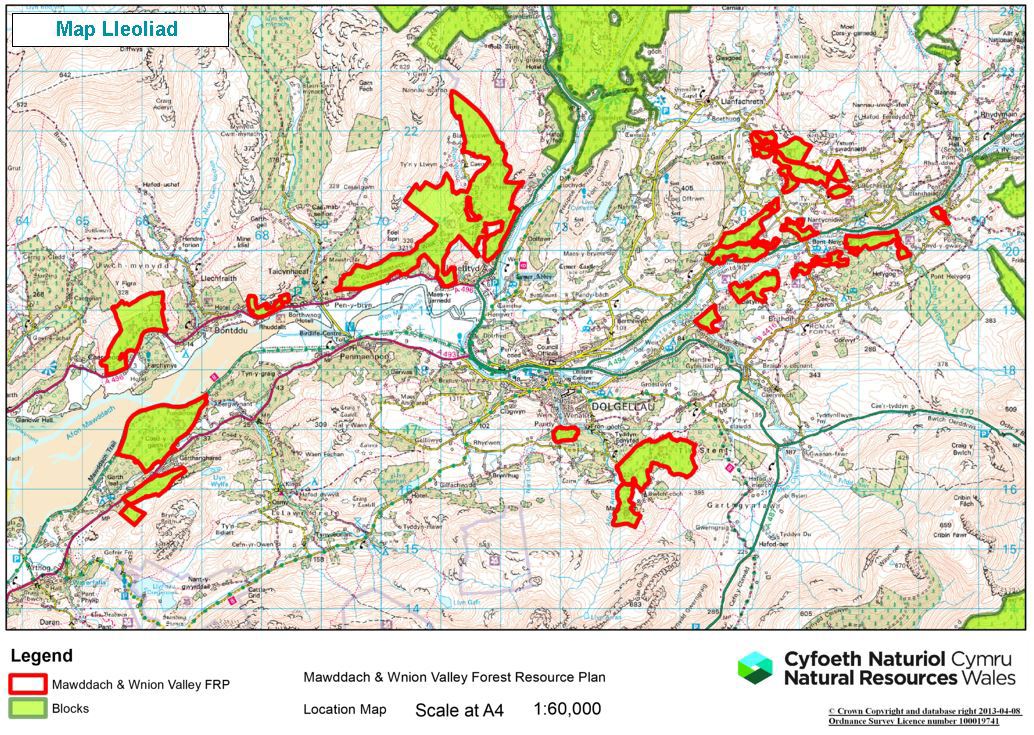 Long-term primary objectives map
Still under development.
Indicative forest types and habitats map
Still under development.
10 year harvesting activities map
Still under development.
If you have any comments or feedback, you can contact the Forest Resource Planning team at frp@cyfoethnaturiolcymru.gov.uk or frp@naturalresourceswales.gov.uk