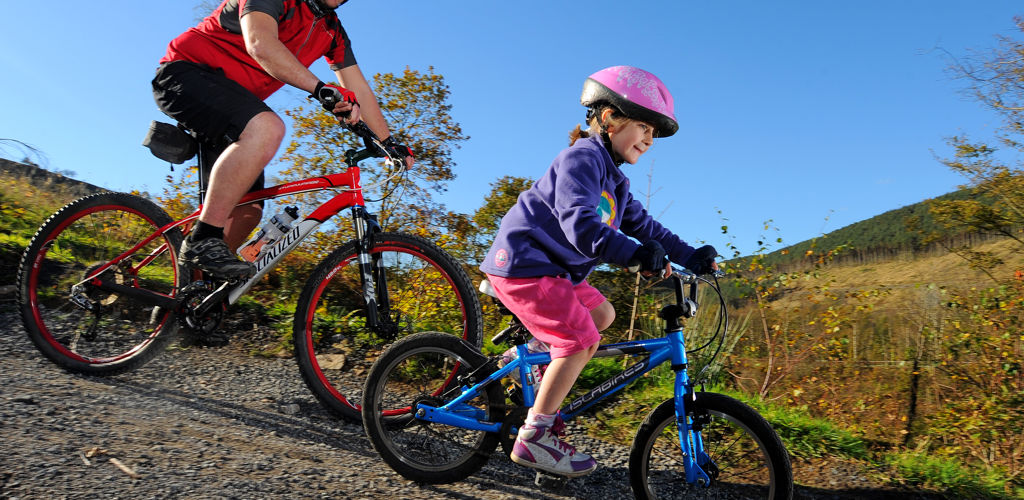 Your mountain bike adventure starts here!
We have fantastic facilities in woodlands across Wales for newcomers to mountain biking.
Some of these woodlands also have a skills area where beginners can learn riding techniques and more experienced riders can develop their skills.
You don't even need to own a mountain bike to get started as you can hire one at several of our sites.
We also offer a purpose-built trail suitable for riders with a disability using an adaptive mountain bike which can be hired at Coed y Brenin Forest Park Visitor Centre.
So, what are you waiting for? Get on your bike and discover the beautiful off-road world for the first time.
How do I know which mountain bike trail is right for me?
All of our mountain bike trails are graded to give you an indication of their difficulty. The trails aimed at beginners are graded green and the trails for those with basic off road riding skills are graded blue.
The grade for every trail is given on the information panel at the start. 
The panel also gives further details about the trail and tells you which waymarkers (for example, a coloured arrow or other type of sign) to follow all the way round.
Once you've read the information on the panel, you're ready to set off.
Where are the mountain bike trails for beginners?
Many of our mountain bike trails start from a visitor centre where there are facilities like bike hire, changing areas with showers and a café where you can relax and refuel after your ride.
All of our trails are free to ride but there is a charge for parking at some of our sites.
The trails are open all year round (unless bad weather or forestry operations mean that we have to close or divert them).
The woodlands below have mountain bike trails suitable for beginners. Follow the links to get more information about each place.
Any more tips for newcomers to mountain biking?

As with any new sport, building up your skills on a mountain bike goes hand in hand with gaining more experience and more confidence. Although you may have ridden a bike on tarmac, getting used to the feel of riding off-road may take a little while.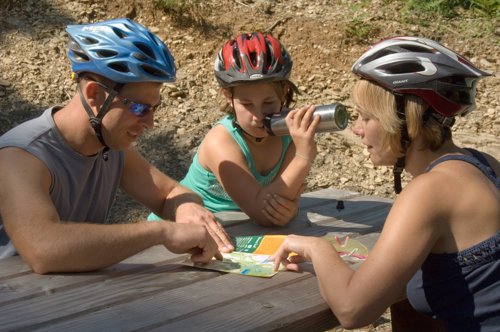 You don't need to buy a full bike kit to start with but you will need a helmet and some gloves – and make sure you wear comfortable clothing! If you get hooked and want to ride more often, some padded shorts, knee pads and a cycling jersey are worth the investment.
Bring water to keep you hydrated and a waterproof in case the weather changes. And, just in case you get a puncture, make sure you know how to fix it and take the kit with you (or be prepared to push your bike back to the car park!).
And finally, make sure you read the Forest Cycle Code and the grading information which explains in detail what to expect from each colour trail on our main mountain biking page.
Find out more
Some of the most famous mountain bike trails in the country for more experienced riders are in the woodlands we manage. Go to our main mountain biking page for full details of all our mountain bike trails. You can also buy a pack at some of our sites which contains full details of the mountain bike trails there
Our free PlacesToGo app (available for Apple and Android devices) includes all of our mountain bike trails and other recreation facilities in woodlands and National Nature Reserves in Wales
For details about mountain bike trails provided by all organisations across Wales plus information about events and a useful "Learn to ride" section, go to www.mbwales.com