Merthyr Mawr Warren National Nature Reserve, near Bridgend
Wildlife haven with the highest sand dune in Wales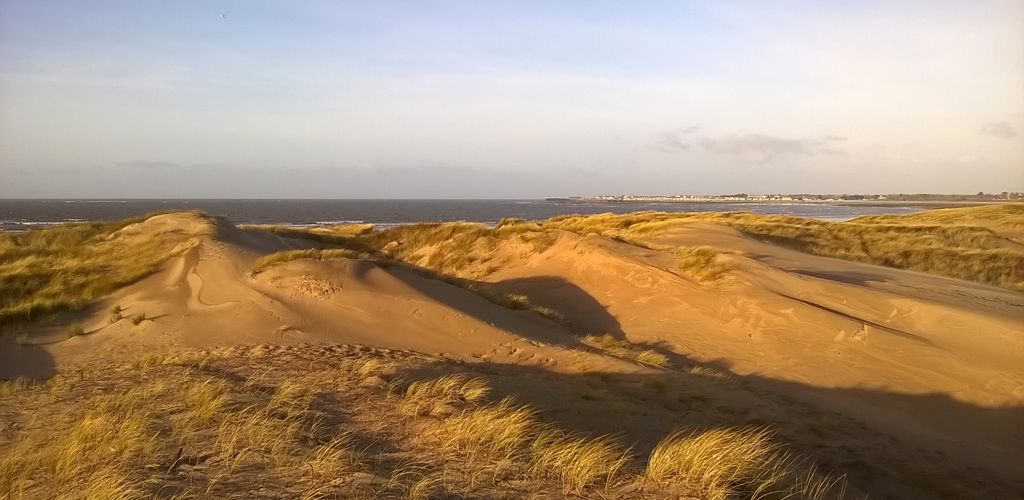 Coronavirus update
The car park and walking trails are open.
Our horse riding trails are open to permit holders.
The car park and toilets here are operated by the Merthyr Mawr Estate.
We'll keep this page up to date with the latest information so please check back regularly.
Visiting our sites safely
Please take personal responsibility for your safety, making additional preparations ahead of your visit and abiding by the safety measures in place.
We have changed the normal route for some of our trails to help you maintain social distancing – please follow signs on site.
Welcome
Set on the South Wales coast, Merthyr Mawr Warren National Nature Reserve is home to the highest dune in Wales, known as the Big Dipper.
The dune system here is like no other in Wales, partly due to the huge area it covers – it extends to 840 acres (the size of 340 international rugby pitches!).
Merthyr Mawr is a haven for wildlife. Sand has settled on top of the ancient limestone cliffs creating a special habitat for insects, fungi and plants.
There are also grasslands, saltmarsh, beach and woods within the reserve.
Flints from the Stone Age, burial mounds and pottery from the Bronze Age, hearths from the Iron Age, and Roman tiles have all been discovered here.
Walking trails
All of the walking trails are waymarked.
Big Dipper Walk (from Candleston car park)
½ mile/1 kilometre, strenuous
Climb the highest sand dune in Wales, known locally as the Big Dipper, which is actually a dune formed on top of a limestone ridge.
Enjoy the spectacular views from the top after you have climbed uphill on the soft sand.
Beach Walk (from Candleston car park)
2.4 miles/3.7 kilometres (there and back), moderate
If you want to get straight to the beach, cross the bridge and follow the waymarked Beach Walk.
Along the way, you will experience Merthyr Mawr Warren's sand dunes and its variety of wildlife and habitats.
Ridge Walk (from Newton car park)
2¼ miles/3.5 kilometres, moderate
Enjoy panoramic coastal views from the limestone ridge.
This trail starts approximately 500 metres from the Newton Car Park, a privately owned pay and display car park at the western end of the reserve. 
Other routes
As well as our waymarked walking trails, there are also many public paths that meander around the reserve and woodland.
A section of the Wales Coast Path hugs the edge of Merthyr Mawr Warren.
Horse riding routes
There are three horse riding routes from the Candleston car park through the dunes.
These trails are waymarked with horse symbols and vary in length from 2½ miles (3.8 kilometres) to 4½ miles (7.4 kilometres). There is a total of 9 miles (15.4 kilometres) of trails.
Horse boxes can park in the Candleston car park which is a pay and display car park.
Please note: You need a permit to ride these trails. Permits are available from the Merthyr Mawr Estate Office, CF32 0LR; tel: 01656 662413.
Seasonal highlights
Depending on when you visit, you are likely to see different wildlife.
Read on to find out what you could see here during the different seasons.
Wildflowers and fungi
Flowers colour the dunes throughout the year in a succession of purples, yellows and blues. In spring there are violets and wild pansies followed by orchids in summer.
A rich range of fungi emerge in the autumn alongside flowers like autumn ladies-tresses and autumn gentian.
Insects
The combination of a comparatively warm sunny site, lots of nectar from wildflowers and easy-to-burrow-into sandy soils creates an ideal home for a wide range of insects.
Look out for striking red-caped cinnabar moths from May, followed by equally showy and similarly coloured six-spot burnet moths.
Butterflies include grizzled and dingy skippers, dark green fritillaries, small heaths and common and small blues.
Reptiles
The warm conditions provided by the sand dunes provide ideal conditions for a number of reptiles including adders, common lizards, grass snakes and slow worms.
National Nature Reserve
Merthyr Mawr Warren is a National Nature Reserve.
National Nature Reserves are places with some of the very finest examples of wildlife habitats and geological features.
There are over 70 National Nature Reserves in Wales.
Find out more about National Nature Reserves.
Opening times
Please check the top of this page for any changes to these opening times.
There are basic toilet facilities which are open 24 hours.
Closures and diversions
Sometimes we need to close or divert trails for your safety whilst we undertake maintenance work or other operations
Occasionally we may have to close a site in extreme weather, such as high winds or snow and ice due to the risk of injury to visitors or staff
Please always follow any instructions onsite and make sure you follow any temporary diversion signs in place
How to get here
The main car park for Merthyr Mawr is the Candleston car park. It is four miles from Bridgend.
This car park is owned and managed by Merthyr Mawr Estate and there is a parking charge.
Directions
From Bridgend take the B4265 to Candleston Castle and Merthyr Mawr Warren. At the roundabout take the third exit onto the A48. Turn off to the left when you reach Merthyr mawr Road. Follow this road until you reach Candleston Castle and the car park.
Ordnance Survey map
Merthyr Mawr is on Ordnance Survey (OS) map 151.
The OS grid reference for the Candleston car park is SS 871 772.
Public transport
The nearest train station is in Bridgend.
There is a bus service from Bridgend bus station to the village of Newton at the westerly end of the reserve.
For details of public transport visit the Traveline Cymru website.
Contact details
Tel: 0300 065 3000
Email: enquiries@naturalresourceswales.gov.uk
Downloads
Related document downloads