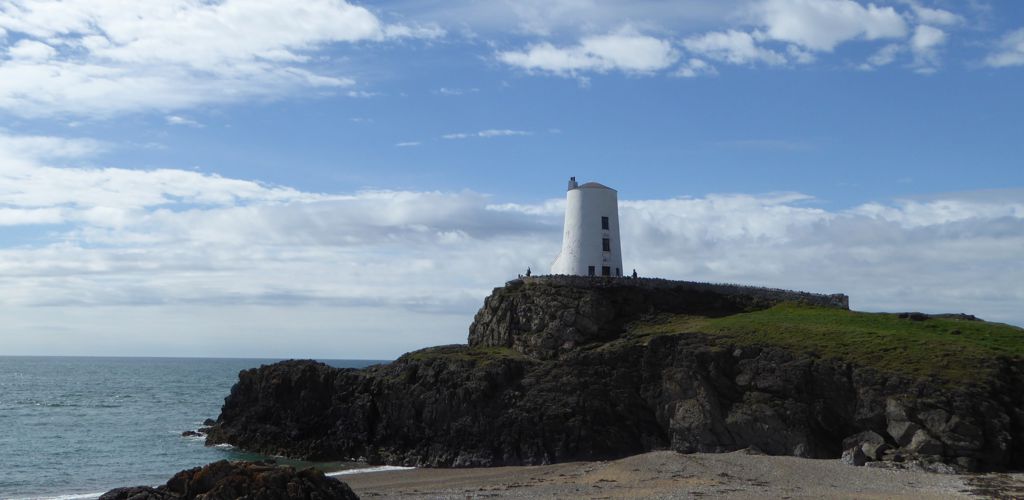 Introduction
There is so much to see on this small island with its famous lighthouse and ruins of an ancient church dedicated to the Welsh Saint Valentine.
You can also enjoy the rich bird-life and wildflowers and see the 'pillows' of lava from undersea volcanoes.
National Nature Reserve
Together with the dunes and beach, the island of Ynys Llanddwyn is part of a National Nature Reserve which also includes large areas of saltmarsh and coastal sand flats.
National Nature Reserves are places with some of the very finest examples of wildlife habitats and geological features.
There are over 70 National Nature Reserves in Wales
Find out more about National Nature Reserves.
The legend of Saint Dwynwen
In Welsh, Llanddwyn means 'the church of Saint Dwynwen' and the story of Saint Dwynwen, patron saint of lovers of Wales, is associated with Ynys Llanddwyn.
Dwynwen was the daughter of a 5th century king. She is said to have retreated to Llanddwyn after falling in love and she set up a religious enclosure here in the 5th century.
Over the years, this beautiful island became a popular place of pilgrimage and visitors used to leave offerings at Dwynwen's shrine.
The area became very rich during Tudor times. A new chapel was built in the 16th century on the site of Dwynwen's original chapel and the ruins can still be seen today.
People all over Wales celebrate Saint Dwynwen's Day on 25 January.
Even though this day is still little known outside of Wales, it is growing in popularity with more and more events forming part of the celebrations every year.
You can learn more about the story of Dwynwen on our Saint, Sand and Sea walking trail.
Visiting Ynys Llanddwyn
Start your visit from the beach car park. 
See the map on our planning your visit page.
You can make your way over to the island of Ynys Llanddwyn at low tide.
The Saint, Sand and Sea Trail leaves from the beach car park. 
You can also download our audio trail about Saint Dwynwen or read more about her on the Visit Wales website.
Please note:
Ynys Llanddwyn can be cut off in high tides.  Check tide times on the BBC website
Check tide times before starting the Saint, Sand and Sea Trail
The island is very exposed - be prepared for bad weather conditions
Downloads
Related document downloads