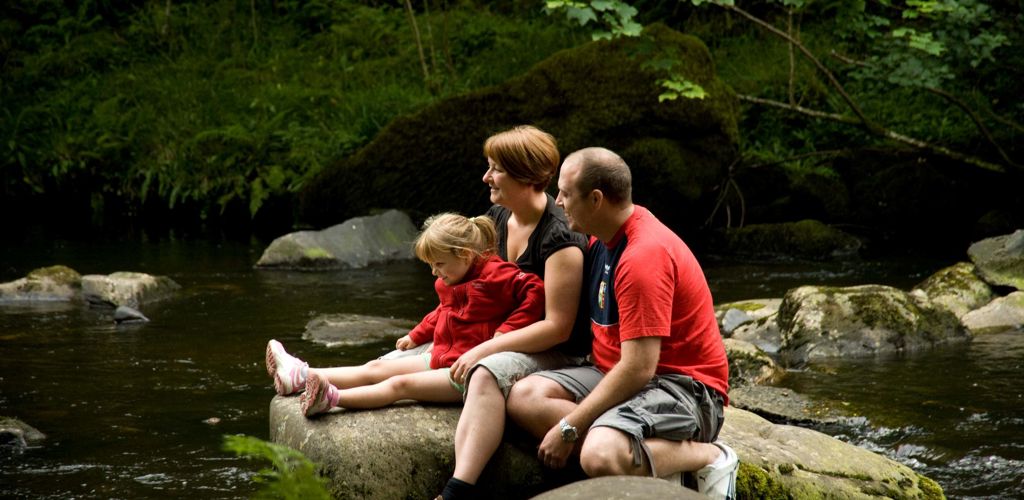 Geocaching
Geocaching is a great way of having fun in the countryside.
The aim is to hunt out carefully hidden caches using maps and satellite navigation devices called GPS (Global Positioning System) receivers. 
If you find a cache, and some are very hard to spot, there are often trade items in them that you can swap and a log book for you to record your visit. 
Geocaching trails in Coed y Brenin Forest Park
There are two geocache trails in Coed y Brenin Forest Park.
These are circular walks, starting and finishing at the visitor centre, along forest roads and footpaths.
They take in secluded sites of historic importance hidden in the forest including the Sarn Helen Roman road, a Medieval iron works and the disused goldmines at Gwynfynydd.
The trail is designed for walkers only - there is no access to the cache sites by vehicles. 
How to follow the geocache trails
Go to www.geocaching.com for full information on each cache and download the co-ordinates onto your own GPS at home before setting off
Alternatively, you can hire a GPS with the co-ordinates already loaded from the visitor centre (ring 01341 440747 to book a GPS in advance; geocaches need to be picked up by 1pm)
The caches contain information sheets to explain some of the history of each site visited
Go to www.geocaching.com to log your visit and finds
Safety advice
Stout footwear is recommended as the routes have both steep ascents and descents on unmade uneven surfaces.
Please be aware that there are fast flowing rivers, deep gorges and old workings in the forest – the caches are NOT placed in any area of obvious danger. 
Orienteering
There are four permanent orienteering courses (a series of wooden posts you have to find in order) in Coed y Brenin Forest Park, all of which start and finish at the Visitor Centre.
These include two easier courses for beginners, one of which is suitable for children, and two harder courses for confident map readers and experienced orienteers.
The routes are all graded to British Orienteering Federation standards and were designed by the Mid-Wales Orienteers.
How to follow the orienteering courses
Download the maps and print at home
Alternatively, buy an A3 sized version of the map, printed on waterproof paper at a scale of 1:7,500, from the visitor centre
Test your map reading skills on the course of your choice by navigating between the wooden marker posts, or "controls" (which is the term used by orienteers)
Complete the courses in your own time. For example, you may want to run the course as fast as you can, or you may prefer to have a leisurely stroll round the forest
Orienteering courses in Coed y Brenin Forest Park
Yellow course, 1.7 kilometres, easy
The yellow course is suitable for complete beginners and children. The navigation is easy, there is no route choice, and the entire course can be completed on good paths. The course is 1.7 kilometres long.
Download the yellow course map.
Orange course, 2.7 kilometres, easy
The orange course is harder than the yellow course and is suitable for adults and older children who can understand a map. It has controls on or close to line features as well as paths and allows you to develop your navigational skills.
Download the orange course map.
Red course, 5.3 kilometres, hard
The red course is suitable for fit people who are reasonably confident map-readers. The navigation is moderate, with route choices. You will need to use line features other than paths (for example, walls) as "handrails", and in one or two places, you will need to venture a short way from line features.
Light green course, 2.7 kilometres, hard
The light green course is suitable for experienced orienteers. The navigation is harder, with route choices. Some controls are on point features which are some way from any line feature. 
Download the light green course map.
Children's play area
The children's play area is situated right next to the Coed y Brenin Forest Park Visitor Centre. 
It has been designed over three levels to cater for different ages, abilities and needs
The play equipment is of robust timber construction and it blends in with the forest surroundings
It is maintained to a high standard by site staff and receives an annual independent RoSPA inspection
Children using the play area should be supervised by an adult at all times
Dogs are not permitted in the play area
Toddlers play area, suitable for children aged between 3 and 6 years
The toddlers play area has easy access for parents, pushchairs and young children.
It is the highest of the three tiers of the play area and allows you to keep an eye on your older children playing in the other two areas below.
It has a safety surfaced play zone and the equipment includes a play house with double width slide, a rotating dish, dual swings and rocking animals.
All-ability play area, suitable for children aged over 4 years
The all-ability play area is the middle tier of the play area.
It is surfaced in a smooth rubberised material which is ideal for wheelchair access.
Many of the items of play equipment have dual functions such as:
the rocking bridge which is designed for use by wheelchair users but also works well when children run across it
the one tonne revolving stone which is designed for those with visual impairments but the mechanics and ease with which the stone can be turned fascinate all children 
This play area also includes a giant basket swing, a revolving dish and a three metre long dual slide and rope climb.
Free play area, suitable for children aged over 5 years
The free play area is the lowest tier and is an unfenced area which blends into the wider forest.
The only formal piece of play equipment is a timber climbing wall. There are also rock stepping stones, a story telling area with log seats, a stream to dam, branches to make dens from and flowering fruit trees.
Animal puzzle trail
The trail starts from the visitor centre and all the animals can be found on the Afon Eden Riverside Trail. This one mile long route follows a pushchair friendly all-ability path and goes past a riverside picnic site.
Please visit our other pages to find out more about walking, mountain biking and running at Coed y Brenin Forest Park Visitor Centre.
Discovery backpacks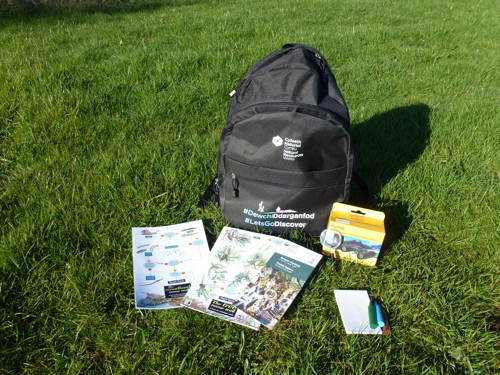 You can borrow a free discovery backpack at the visitor centre and discover more of the great outdoors.
Each backpack contains useful goodies like binoculars, a magnifying glass, a bug pot and nature identification cards along with a guide explaining how to use them.
Find out more about the discovery backpacks.
Downloads
Related document downloads