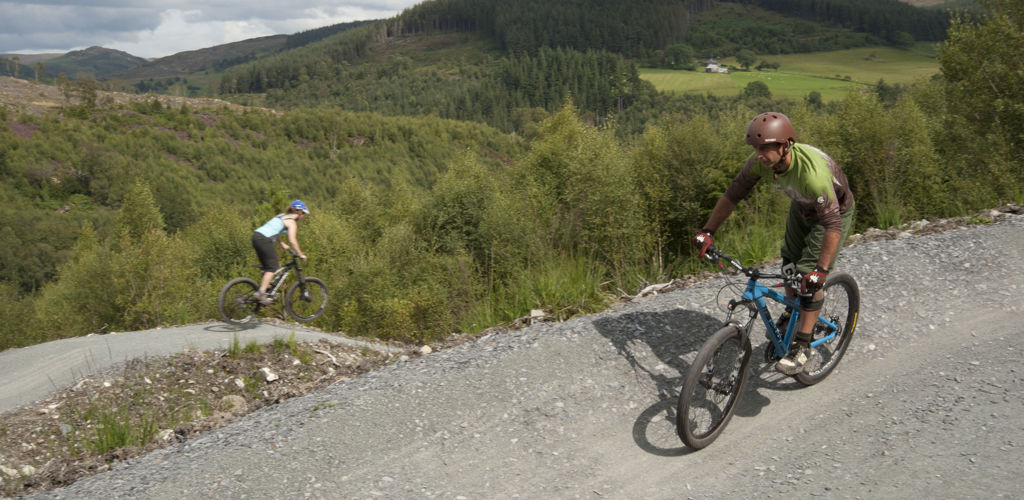 Coronavirus update
All Natural Resources Wales (NRW) car parks, play areas and toilet blocks in the reserves, woods and forests are closed from 23 March 2020.
The visitor centre and café are closed.
Beics Brenin is closed.
Mountain bike trails are now closed. No maintenance is being carried out until further notice on mountain bike trails.
For more information see our main page on coronavirus.
Coed y Brenin was the first purpose-built mountain bike centre in the UK and it is still the largest.
It is home to eight mountain bike trails, a skills area and a bike hire and retail shop.
All of the mountain biking trails are waymarked and start from the visitor centre car park.
Which mountain bike trail is right for you?
The mountain biking trails in Coed y Brenin Forest Park are graded to give you an indication of their difficulty:
Forest road trail (Yr Afon)
Blue grade trail (The MinorTaur)
Red grade trails (Dragons Back; Cyflym Coch; Temtiwr)
Black grade trails (Beast trail; Tarw Ddu; MBR)
To make sure that you pick a mountain bike trail you can handle:
Closures and diversions
Please note:
Sometimes we need to close or divert trails for your safety whilst we undertake maintenance work or forest operations
Occasionally we may have to close a site in extreme weather, such as high winds or snow and ice due to the risk of injury to visitors or staff
Please always follow any instructions onsite and make sure you follow any temporary diversion signs in place
Please see the MTB trail update for the latest information.
Yr Afon Mountain Biking Trail
10.8 kilometres, forest roads
The Yr Afon trail takes in some of the most picturesque parts of the River Mawddach. It passes the gold mines of Gwynfynydd and goes along the river valley to the waterfalls.
It's a relatively low level route on forest roads with no singletrack sections, but there is a short section of constructed track leading from the visitor centre.
Whilst it's a lovely trail for the family to enjoy, there is a longer section of heavily potholed private road and a couple of short fairly steep climbs. Take care on the return as there is a steep forest road descent so you need to control your speed.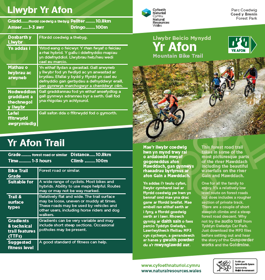 The MinorTaur Mountain Biking Trail
12 kilometres, grade blue (moderate)
The MinorTaur is the most popular mountain biking trail in Coed y Brenin Forest Park.
It offers a great introduction to mountain biking and helps riders of all ages hone their skills before tackling more difficult trails.
The trail is made up of four loops.
The first three loops get progressively longer and more challenging. They have plenty of fun features such as stone steps, table tops and fantastic swoopy berms.
A fourth loop with technical features including jumps and drop offs was opened in early 2019. It has more shape and flow than the first three loops and the features are closer together.
The first three loops can be used by disabled mountain bikers on adaptive bikes.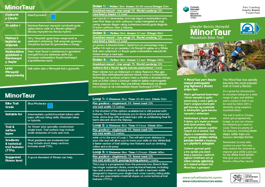 Dragons Back Mountain Biking Trail
31.1 kilometres, grade red (difficult)
The Dragon's Back trail is a classic cross country mountain bike trail which has matured well and benefitted from some fine additions over the years.
Features such as challenging climbs, tight singletrack and long fast descents have made this ride into one of the most revered throughout Europe.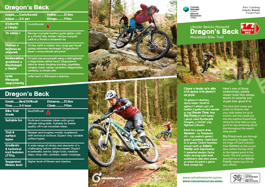 Cyflym Coch Mountain Biking Trail
12.6 kilometres, grade red (difficult)
The Cyflym Coch trail is ideal for those riders who have mastered the MinorTaur and want to move up to the next grade.
The trail strings together some of the best fast flowing sections in the forest park, with relatively short climbs.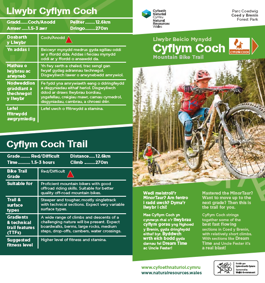 Temtiwr Mountain Biking Trail
8.7 kilometres, grade red (difficult)
The Temtiwr trail is a short but technical route giving a taste of what to expect from other trails in Coed y Brenin Forest Park.
It includes five sections of single track, from extremely technical rock pitching to fast flowing swooping curves through the trees and some long climbs.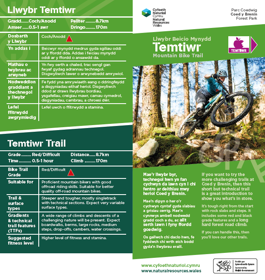 Beast Mountain Biking Trail
35 kilometres, grade black (severe)
The Beast trail is the trail that everyone aspires to ride.
It is a combination of the Dragons Back and MBR routes and offers a long and challenging route with loose rocky climbs, gnarly descents, stone fly-offs, berms, tabletops and hips.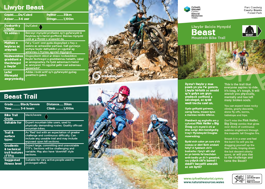 Tarw Du Mountain Biking Trail
20.2 kilometres, grade black (severe)
Tarw Du (which is pronounced "Taroo Dee") is Welsh for Black Bull. This was not only the original trail built in Coed y Brenin but it was also the first purpose built mountain bike trail in the UK, and probably the world!
It is a classic trail that still knocks spots off more modern offerings elsewhere. It's rocky, it's retro, it's twisty, it's technical, it's fast and will really test your skills and fitness.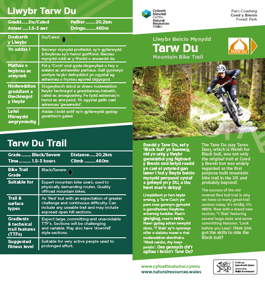 MBR Mountain Biking Trail
18.4 kilometres, grade black (severe)
The MBR trail is a real favourite; it's got a great mix of classic Coed y Brenin rocky gnarlyness along with fast and flowing singletrack. It also has new and contemporary features and sections to bring it up to date with modern riding styles.
You'll be riding over bedrock, negotiating loose, rocky, climbs and descents, swooping round berms, finding a rhythm over huge rollers, flying down steps, dropping into the 'Cavity' and getting spat out the exit with as much style as you can muster!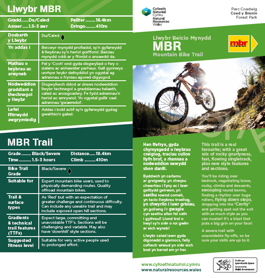 Y Ffowndri Skills Area and Bike Park
Adjacent to the car park at Coed y Brenin Forest Park Visitor Centre, the Ffowndri has training areas for new riders to learn and develop riding techniques.
It also has examples of the kinds of features you should expect to find on any given level of graded mountain bike trail. For more experienced riders, it is a great place to warm up for a ride or to while away some time afterwards.
The skills area was built as part of the Eryri Centre of Excellence Project which has been part-funded by the EU's Convergence European Regional Development Fund through the Welsh Assembly Government.
There are four zones in the skills area:
Training Zone
Singletrack Zone
Freeride Zone
Drop-off Zone
Training Zone
If you're new to mountain biking or want to learn those essential, off-road riding techniques, then this is the place to start. With eight stations covering a different skill, you can have a go at each until you feel confident.
If you would like to find a qualified instructor or coach, contact Beics Brenin.
Singletrack Zone
If you're new to Coed y Brenin and not sure which grade of trail to ride, head here first to see what you're capable of. There are four grades of trail, from easy (green) to severe (black). Start easy and progress until you find the level that's right for you.
Freeride Zone
This is a jump/pump track for mountain bikes with eight bermed turns and fun features in between. There are rollers, hips, doubles, table tops, step ups/downs and more!
Drop-off Zone
This zone features the "Lemmingstone", a natural rock slab where a variety of lines can be taken. To access this area you'll have to ride the red singletrack to qualify!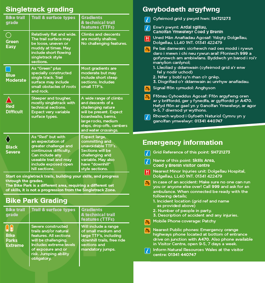 Beics Brenin bike shop
Beics Brenin bike shop is situated in the lower level of the Coed y Brenin Forest Park Visitor Centre.
The bike shop offers:
a wide range of bikes for hire to match the trails 
a repair shop
sales of bikes, clothing and accessories
courses in mountain biking skills
a series of cycling events
For opening times and more information see the Beics Brenin website.
Coed y Brenin Dragons - family mountain biking club
Coed y Brenin Dragons meets every Saturday between 9.30am and 11.30am at Coed y Brenin Forest Park Visitor Centre.
The club offers skills sessions, trail rides and group activities for the whole family.
You need to bring a mountain bike in good working order and helmet. For more information, contact: info@dreigiaucoedybrenindragons.co.uk
Other forests with mountain biking trails
With over 30 single-track trails, the forests of Wales offer everything a mountain biker could want.
See our mountain biking page for more information.
Related document downloads