Air quality
Information about Natural Resources Wales's role in regulating and improving air quality, air advice, modelling and risk assessment services.

Find out about our role in regulating and improving air quality, and in providing air advice, modelling and risk assessment services.
Air pollution
Air pollution is a local, regional and international problem caused by the emission of pollutants, which either directly or through chemical reactions in the atmosphere lead to negative impacts on human health and ecosystems.
Our duties concerning air quality
Our role in air quality can be broadly categorised as adviser, regulator and evidence gatherer/provider. Within this role we have a number of duties.
We ensure that the industrial facilities we regulate comply with:

EU requirements on Wales and the UK such as Air Quality Directives, Habitats Directive, the National Emissions Ceiling Directive and the Industrial Emissions Directive
Domestic and UK requirements such as the Environmental Permitting Regulations, the Air Quality Standards (Wales) Regulations, the UK Air Quality Strategy and the Countryside and Rights of Way Act

We support local authorities in improving local air quality, including the provision of ambient air quality modelling, advice and guidance
We coordinate ambient air quality monitoring for incidents that can have an impact on air quality
We provide air quality modelling, analysis, guidance and advice services to support permitting, conservation and compliance activities
We are not generally responsible for monitoring or assessing ambient air quality
What we do
Advisor to the Welsh Government 
Air quality is a devolved matter, and the Welsh Government is responsible for their own air quality policy and legislation. The UK government leads on international and European legislation.
Natural Resources Wales is the principal environmental advisor to the Welsh Government. We support the Welsh Government in its duty to achieve air quality limit and target values set in European Directives and domestic regulations. We also support its duty to minimise the harmful effect of air pollution on human health and the environment. We provide the Welsh Government with advice, guidance and evidence.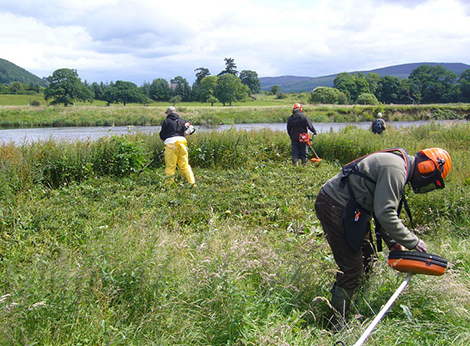 Our contribution to EU Requirements
We apply stringent emission limits, controls and measures on installations that we regulate with the aim of ensuring that they do not contribute significantly to a breach of an EU limit value. Our principle contribution to achieving EU limit values include:
Industrial Emissions Directive (IED)
The IED requires that the Environmental Permits of all Welsh installations meet the standards derived from the Best Available Techniques (BAT) conclusions. These conclusions set out what techniques must be used and set limits for some emissions.
The IED applies to installations regulated by Natural Resources Wales and some that are regulated by the local authority. The IED was transposed into Welsh Law in 2013, and from January 2014, existing installations became subject to the provisions of the IED.
Further information about installations can be found on our webpages:
Information about installations
National Emissions Ceiling Directive and Gothenburg Protocol
We have a range of tools to help deliver our part of the UK's obligations under the EU Ceilings Directive and Gothenburg Protocol. We review the release of air pollutants from the sites we regulate, and where appropriate, we set annual reduction targets for our permitted sites to drive down the release of air pollutants. We also use the Environmental Permitting regime to implement Best Available Technique (BAT) and appropriate measures to help deliver these targets.
Details of the National Emissions Ceiling Directive
The National Emission Ceilings Directive creates a national ceiling for PM2.5, SO2, NOx, VOCs, NH3 and CH4 to protect human health and ecosystems. PM2.5 and methane are new substances within the Directive.
We will utilise the Industrial Emissions Directive and will work with the combustion, refinery, metals, minerals, chemicals and intensive farming sectors to achieve the reductions in emission required to achieve the ceilings.
EU Ambient Air Quality Directive and 4th Air Quality Daughter Directive
Some installations have the potential to contribute significantly to breaches of an EU Air Quality limit or target. To deal with this we investigate what improvements need to be made to meet Best Available Techniques or appropriate measures, requiring the operator to put them in place.
Our contribution to UK and Domestic Requirements
Similar to EU requirements, we are committed to fully playing our part in helping the Welsh Government and local authorities achieve domestic air quality requirements. Our principal contribution to achieving domestic air quality requirements include:
The UK Air Quality Strategy (UKAQS)
We take the same approach for the UKAQS as we do for the EU Air Quality limits or targets. We identify what needs to be done at the sites we regulate to ensure that sites use the Best Available Techniques or appropriate measures.
Local Air Quality Management (LAQM)
The LAQM process places a statutory responsibility on local authorities to review and assess local air quality for seven pollutants: particles, nitrogen dioxide, sulphur dioxide, benzene, 1,3-butadiene, carbon monoxide and lead. If the objectives for these pollutants are not likely to be met then the local authority must declare an Air Quality Management Area. They must then produce an Action Plan to work towards meeting the air quality objectives.
Our relationship with local authorities
We are committed to working with local authorities and playing our part in Local Air Quality Management. We continue to agree improvements with local authorities for the installations we regulate that contribute significantly to breaches of an Air Quality Strategy objective.
We provide local authorities with information that identifies:
the current releases from installation(s)
any assessments on the effect of the releases from the installation on local air quality
any plans already in place that will deliver future improvements for local air quality
any equipment or operational changes that could deliver improvements for local air quality
Aerial pollutant impacts on nature conservation
The 1995 Environment Act requires us to consider nature conservation as part of our regulatory role. This includes assessing the aerial impact of pollutants on nature conservation sites.
What we do
We carry out a staged screening process based on best available information to assess the impacts of installations.
The first step is to check whether there are any conservation sites within specified distances from the installation. The predicted process contribution and predicted environmental concentration resulting from regulated installations are then compared with thresholds expressed as percentages of Air Quality Standards, critical levels and critical loads.
Sites of international importance
The Conservation of Habitats and Species Regulations 2010, also known as the Habitats Regulations, covers sites of European importance (Special Areas of Conservation and Special Protection Areas). The Habitats Regulations require us to screen any application for a permit for potential effects on the ecological integrity of a European site both alone and in combination with other relevant sources.
Sites of national importance
The Wildlife and Countryside Act 1981 covers Sites of Special Scientific Interest SSSIs). The Countryside and Rights of Way Act 2000 added further responsibilities for us. We are required to assess any permit application for an installation that is likely to damage a SSSI site.