Roath Flood Scheme
Background
Roath is a central suburb in Cardiff, through which runs Roath Brook. The Roath Brook burst its banks most recently during high river flows in 2007 and 2009 and during high tidal events in 2010 and 2012.
Many homes and businesses in the area are at risk of flooding. This is from high river flows, high tides or a combination of both.
The likelihood of flooding will only increase over time, as a rise in sea levels and more frequent and intense heavy rainfall are predicted as a result of climate change.
Welsh Government has made a commitment to provide funding for flood management schemes across Wales, in order to minimise the risk and mitigate the impact of flood events. In light of the flood risk in Roath, we're seeking to deliver a Flood Risk Management Scheme (FRMS) for the area.
We have already undertaken works to increase the flood protection at the River Rhymney in January 2015.
The Scheme
The Roath Flood Scheme will increase the level of protection for the community up to a 1 in 75 year flood event (1.3% chance of flooding in any given year) from high river flows and 1 in 150 year flood event (0.6% chance of flooding in any given year) of extreme tidal flows.  The scheme will reduce the flood risk to 360 homes and 45 businesses.
We will make improvements at several locations along the brook between Roath Brook Gardens and the River Rhymney at Newport Road (near to the Morrison's supermarket). The main areas for improvement are:
Roath Brook Gardens
Roath Mill Gardens
Waterloo Gardens
Railway Gardens (The Sandies)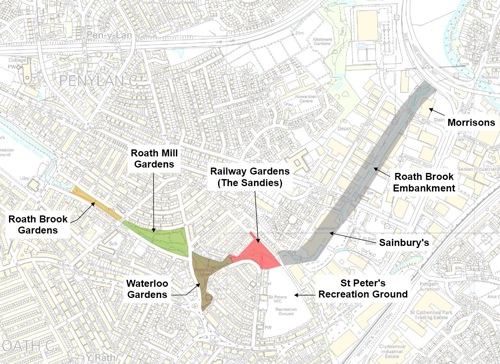 Our aim is to build flood walls and embankments, but soften these hard features with urban landscaping. We will also widen the river channel in Roath Brook Gardens and enhance a number of bridges to increase the brook's flow capacity.
Through continual consultation with local residents, businesses and stakeholders, we've listened to the local community who've helped us shape the final design, including minimising tree removal and reduction in walls across the scheme.
We will build new features in the area including a new pergola in Waterloo Gardens and a viewing platform for the old Roath Mill. We will also commission a local artist to create a public work of art and we'll be informing people how they can get involved.
Planning permission was granted for the scheme in April 2016 by Cardiff Council. The details for the planning submission can be viewed online.
We're confident that this new scheme will really make a difference to people living and working in Roath who have lived with the threat of flooding for many years.
Latest News
January 2017: We held a drop-in session on 11 January for the public to meet our contractor and to ask about the works. Approximately 100 people attended and we received some helpful feedback.
Construction is currently set to start in mid-February, and closure of the parks will be advertised in advance. Traffic management plans are currently being discussed with Cardiff Council.
December 2016: We have appointed the main contractor Dawnus to carry out the flood scheme works on our behalf. Dawnus are one of our framework suppliers and are experienced civil engineering contractors. They are currently preparing relevant documentation prior to any site works which will start in the new year.
We've organised a drop-in session to meet with the contractor and public artist on 11 January 2017 from 3pm to 7pm at St Peter's Rugby Club to discuss the programme of works. Please drop by for a chat – we would really value your comments.
November 2016: A Welsh artist, Rubin Eynon, has been appointed to create an art installation for the Roath scheme. Rubin has worked on many community and park schemes and is looking forward to discussing and sharing ideas with the local community to help shape the art over the coming months. We have also appointed Cooke & Arkwright to undertake surveys for properties nearest to the planned construction areas. They will follow up with a letter drop for any properties highlighted for survey.
September 2016: We are currently working to appoint a contractor for the main works. Part of the requirement is for a dedicated Community Officer to provide a point of contact for local residents throughout the construction works. A local public artist is also being appointed to provide an art installation in Roath Mill Gardens (see section below for more details).
July 2016: The discharge of the Planning Conditions is underway, providing details to Cardiff Council for all elements of the work including ecological and archaeological surveys and proposals for land remediation.
April 2016: Planning Application accepted by Cardiff Council.
Previous Consultation
We revised our proposals for the fluvial section of the route between Roath Brook Gardens and Railway Gardens, as well as the tidal section downstream of Sainsbury's. The changes were put on display at a drop-in session at Roath Church House in July 2015. Approximately 150 people attended and were able to discuss the proposals with members of the Roath Project Team, recording all comments on feedback forms. We also presented our proposals to the Design Commission for Wales in August 2015.
For further details on the scheme, see the information boards used for the July 2015 public consultation.
Since the consultation in July 2015 we have made a few small changes to the design. In Railway Gardens, rather than replacing the hedge along Newminster Road a grass verge and localised pockets of planting will be provided, and due to construction requirements an additional 3 trees will be removed from the park.  In Waterloo Gardens a timber and stone pergola will be installed on the new raised dias area adjacent to the footbridge, and additional planting will be undertaken within the park. In Roath Mill Gardens the design of the handrail has been changed from timber to metal, in keeping with the Victorian style railings in the area.
We held a drop-in session on 11 January 2017 for the public to meet our contractor and to discuss queries relating to the works.
For details, see the information boards used for the event.
Please note that the following errors are shown on these information boards:
Railway Gardens – Construction: Closure of part of a single lane on Church Terrace to allow for construction access will not be required
Waterloo Gardens – Construction: Closure of part of a single lane on Newminster Road to allow for construction access will not be required
Roath Mill Gardens – Construction: Closure of part of a single lane on Westville Road and Sandringham Road to allow for construction access will not be required
Roath Brook Gardens – Construction: Closure of part of a single lane on Sandringham Road to allow for construction access will not be required
'Before' and 'After' Images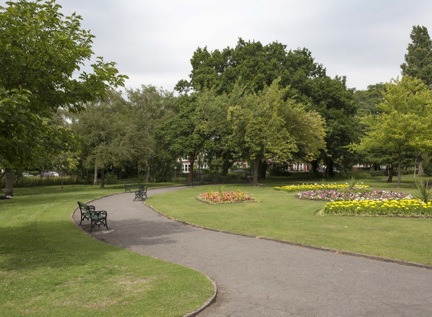 A series of photo montages have been prepared to show how the scheme will look before and after the works, at particular locations along the route and within the Roath gardens.
Public Art
As part of NRW's commitment to meeting the goals of the 'Well-being of Future Generations (Wales) Act', the integration of public art into Roath has been identified as one scheme which will support these goals. The aims of the public art commission, to be installed in Roath Mill Gardens, will be to:
Recognise and interpret Roath Mill Gardens' historic and environmental interest
Contribute to a sense of identity for Roath Mill Gardens
Promote an attractive, safe and well-connected community
Advocate local culture and heritage through encouraging people to participate
We have appointed Welsh artist, Rubin Eynon, to work with the community to develop a suitable piece of art. Rubin attended our drop-in session on 11 January and discussed his design options for the art installation with members of the public. If you'd like to see how Rubin's proposals are progressing and to get involved, visit his Facebook page.
All proposals will be developed in conjunction with the City of Cardiff Council, CADW, NRW and the local community.
Details of local engagement sessions with the artist will be advertised when known.

Construction and Disruption
We'll do everything we can to minimise disruption to local residents and businesses while we undertake these improvements, and we appreciate the support and cooperation of the local community.
We'll inform people of activities during the construction phase, including:
Tree clearance prior to construction
Construction programme and areas of activity
Garden and road closures
We will keep people informed of any planned road and garden closures or diversions as early as possible via this webpage and social media - Twitter: @natreswales, Facebook: NatResWales.
Tree Removal and Planting
To achieve the required flood protection and construct the new flood walls and embankments, the removal of some trees along the banks of Roath Brook is required.
We previously commissioned a survey of all the trees in the four gardens and identified which trees should be removed, which trees we will protect, and where to plant new trees.
We understand the concern the community has for the trees in the area, so we have focused the design efforts to minimise these impacts (for example, by avoiding removing trees around the edge of the park boundaries).
We will be removing 149 trees across the four gardens and will replant 105 trees. Of these trees for removal: 111 are categorised as low quality, decaying, dead, or young trees; 38 are categorised as mature, good quality or high quality, and able to make a significant contribution for at least 20 years.
The current Arboricultural Impact Assessment for the gardens provides further information and shows the locations of the trees to be removed. We cannot save every tree within the gardens, but have tried to get the correct balance of protecting the conservation area and the heritage features of the park, whilst still being able to construct the scheme and meet the required standard of flood protection.
Community Tree Bank
As NRW, our objective is to maintain a positive contribution to the community. We are currently looking to plant additional trees, both in parkland throughout Cardiff and through working with a local school, offering tree saplings to school children for home planting. This allows us to increase the overall number of planting to offset those which are removed and cannot be re-established within the existing Roath parkland.
Key dates
October 2015              Submission of Planning Application
April 2016                   Planning Application accepted
End 2016                    Appointment of Contractor
Early 2017                   Start of site construction
Summer 2018              End of site construction
Contact information
For construction related queries please contact Dawnus's Community Officer, Matthew Frewer – 07880 358541 Roath@dawnus.co.uk
For other information, please email roath@naturalresourceswales.gov.uk