Background
Roath is a central suburb in Cardiff, through which runs Roath Brook. The Roath Brook burst its banks most recently during high river flows in 2007 and 2009 and during high tidal events in 2010 and 2012.
Many homes and businesses in the area are at risk of flooding. This is from high river flows, high tides or a combination of both.
The likelihood of flooding will only increase over time, as a rise in sea levels and more frequent and intense heavy rainfall are predicted as a result of climate change.
Welsh Government has made a commitment to provide funding for flood management schemes across Wales, in order to minimise the risk and mitigate the impact of flood events. In light of the flood risk in Roath, we're delivering a Flood Risk Management Scheme (FRMS) for the area.
We have already undertaken works to increase the tidal flood protection at the River Rhymney in January 2015.
The Scheme
The Roath Flood Scheme will increase the level of protection for the community up to a 1 in 75 chance flood event (1.3 percent chance of flooding in any given year) from high river flows and a 1 in 150 chance flood event (0.6 percent chance of flooding in any given year) of high tide levels. The scheme will reduce the flood risk to 360 homes and 45 businesses.
We will make improvements at several locations along the brook between Roath Brook Gardens and the River Rhymney at Newport Road (near to the Morrison's supermarket). The main areas for improvement are:
Roath Brook Gardens
Roath Mill Gardens
Waterloo Gardens
Railway Gardens (The Sandies)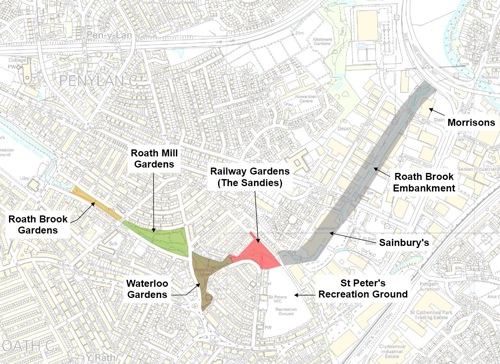 We are building flood walls and embankments in Roath Mill Gardens, Waterloo Gardens and Railway Gardens, but softening these hard features with urban landscaping. We are widening the river channel in Roath Brook Gardens and Roath Mill Gardens and replacing Waterloo Road bridge to increase the brook's flow capacity.
Through continual consultation with local residents, businesses and stakeholders, we've listened to the local community who've helped us shape the final design, including minimising tree removal and reducing walls across the scheme.
Planning permission was granted for the scheme in April 2016 by Cardiff Council. The details for the planning submission can be viewed online.
We're confident that this new scheme will really make a difference to people living and working in Roath who have lived with the threat of flooding for many years.
Construction updates
We are doing everything we can to minimise disruption to local residents and businesses while we undertake these improvements, and we appreciate the support, patience and cooperation of the local community.
We are keeping people informed of activities during the construction phase via this webpage and social media - Twitter: @natreswales, Facebook: NatResWales.
April 2018
We have agreed to pause tree felling and construction in Roath Brook Gardens and Roath Mill Gardens (Phase 3 of the Roath Flood Scheme) for four months after listening to the views of the community and the concerns of the Roath Brook Trees campaign group.
This pause will allow the campaign group time to further scrutinise our modelling (the hydrology and hydraulic model used to predict the flood risk) and the options appraisal that selected the current design.  The campaign group will review Phase 3 and if appropriate submit new evidence to us. We have committed to consider any new evidence prior to making a decision on how to progress. We have had, and continue to have, constructive discussions with the campaign group and are committed to continuing this dialogue during this pause. We welcome comments and views from all members of the community during this time.
We remain confident in our assessment of the flood risk to the Penylan and Roath communities and we are committed to better protecting those exposed, including the 60 properties affected by Phase 3. Phases 1 and 2 of the scheme are unaffected by this pause and construction work continues to progress well throughout Railway Gardens (the Sandies) and Waterloo Gardens.
All of the piling work is now complete and the majority of flood walls are built. We continue to clad the walls in masonry and brick and place the coping stones. Landscaping works have commenced, with topsoil being laid, paths being built and trees being planted, including in Phase 3 areas.
Waterloo Road bridge re-opened on 5th April and the traffic diversion has been removed. The Waterloo Close businesses remain open as usual.
We currently expect all works to be completed this summer and re-open the Park Gardens for the school summer holiday.
Local Businesses
All of the businesses on Waterloo Gardens remain open as usual during the construction of the scheme.
Post Office
Lifestyle Express Waterloo Gardens Food Store
Consultation
We have undertaken a range of consultation with the community and stakeholders to inform the scheme. This has included:
Door knocking and meetings to raise flood awareness and produce Community Flood Plan: from 2012 to 2014
Public drop-in sessions: May 2014, October 2014, July 2015, January 2017, April 2017, November 2017
Stand at Waterloo Gardens Fete: August 2014, July 2015, July 2016
Walkover of site with local residents: September 2015
Press adverts, site notices and consultation letters to properties that border the gardens
Regular updates via newsletters, posters, the Roath Flood Scheme webpage and social media
Series of seven workshops in January 2018 to discuss the flood scheme with residents
July 2015 public consultation information boards

April 2017 public consultation information boards
NRW's responses to feedback and questions provided during and following the April 2017 event
January 2018 workshops presentation
'Before' and 'After' Images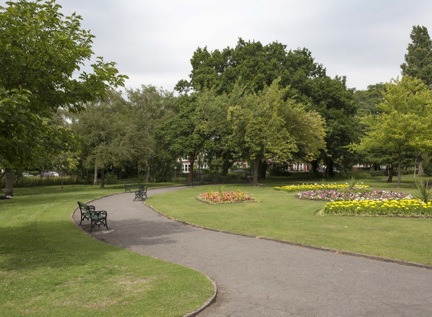 A series of photo montages have been prepared to show how the scheme will look before and after the works, at particular locations along the route and within the Roath gardens.
Public Art
As part of NRW's commitment to meeting the goals of the 'Well-being of Future Generations (Wales) Act', the integration of public art into Roath has been identified to support these goals. The aims of the public art commission, to be installed in Roath Mill Gardens, are to:
Recognise and interpret Roath Mill Gardens' historic and environmental interest
Contribute to a sense of identity for Roath Mill Gardens
Promote an attractive, safe and well-connected community
Advocate local culture and heritage through encouraging people to participate
Our artist, Rubin Eynon, has been working on a piece of art to be integrated into Roath Mill Gardens. Informed by community consultation and Rubin's dedicated Facebook page, the chosen design is a bronze model of the old Roath Mill, as shown in the images below. This will be approximately 50cm by 50cm wide on a 100cm high plinth, and will be located on a widening of the footpath upstream of Waterloo Road bridge, near where Roath Mill was located. A time capsule will be placed beside the artwork, compiled by local school children.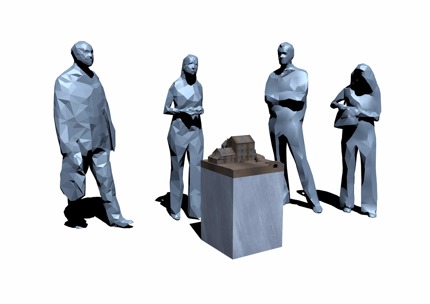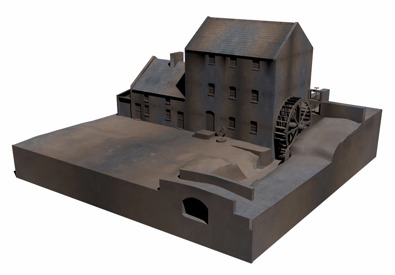 Tree Removal and Planting
To achieve the required flood protection and construct the new flood walls, embankments and channel widening, unfortunately the removal of some trees along the banks of Roath Brook is required.
For details on which trees will be removed and which will be protected, see the Arboricultural Impact Assessment. Details on what trees will be planted can be obtained from the Tree Planting Plans. 
We understand the concern the community has for the trees in the area, so we have focused the design efforts to minimise these impacts. For example, by avoiding removing trees around the edge of the park boundaries and replanting higher value trees.
We cannot save every tree within the gardens, but have tried to get the correct balance of protecting the conservation area and the heritage features of the park, whilst still being able to construct the scheme and meet the required standard of flood protection.
Community Tree Bank
As NRW, our objective is to maintain a positive contribution to the community. We have planted additional trees Roath Park Recreation Ground and have offered tree saplings to school children for home planting.
Key dates
October 2015              Planning application submitted
April 2016                   Planning permission granted
January 2017              Contractor (Dawnus) appointed
March 2017                 Construction started
Summer 2018             Construction to finish
Note works at Roath Brook Gardens and upstream Roath Mill Gardens will now be separate to the above.
Contact information
For construction related queries please contact Dawnus's Community Officer, Matthew Frewer – 07880 358541 roath@dawnus.co.uk
For other information, please email roath@naturalresourceswales.gov.uk
Related document downloads