Ammanford Flood Risk Management Project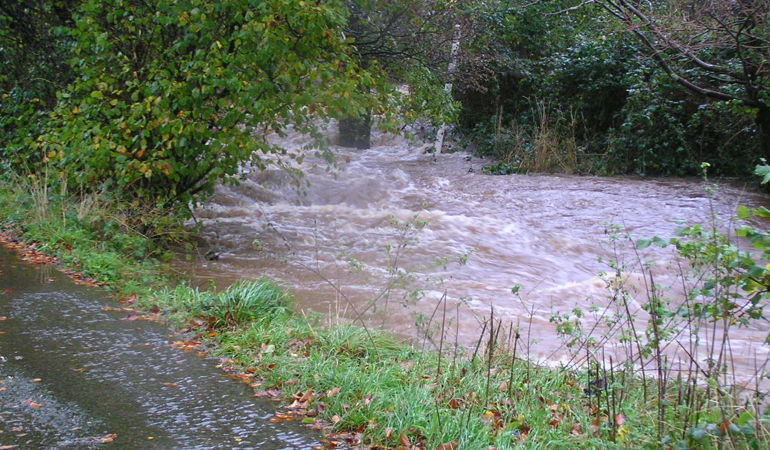 Risk of flooding in Ammanford
Following investigations into flood risk in Ammanford from the Rivers Loughor, Marlas and Lash, Natural Resources Wales are proposing to construct a flood risk management scheme. Ammanford has a history of flooding. This happened most recently in July 2009 when houses were flooded at Heol Haydn and Tir-y-dail and the A483 road was closed at Pont-y-clerc and Pen-y-banc.
Computer modelling predicts that more than 200 properties in Ammanford are currently at risk of flooding in an extreme flood event (a flood with a 1% probability of happening each year). This increases to more than 380 properties in the future due to climate change. 
Our proposed scheme will reduce the risk of flooding to approximately 385 properties in Ammanford during an extreme flood event (a flood with a 1% probability of happening each year), taking into consideration the impacts of future climate change.
Planning Consent Granted
Following public consultation in January and August 2021, Carmarthenshire County Council has granted full planning consent for the scheme to go ahead.
We had planned to start construction work in Spring 2022 but following an initial tendering process we have not been able to appoint a contractor. Therefore, we will be tendering again over the Summer with a view to appointing a contractor in Autumn 2022. If successful, construction work should start in January 2023.
To prepare for the main works, the majority of site clearance was completed in February 2022.
What is NRW doing about flood risk in Ammanford?
We have looked carefully at the issues, causes and possible solutions to flooding in Ammanford. We have undertaken a series of investigations to identify options to reduce the flood risk.
We have undertaken catchment-wide flood modelling to establish the current flood risk and assess options to manage this. A wide range of environmental surveys have been completed to understand the potential impact of the options on the environment and how these impacts could be avoided or reduced. We have consulted with a range of partners along the way but appreciate that it is the residents and businesses of Ammanford that will be most affected by the proposals. We therefore welcome your interest and feedback to help inform our decisions. 
What options have we considered?
We have considered a number of options for reducing flood risk to Ammanford. 
What is the preferred option?
Our investigations have shown that the cause of flooding in Ammanford is complex, with flood water spilling into the town at several locations. A combination of measures is needed to reduce the risk of flooding. We believe that the best option is to construct a series of flood defence embankments and walls in several areas in the town to contain flood water in the River Loughor, and installation of Property Level Protection (PLP) measures to houses on Aberlash Road.
The Ammanford Flood Risk Management Scheme (FRMS) will extend from land at Parc Henry Lane at the northernmost extent, along the River Loughor corridor to Coleg Sir Gar, Dyffryn Road at the southernmost extent. The scheme will comprise:
Construction of 9 flood defences (concrete flood walls and bunds) along the banks of the River Loughor
Landscape planting within existing open space, including Bonllwyn Green off Old Road
Ground lowering and fish passage and gauging improvements at the Tir-y-Dail Weir
A flow deflector in the river channel at the Bonllwyn A483 road bridge.
Consultation to date
We held a public drop-in at the Amman Civic Hall on Friday 8 March 2019 to discuss our investigations and findings so far and the preferred option. We took on board comments and views we received at the drop in and via feedback forms to inform our design.
The information boards we displayed at the drop-in can be accessed here: March 2019 Public Consultation Information Boards 
Due to Coronavirus restrictions, we carried out public consultation on our more detailed flood risk management proposals by newsletter and an online questionnaire. We also issued a press release and advertised on social media. Consultation took place during December 2020 and January 2021. We posted a newsletter to around 800 residents and stakeholders in Ammanford.
A draft copy of the pre application planning documents, including the Environmental Constraints and Opportunities Record, were made available on this project webpage during January and February 2021. We made several adjustments to the scheme based on comments received. These are summarised in the Pre Application Consultation Report included in the planning application.
We submitted a planning application for the scheme to Carmarthenshire County Council in April 2021 and following a consultation period, full planning consent was awarded for the scheme.
What happens next?
We will be tendering the work over Summer 2022 with a view to appointing a contractor in Autumn 2022. If successful, we will start construction work in January 2023.
During Summer 2022 we will be consulting residents local to Bonllwyn Green on our plans for that area.
We're committed to working closely with the local community and providing additional benefits through this scheme. We will keep people up to date with progress throughout the work.