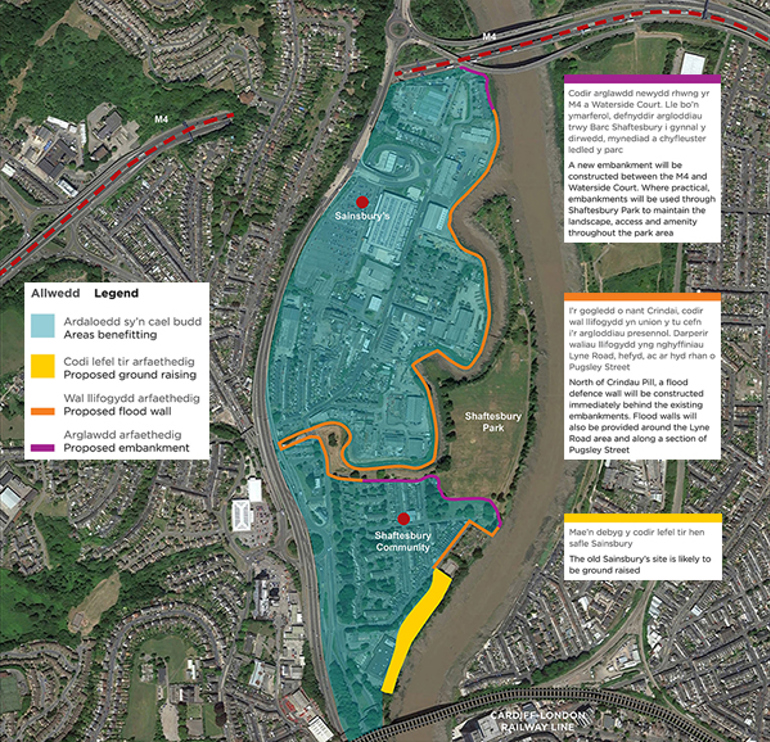 Background
The Crindau area of Newport has a long history of tidal flooding and the existing tidal defences at Crindau are in a very poor condition, offering a level of protection for approximately a 1 in 10 year flood event. As a result, 667 properties are estimated to be at risk of flooding from a 1 in 200 year tidal flood event.
The strategic objective of the Crindau Flood Risk Management Scheme is to reduce this flood risk. In 2013-2014 Natural Resources Wales (NRW) submitted a business case to secure funding for the scheme. We were successful in this and are now progressing with the detailed design, landowner negotiations and planning application.
Latest news
December 2016 to February 2017
Galliford Try have continued with their enabling works. The derelict part (toilet block) of the Shaftesbury Park changing rooms has been demolished along with St Johns Ambulance garage.
Galliford Try have prepared the stretch of land behind W Harold John (Metal) Ltd, Industrial Doors ready for the sheet piling (interlocking sections of steel that make a long wall) then piling will move to south of Lyne Road Bridge and Shaftesbury Park.
The following areas are currently being prepared and secured for piling:
Shaftesbury Park children's play area and MUGA- temporary fencing will be erected around these areas and they will be closed to the public, reopening when works are complete
Shaftesbury Park entrances – the footpath from McDonalds into Shaftesbury Park will be closed until further notice. An alternative temporary diversion route will be provided. The access on the corner of Pugsley Street will be closed during the works. Local notices will advise of alternative entrances
Shaftesbury Park changing rooms – access will be maintained to the changing rooms for all football games
Allotments, Pugsley Street – the wall foundations here require excavating. The concrete footpath within the allotment will be temporarily closed. Footpath to the rear of the allotments – this will remain closed
November 2016
Galliford Try and their sub-contractors are starting work on site. They will begin with vegetation clearance and tree felling where necessary, under the watching brief of an ecologist. They will also be carrying out surveys and soil testing to help with the main works.
Bird and bat boxes have been put up on trees in Shaftesbury Park to provide replacement nesting and roosting sites.
Vegetation clearance will be taking place around the Pugsley Street allotments and next to the play park from 21 November. Due to Health and Safety reasons, the Play Park area will be closed from Tuesday 22 November and re-open on Friday 25 November. The Multi Use Games area will be closed from Tuesday 22 November and re-open on Tuesday 29 November.
September 2016
Galliford Try have started setting up their compound next door to Harold John Ltd – Adelaide Street.
We hosted a successful drop in event at the Shaftesbury Community Centre on 19 September 2016. Galliford Try were there to answer any queries people had about the construction of the scheme.
July 2016
Pre-construction works are ongoing with Wales and West carrying out essential maintenance works on Lyne Road bridge. It is expected the road will reopen again in August. The flood scheme also benefits from these works.
We have awarded the construction contract to Galliford Try.  Galliford Try has to discharge several planning conditions before they can start works on the ground.
Galliford Try will install sheet piling north of the Lyne Road bridge and concurrently construct earth embankments and flood walls south of the bridge.
Who else have we been talking to?
We have been consulting with many organization including, Newport City Council, Cadw, Glamorgan-Gwent Archaeological Trust (GGAT), Sustrans, Royal Society for the Protection of Birds (RSPB), Gwent Bat Group, Gwent Wildlife Trust, Monmouthshire Brecon and Abergavenny Canals Trust, Dŵr Cymru Welsh Water and all affected landowners.
Key Dates
1 March 2017 – Start of sheet piling
Events
We met parents and carers at Crindau Primary School on parents evening on 15 February 2017.
For further detailed information on this scheme, please see our parish boards located opposite Lifestyle shop and outside Shaftesbury Community Centre.
Working with the Community
NRW and Galliford Try are committed to working closely with the local community and providing additional benefits through this scheme. We are keeping people up to date with progress and have delivered letters to all local residents and we have improved the outdoor reading area at Crindau Primary School by providing tree stumps and logs for seats. We have also cleared the path to their forest school area. At the allotments on Pugsley Street we provided mulch from our site vegetation and tree removal operations.
We are also supporting a raised flower bed project outside Shaftesbury Community Centre.
If you are a local charity or just trying to do something positive for your community let us know about it and we may be able to help you achieve your goal!
Please contact Gino Salvatore if you would like to discuss anything relating to the community or construction activities. Details at the bottom of the page.
Masterplan
The proposed NRW scheme will be constructed between the M4 motorway and the London to Cardiff railway line, along the west bank of the River Usk and the lower end of Crindau. The scheme will be made up of multiple components, including walls, embankments and ground raising.
Following careful consideration of the feasibility, costs, benefits and impacts, the preferred option is to construct the new defences to provide protection against a 1 in 200 year event, including an allowance for effects of climate change over the next 50 years. The design will also be adaptive for further climate change, so it can be 'topped up' in the future if required.
Read the flood scheme boards for more information.
Contact
For more information please contact Melissa Mahavar-Snow (Project Manager) on 0300 065 4369 or melissa.mahavar-snow@cyfoethnaturiolcymru.gov.uk
Natural Resource Wales
Ty Cambria,
29 Newport Road,
Cardiff, CF24 0TP
For any construction works queries or concerns, please contact:
Gino Salvatore 07918 640 481, gino.salvatore@gallifordtry.co.uk
Milwyn Jones 07918 640 168
Related document downloads