River benefits after polluter pays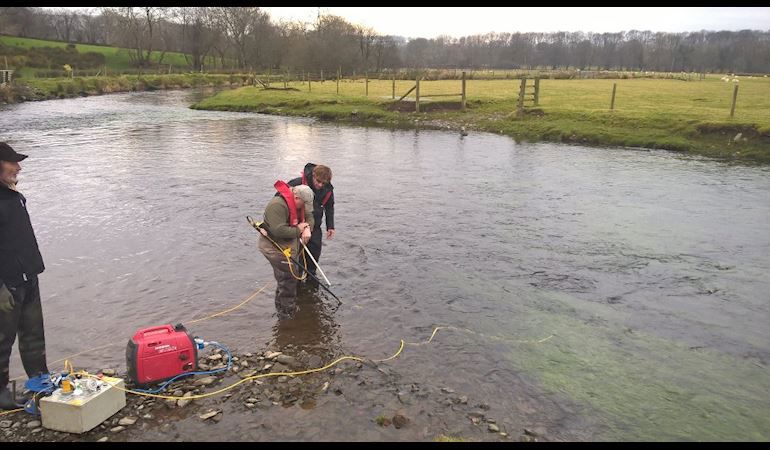 A major river pollution incident in Mid Wales has cost a company £40,000.
Pencefn Feeds Ltd, near Tregaron has paid the sum after a detailed investigation by Natural Resources Wales (NRW) into the incident in December 2016.
Around18,000 fish are thought to have been killed on a five-mile stretch of the Teifi when approximately 44,000 gallons of pollutant leaked from an anaerobic digestion plant.
The West Wales Rivers Trust will receive £15,000 to restore fish habitat in the area.
And a further £5,000 will go to the Countryside Alliance Foundation to fund education activities about fish and the local environment for children in the Tregaron area.
The payments are consistent with a potential fine and have been made as an "enforcement undertaking". This means that the money directly benefits the local environment.
The final £20,000 is being paid to recover all investigation and legal costs relating to the case.
Ann Weedy, Mid Wales operations manager for Natural Resources Wales, said:
"This has been a very complex and time-consuming investigation and we are pleased to see the financial penalty being used directly to repair some of the damage caused by this incident.
"This will make the Teifi a better place for fish and other wildlife by fencing river banks and developing riverside vegetation.
"We hope these payments serve as a reminder to businesses that we will take enforcement action if they pollute Wales' environment and don't operate responsibly."
As well as investigating the incident and overseeing the clean-up operation, NRW also investigated the roles of all companies involved in the incident. 
However, the sub-contractor mainly responsible for the incident, Hallmark Power Ltd, went into liquidation so no prosecution could be taken against them. And the main contractor, ComBigaS UK, also no longer exists, so no action could be taken against them either.
ComBigaS Denmark had links to the project but has no legal basis in the UK and is therefore not covered by UK law.
Site owner, Pencefn Feeds Ltd, had raised concerns with the companies about the quality of work, but this had not been acted upon. This would have provided significant mitigation if the matter had gone to court, so NRW concluded that accepting an enforcement undertaking was the best option in this case.
Dr Stephen Marsh-Smith OBE, Director of Afonydd Cymru, the umbrella body that represents Wales' six Rivers Trusts commented:
"This was a tragic case that was bad for the river Teifi and its fisheries.
"Nonetheless, we commend the use of an Enforcement Undertaking to resolve the regulatory aspect of the case as some funding will now be put towards restoration within the catchment itself.
"The resolution of longer term damage remains a separate issue."
Rachel Evans, Countryside Alliance Director for Wales, said:
"Fishing for Schools is always grateful to receive funding to help us reach out to more young people who benefit from our unique approach to education through angling.
"Funding coming from a pollution incident and resultant settlement whilst sad, will highlight the ever-present need to align conservation and the environment with our school work.
"Tregaron has always been a bedrock of angling within the Welsh community and heritage. We fully intend to enhance and extend that rich legacy by putting this award to good use."
NRW has been monitoring the Teifi since the incident and confirms there has been minimal effect on invertebrates. Salmon fry have been found in the affected area, so it is likely that at least some eggs did survive.
However, juvenile and adult salmon were killed. Large numbers of brown trout were also killed, and this species will take some time to recover.
Ann Weedy continued:
"The Teifi is one of the most iconic and important recreational and net fisheries in Wales and an internationally important Special Area of Conservation for endangered fish such as lampreys, salmon and bullhead.
"We all need to work together to do all we can to restore the river and reduce the number of pollution incidents damaging our precious environment in Wales."
NRW has carried out more than 100 pollution prevention visits to farms in Ceredigion and the Teifi catchment in the past year and these have helped reduce the risk of pollution from farm slurry.
It has also inspected the other three anaerobic digestion plants in Ceredigion to ensure that their pollution prevention measures are suitable.
Pencefn Feeds Ltd has now applied for an environmental permit so they can continue to operate.