Mending minds - the benefits of a 'dose of nature' for mental health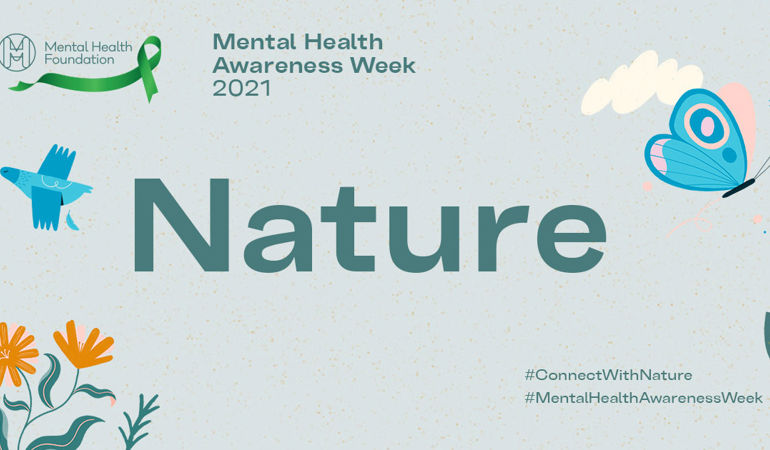 Many of us have felt anxious, stressed or depressed at times, especially over the last year due to the coronavirus pandemic.
Anxiety, stress, depression
Mental health is a significant issue that affects numerous individuals and impacts on their families, friends and colleagues, whilst also causing wide-spread implications for public health, the economy and society as a whole.
Covid 19 has caused a significant increase in mental health issues, with the latest evidence from the Office of National Statistics showing that:
1 in 5 adults (21%) experienced depression in early 2021 – double the number from 2019. Levels of depression were even higher for young adults and women during the Covid pandemic.
Anxiety during the last year has increased to its highest level since records began, whilst there has also been a significant reduction in people's happiness during this time.
Responding to this critical issue requires all sectors to contribute to a national response. So how can nature and engagement with the outdoor environment help with this societal-wide mental health crisis?
What works for mental health? A dose of nature!
An increasing body of robust evidence is showing how our engagement with nature can have a positive impact on our mental health and well-being. This has been endorsed by Mind – the national charity for mental health – who strongly advocate for spending more time outdoors to maximise the benefits this can bring to people with a range of mental health conditions including anxiety, depression, and OCD.
But do we know what 'dose of nature' works for mental health? Does it matter how long we spend outside, or how often we visit? Do different activities or types of greenspace make a difference to improving mental health and well-being?
Recent research based on a large-scale survey found that spending a total of over 2 hours per week in nature was significantly linked to an increase in self-reported good health and well-being. It found that these benefits could be equally obtained from either a single long visit or multiple shorter visits.
In addition, further research has used objective physiological measures of stress based on testing actual levels of cortisol (the 'stress hormone'). This found that being in outdoor environments caused a significant reduction in the level of cortisol, a robust measure of stress, after only a 30 minute 'dose of nature'.
It was equally effective whether people were just relaxing outside, or taking part in more active pursuits, showing that nature can benefit mental health through a wide variety of activities.
So we now know that being outside in nature for at least 30 minutes at a time for a total of more than 2 hours per week, either relaxing or being more active, will significantly reduce stress and improve our overall mental health and well-being.
The benefits of nature for mental health during Covid 19
How can these proven benefits of nature for mental health now be used to address the public health challenge of Covid 19?
Although there have been significant restrictions during the pandemic, especially during periods of 'lockdown', we have still been able to go outside for exercise at least once a day and visit our local greenspace. During periods of more relaxed restrictions, we have also been able to enjoy visiting other areas further away, including national parks and nature reserves.
The importance of these 'green and blue spaces' for people's mental health and well-being during the pandemic has been increasing acknowledged as essential. Engaging with nature, going for a walk or sitting in the park, has been found to reduce stress and anxiety, whilst outdoor exercise can reduce depression.
Recent surveys of visits to NRW's woodlands have also found that people value of access to nature as way of escaping the psychological fear of the pandemic:
Even though I am lucky to have a garden, the ability to walk in such wonderful surroundings helped to take some of the fear of the pandemic away. It is hard not to believe that you will survive when you walk these woods.
In addition to providing essential greenspace for local people and visitors to engage with nature for overall mental health benefits, the 'outdoor environment' is acknowledged as a relatively 'safe space' with lower risk of transmission of Covid 19. It therefore also offers opportunities for mental health services to use greenspace for therapeutic sessions.
This is supported by the British Psychological Association who recently published guidance on 'outdoor talking therapies'. The guidance encourages clinical psychologists to use this evidence-based approach to combine conventional indoor therapy with the known benefits of connecting with nature, whilst simultaneously meeting social distancing requirements in line with Covid 19 recommendations.
Due to Covid 19, nature is now needed more than ever to support people's mental health and well-being. So take some time to go outside and have a 'dose of nature' today!