Works at Afan Forest Park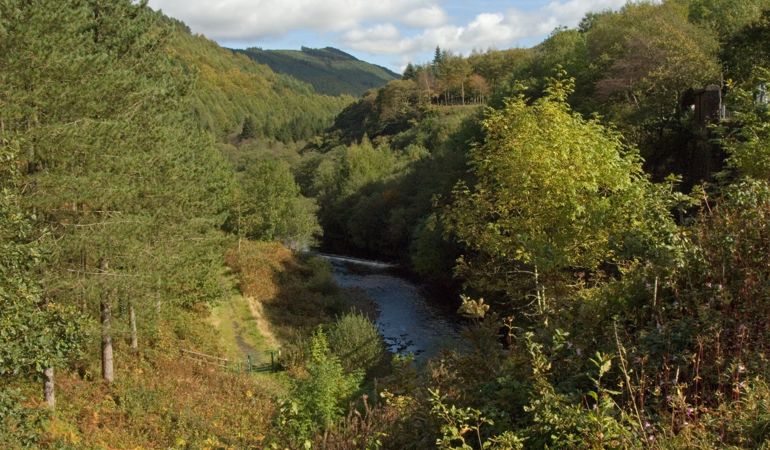 Afan Bridge replacement
On Monday 11 October our project delivery team and contractors will be given special access to the forest to install the new, permanent Afan bridge.
The temporary bridge will be removed and the specially made permanent structure will be lifted into place. This work is scheduled to take two weeks to complete.
The work has been planned, and will be carried out, in a way that protects and considers the surrounding environment, particularly the protection of otters and minimising the risk of the spread of non-native species.
For this work to be completed on schedule and carried out safely, there will be no access for mountain bikers and they are advised to park at Afan Forest Visitor Centre and make use of the Penhydd and Blue Scar trails.
We apologise for the short-term disruption this will cause, but it is essential for the new bridge to be installed. This will be of real benefit to all forest users once completed.
Rhyslyn felling work 
UPDATE 17.9.21.
Felling work to remove trees infected with Dothistroma septosporum from the Rhyslyn area will continue for a further six to eight weeks.
The operation has proven to be more complex than first anticipated due to its challenging terrain. This has led to the requirement of an extension to complete the felling.
Felling of trees with Dothistroma septosporum (red band needle blight)
Pine trees contaminated with Dothistroma septosporum (red band needle blight) are being felled in the Rhyslyn area of Afan Forest Park.
Dothistroma septosporum is a disease that affects pine trees. This disease slowly weakens and can eventually kill the trees. We have to cut the trees down in case they fall over.
If felling did not take place the disease could spread to other areas of the forest and the road would have to be closed indefinitely to keep visitors safe.
Rhyslyn road and car park closure
Felling plans and safety procedures have been adjusted following a recent freak incident where a felled tree toppled onto a forest road that a member of the public was walking along. Fortunately no one was injured.
There are further safety concerns around trees and rocks at risk of tumbling down the bank above the car park, as well as trespass issues with members of the public ignoring barriers and signs about closures, which have prompted this decision.
We work hard to balance the health and safety requirements of an operational forest, with the recreational benefits the forest brings for all visitors. However, safety has to take priority, leaving us with no other option but to bring felling in this area of the forest forward.
Steps to minimise the impact
We understand the recreational importance of Afan Forest Park and are doing all we can to minimise the impact this will have on people who wish to visit the forest.
Signage and barriers will be in place to make closures and diversions clear to road users.
Attendants will be assisting with traffic management on site seven days a week.
There are other existing car parks you could use instead of Rhyslyn, such as Glyncorrwg Ponds.
A temporary car park is also being provided at Tynmaen, near the Afan Visitor Centre.
Trail diversions and closures
From Monday 20 September, a section of Y Wal trail will be closed for three weeks to allow felling in that section of the forest to take place safely.
All closures and diversions will be clearly signposted on site.
We urge visitors to adhere to the diversions and closures in place for their own safety. This will be a live operational site that could be dangerous.
The following trails remain closed:
Rhyslyn riverside walk, Penrhys walk, Rookie Blue mountain bike trail.
The following trails remain diverted:
Y Wal, Rookie Green and Rheilfordd.
Multi user trail – foot and bike traffic only in both directions.
The Quarry picnic area will be also be closed.