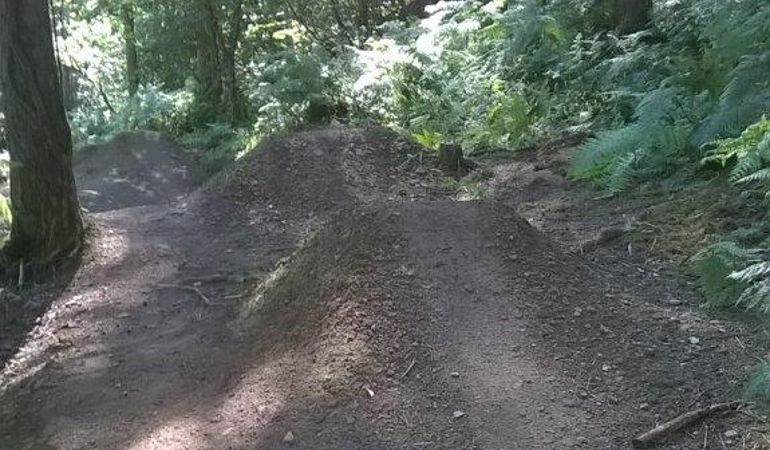 We have many forest users and have to manage the forest to take account of everyone's interests and our land owner's duty of care to all visitors.
We have constructed 210km of built trail network on the woodlands in south east Wales. All of these trails met national standards for design and management. This standard makes sure our trails are built, monitored and maintained to the appropriate standards which ensure they are safe to those using them, and to other forest users.
In addition, we also support others in developing cycle trail networks, like Bike Park Wales and Van Road Trails Group at Caerphilly. We work with partners to ensure their trails meet the national standards. Our staff are also committed to engaging with community groups and forest users who want to formalise agreements with us for appropriate activity (like trail construction) through Woodlands and You.
We have recently experienced a significant growth in the number of unauthorised trails being built on the land which NRW manages in south east Wales. Our primary concern is for the safety of all forest users, including walkers and horse riders who also have legitimate right to be in the woodlands. If trails are poorly designed or built they can  be unsafe for riders and other forest users and might also damage wildlife habitats for local wildlife.
Our current guidance for dealing with unauthorised trails requires us to inspect and monitor all unauthorised trails in the first instance. Where an immediate threat to public safety is identified, we will intervene and remove any built features. Where there is no immediate risk to public safety, we may decide to tolerate and monitor the unauthorised trail. In all instances we will aim to communicate with users about our intentions, but our ability to do this effectively in all instances is becoming a challenge as the problem grows.
To establish an idea of the scale of the unauthorised trails across south east Wales and of the risks they pose, we have recently commissioned a survey. This will help us to review our approach and guidance to managers on how best to deal with the growing number of unauthorised trails on the land we manage. We fully understand the commitment and passion with which trail building takes place, but would like those building trails to work with us and to act responsibly and to understand the impact of their actions on the environment and on other forest users.