Work at Cwm Rhaeadr Forest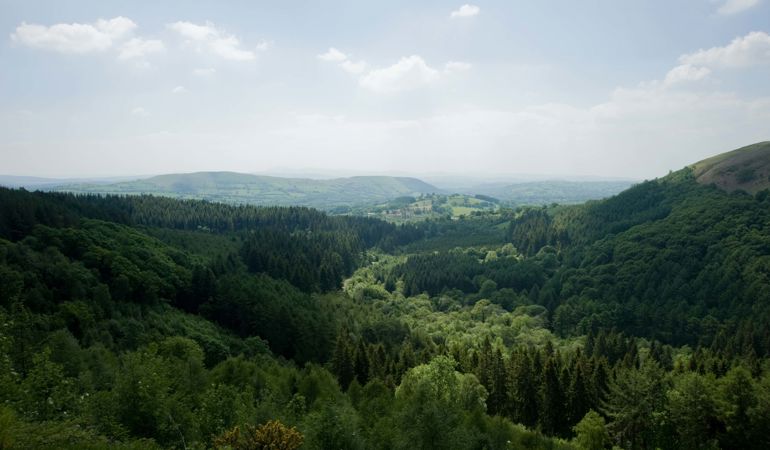 Important work starts this month at a West Wales forest in an on-going programme to manage the woodlands.
The work at Cwm Rhaeadr Forest near Llanymddyfri will involve thinning 3,000 trees, around five per cent of the forest, where Douglas fir, Norway spruce and Sitka spruce will be felled and removed.
This will open up the forest floor, enabling more plants and young trees on the ground to grow, and providing a more diverse habitat for wildlife such as the red kite and other nesting birds.
Brian Hanwell, the local area manager for Natural Resources Wales said: "This is a hidden gem of a forest – Carmarthenshire's highest waterfall is here - it is a unique environment and a fantastic place to visit.
"This necessary work to thin the forest will be better for the trees, better for the wildlife and ultimately a better place for the visitors and local people who love to come here."
The tree thinning work in Cwm Rhaeadr has happened regularly since the trees were first planted in 1947.
It has helped the forest to develop as a fantastic local attraction for people to go walking, as well as the more strenuous mountain bike trail that brings people to the area.
These works will also ensure that the woodlands - which has won two gold awards for excellence at the Royal Welsh Show - continue to be managed to the highest standards.
Around 1,200 tonnes of timber (or 60 lorry loads) will be sent to local saw mills for use in construction, fencing, made into chipboard, or as biofuel providing a green boost and jobs for local businesses.
The income generated will be reinvested into similar sites across Wales.
Unfortunately, the forest will be closed during the harvesting operation but will re-open in around two months when the work is complete.
Other popular places nearby will provide alternatives while the work is carried out. These include Crychan and Cilgwyn for walkers and Brechfa Forest for mountain bikers,.
Brian Hanwell added: "This work will mean some disruption to the people who want to come here to visit or to go mountain biking. 
"Unfortunately we have to close the woodland whilst harvesting is taking place because it simply isn't safe to be around when the big machines come in, but we are working hard to keep this to minimum."