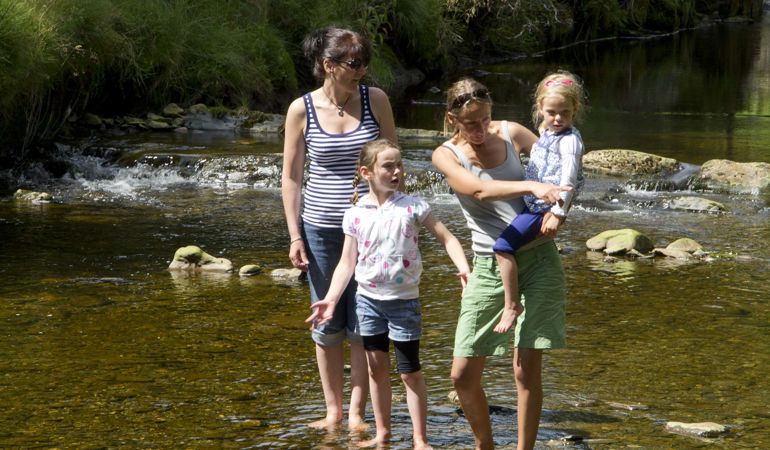 This summer you can walk in the footsteps of past pioneers; from the acclaimed naturalist Charles Darwin to the innovative 19th century civil engineer, Isambard Kingdom Brunel.
Natural Resources Wales has chosen its top ten summer walks that offer views of the dramatic legacy of our ice age and rich industrial heritage, the iconic peaks of Snowdonia National Park and panoramic coastlines that have inspired many from scientists to artists.
2016 has been earmarked the Year of Adventure by Visit Wales – begin your summer adventure with a walk the whole family can enjoy. 
Chiselled into a space once filled by an enormous glacier, Cwm Idwal was Wales' first National Nature Reserve and where Charles Darwin discovered the impact of glaciation on our landscape. With jagged rock formations and sculpted polished boulders, summer is the perfect time to follow the circular route on public footpaths around the lake and to enjoy the riot of colour from rare arctic plants nestled amongst the rocks.
Once a destination hot spot, the Hafod Estate is recognised as one of the most important and influential Picturesque landscapes of the late eighteenth century. The Gentleman's Walk is one of two circular routes that take you past statuesque beech trees, breath-taking waterfalls and distinctive bridges.
The peaceful River and Railway Walk in Afan Forest Park is steeped in history and passes by the Gyfylchi  tunnel, which was designed by Brunel. There is also a perfect riverside picnic spot where you can imagine the sights and sounds of the bustle of Welsh industry in days gone by.
Our top ten summer walks include all-ability trails and several shorter walks suitable for families with young children.   Every route is waymarked and takes you through either a woodland or a National Nature Reserve that is managed by Natural Resources Wales.
Our top ten summer walks are:-
Route 1: Cwm Idwal Circuit, Cwm Idwal, National Nature Reserve, north west Wales
Route 2: Forest Garden Walk, Brechfa Forest, south west Wales
Route 3: Dune Walk Dyfi: Ynyslas National Nature Reserve, mid Wales
Route 4: Animal Sculpture Trail, Garwnant Visitor Centre, south east Wales
Route 5: Oxwich Dune Walk, Oxwich National Nature Reserve, south west Wales
Route 6: The Gentleman's walk, Hafod Estate, mid Wales
Route 7: Parkland Circuit, Cadair Idris, National Nature Reserve, north west Wales
Route 8: River and Railway Walk, Afan Forest Park, south Wales
Route 9: Alwen Trail, Hiraethog Forest, north east Wales
Route 10: Riverside Walk, Black Covert, mid Wales
 For more information on our top ten summer walks visit:-
 www.naturalresources.wales/top-ten-summer-walks
The routes also appear on the ViewRanger websites. You can download a map and route details free of charge to an Apple or Android device here: https://my.viewranger.com/user/details/345048