Tackling Himalayan balsam along mid Wales rivers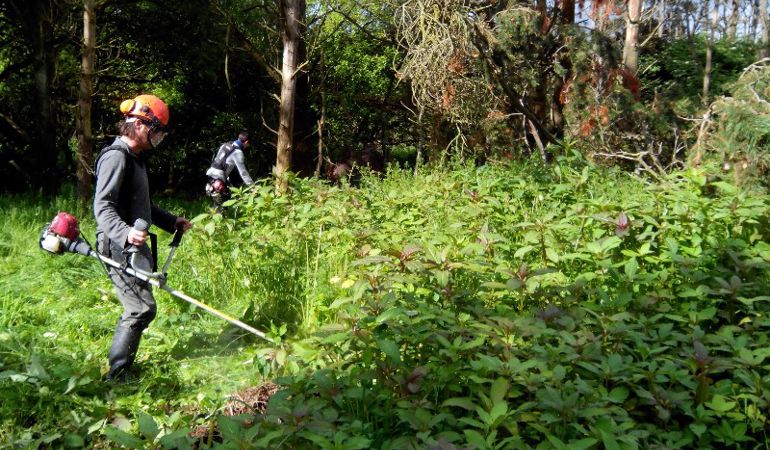 Work to eradicate Himalayan balsam from three rivers in mid Wales is showing real signs of success, according to Natural Resources Wales.
The Ystwyth valley is now largely free of Himalayan balsam right down to Llanilar, the Rheidol down to Aberffrwd and the Teifi down to Lampeter.
Himalayan balsam can be a huge problem for wildlife. It outcompetes and displaces native plants. It increases bank erosion, which can affect water quality and smother fish spawning beds, while at the same time contributing to increasing flood risk downstream.
Andy Polkey, NRW Senior Nature Reserve Manager in Ceredigion said:
"Because Himalayan balsam grows on riverbanks, the seeds are carried downstream each year to invade new areas. By working to tackle the problem from the tops of catchments, we are making our money go further, and hope to stop the plant from recolonising by working downstream.
"We are already working with Statkraft, Wales Wild Land Foundation and the Teifi Rivers Trust, but we welcome any help to control balsam by land owners, community groups and angling interests, particularly lower down river valleys where more people live and access to river banks is easier."
Local contractor Tom Taylor is carrying out the balsam clearing work for NRW. Tom set up a Balsam blog (http://himalayanbalsamwales.co.uk/blog/ ) so people can see how the work is progressing and report sightings. NRW has also been working with Welsh Government and Natural Solutions on a phone app that allows you to identify and log the location of invasive plant species - https://www.planttracker.org.uk/.
NRW is also looking at new ways to identify and eradicate invasive species. This year, biological control using a rust fungus has been trialled at four sites in Wales. If successful, this might reduce the need for Himalayan balsam removal in the future.
Andy added:
"To reduce the amount of balsam appearing it's important to pull or cut it several times a year before it produces any seed. We must continue to be vigilant about Himalayan balsam along these rivers, so that wildlife can thrive and people can enjoy and benefit from our well managed river environments."
Interested in volunteering for some balsam bashing in the Rheidol valley? Contact wwlf@cambrianwildwood.org.
First introduced into the UK in 1839 as a garden plant, Himalayan balsam produces thousands of seeds a year, from pods that open explosively, shooting seeds several metres away. Because the seeds float, the plant can spread at an alarming rate, away from riverbanks along ditches, hedges and road verges, even invading woodlands.
By removing Himalayan balsam from the upper catchments of the three rivers, NRW is safeguarding key habitats and wildlife, particularly at Grogwnion Nature Reserve in the Ystwyth valley, Coed Rheidol National Nature Reserve in the Rheidol valley and Cors Caron National Nature Reserve in the Teifi valley.