Tackling Giant Hogweed in the Afon Soch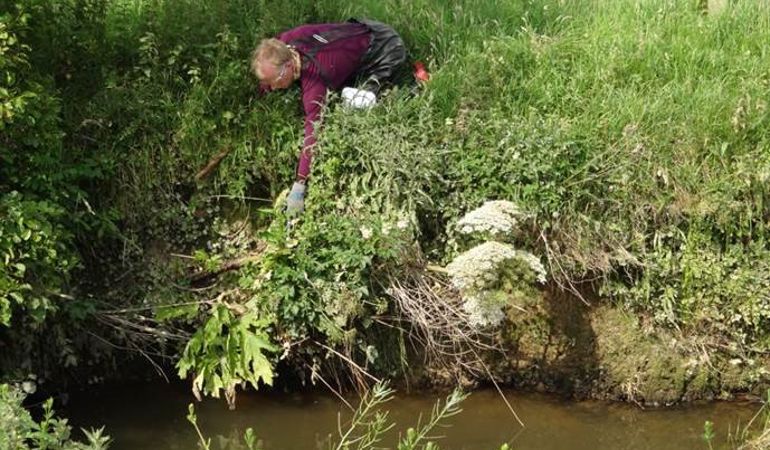 Work to eradicate an invasive and potentially harmful plant from a river on the Llyn Peninsula is underway, funded by Natural Resources Wales (NRW).
The three-year programme aims to clear Giant Hogweed, which can be a huge problem for people and wildlife, from the Afon Soch.
A tiny amount of sap from the plant can cause skin to blister by making it very sensitive to sunlight.
The Giant Hogweed also outcompetes and displaces native plants, which can cause river banks to erode and increase flood risk.
A survey of the Afon Soch showed that Giant Hogweed grows along more than 2.5 kilometres (one-and-a-half miles) of the riverbanks.
Bev Dyer, NRW Environment Officer in North West Wales said: "By working with local farmers and using a specialist team due to the plant's risk to human health, we aim to eradicate this invasive, non-native plant from the Soch.
"Although it's uncommon in the UK, it is spreading rapidly along river banks.
 "The Afon Soch does not currently meet European standards in terms of water quality. We look forward to seeing the situation improve so that wildlife can thrive and people can enjoy and benefit from our well managed river environments."
Originally from Southern Russia and Georgia, the Giant Hogweed was first introduced into the UK in the nineteenth century as an ornamental plant. It can spread at an alarming rate, reaching over three meters in height.
Over the next few years, this project will continue to control the spread of Giant Hogweed, allowing natural vegetation to regrow and increase the biodiversity of our river habitats.
Local contractor Adrian Moore is carrying out the Giant Hogweed clearance work for NRW.