Porth Eirias in Conwy becomes 105th official bathing water in Wales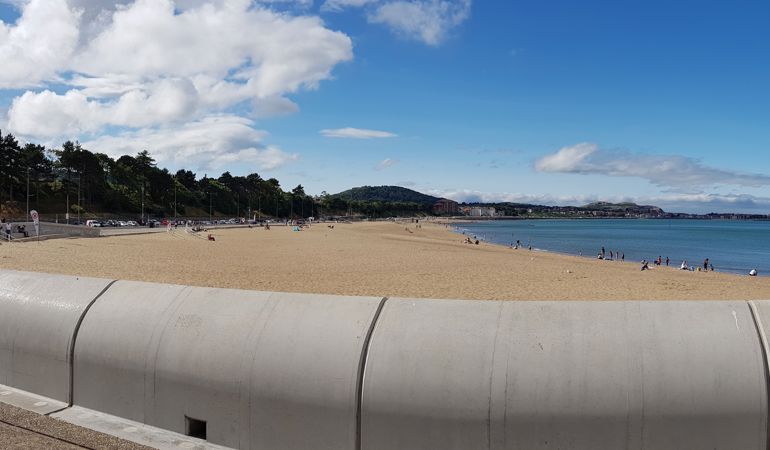 A new section of the North Wales coast is now the 105th official bathing water in Wales after being designated by Welsh Government.
The designation will mean that Natural Resources Wales will now monitor the beach throughout the bathing water season (May-September) and take action to make sure the water is clean and safe.
Porth Eirias, near Colwyn Bay, became a designated bathing water site today (15 May) after meeting the criteria for designation and following public consultation by Welsh Government.
Bathing water quality in Wales has been improving year on year and in 2018 coastal waters were 100% compliant, meaning every designated site achieved a rating of sufficient, good or Excellent.
Wales' beaches currently hold a total of 102 awards including 18 Green Coast awards, 40 Seaside Awards and 44 Blue Flag awards, more Blue Flags per mile than anywhere in the UK.
Melissa Broad, Water Quality Advisor, said:
"Looking after Wales' bathing waters is a big priority for us, not just for the sake of human health but for the ecosystems that depend on clean coastal waters as well.
"We work hard with local councils, Dwr Cymru/Welsh Water and various other partners to make sure we limit the amount of pollution entering our seas as much as possible.
"Last year was a great result for Wales and we're hoping to improve on that this year along with our newest designation at Porth Eirias".
The bathing water season runs from 15 May to 30 September and during this period NRW will take samples at the designated sites and analyse them against European standards, rating the samples Poor, Sufficient, Good or Excellent depending on bacteria levels.
Part of this work is to identify sources of pollution that might cause individual bathing waters to be rated poorly and to put plans in place to stop or reduce the pollution in the area.
Often samples are affected by pollution incidents upstream but thanks to a concentrated effort to tackle watercourse pollution, Wales' bathing waters have only had two Poor results since 2015.
Check the quality of the bathing water near you on the NRW website here: http://environment.data.gov.uk/wales/bathing-waters/profiles/index.html