Pollution kills fish on the afon Llynfi near Brecon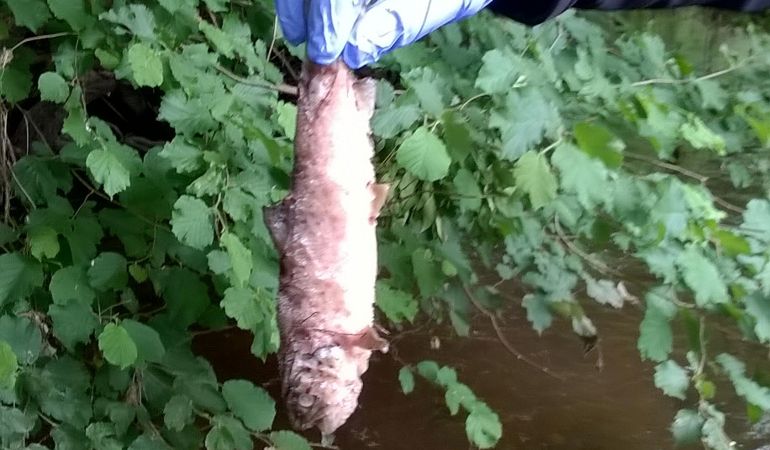 Natural Resources Wales is appealing for information following pollution on the afon Llynfi
Update 06/07/16
Natural Resources Wales (NRW) has now concluded its assessment following a pollution incident that killed over 2000 fish on the afon Llynfi near Three Cocks, Brecon.
Following further information, NRW is now widening its investigation and appealing for information or witnesses to help them trace the source of the pollution.
This pollution would've happened between Tuesday 28 June and Saturday 2 July.
The pollution has now dispersed and the water quality is back to normal and the ecology of the river will begin its natural process of recovery.
NRW is asking people to report any information they have to its incident hotline on 0800 807060.
05/06/16
Natural Resources Wales (NRW) is appealing for information following a pollution incident that killed hundreds of fish on Saturday 2 July.
NRW officers are investigating the incident on the afon Llynfi, a tributary of the river Wye, near Three Cocks, Brecon.
Two officers were sent to investigate on Saturday evening to look for signs of pollution and attempt to find the cause of this significant loss of fish.
Initial reports had found over 50 fish had been killed. An on-going assessment of the impact of the incident has reported hundreds of fish killed, which includes brown trout and bullheads.
Steve Morgan, South East Operations Manager for Natural Resources Wales, said:
"Our rivers provide a home to rich, diverse and valuable species of plants and animals so it's important to deal with pollution as quickly as possible.
"Our investigations into how this incident happened are on-going.
"If you have any information about the incident please report it to our incident hotline on 0800 807060."