Officers take action at 'smoking' waste site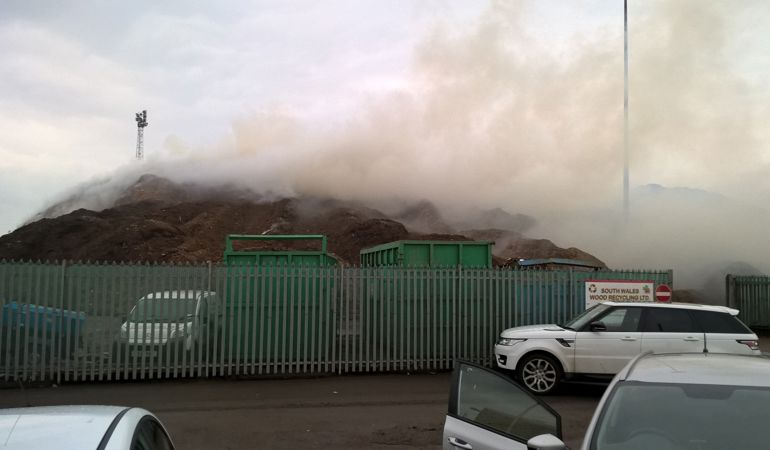 We continue to take action at a Newport wood recycling facility to tackle an ongoing fire
South Wales Wood Recycling Ltd at Newport Docks has 18-20,000 tonnes of woodchip waste onsite awaiting recovery.
A number of hot spots within the waste have been exposed during the past week and this has resulted in some fire break outs. Smoke is being created through the efforts of extinguishing these breakouts.
The operator is removing waste from the facility to try and reduce the amount of wood that could potentially catch alight.
Ashley Lansdown from Natural Resources Wales said:


 "The operator has been working with NRW and the South Wales Fire and Rescue Service and Public Health Wales to ensure the impact to both the environment and nearby communities is minimised.The operator is taking advice of digging out the hotspots, spreading and dampening down the waste to cool it down."
Public Health Wales is also monitoring the situation. Sarah Jones, Consultant in Environmental Health Protection, advised
 "If you live in a place affected by the smoke, stay indoors and keep doors and windows closed. If you need to be outdoors, try to avoid areas affected by smoke or ash. Smoke can irritate air passages, the skin and the eyes leading to coughing and wheezing, breathlessness and chest pain. It can also worsen existing problems such as asthma and people with asthma should carry their inhaler with them at all times. Anyone concerned about their symptoms should contact their GP or NHS Direct on 0845 46 47 or at www.nhsdirect.wales.nhs.uk. These symptoms usually disappear very soon and should not lead to any long term health problems.
 "At home, close doors and windows when affected by the smoke, but make sure you open them again to air your home when the smoke passes.
 "The smells are usually at levels below which there may be harm to health, but can still cause annoyance, stress and anxiety. Some people may experience symptoms such as nausea, headaches or dizziness as a reaction to odour, even when the substances that cause those smells are themselves not harmful to health.  
 "NRW Environment Officers will continue to work with our partners to monitor the situation and start and establish what steps can be taken to reduce the likelihood of it happening again."