NRW breakthrough in breeding endangered freshwater pearl mussel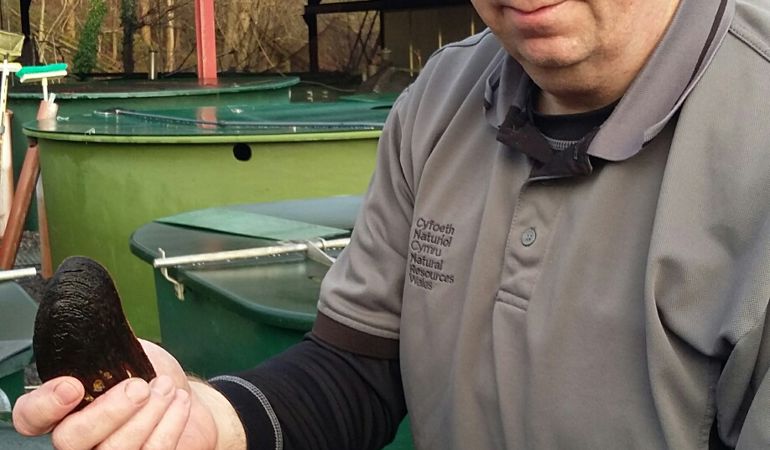 Work to save a critically endangered mollusc in Wales has taken a big step forward thanks to a pioneering programme by Natural Resources Wales (NRW).
Their population is no longer viable because they are all old and there aren't many of them left.
But a breeding programme at an NRW hatchery means they are thriving beyond 6 months for the first time, due to a new tub rearing technique using sediment and algae.
This could signal a breakthrough which could see populations of this ancient and elusive mollusc revived in Welsh rivers.
NRW's captive breeding and re-introduction programme at its Cynrig hatchery in Brecon aims to ensure the short to medium term survival of this species.
The first juvenile mussels have now been hatched.
Only the Mawddach river catchment in the north and the Wye river catchment in the south have any sizable populations of freshwater pearl mussels - one of the longest living invertebrates. 
Their complex lifecycle starts with a short parasitic phase when the eggs attach to a salmon or trout.
As juveniles they spend 10 years buried in river gravels.
Finally, as an adult they have a life span of more than 100 years,  growing to more than six inches long.
They need rivers with clean, well-oxygenated water and stable gravels. In a good quality environment pearl mussels can occur in vast beds of 1000 mussels per square metre, covering extensive areas of the river.
It is thought that in watercourses where this species was once abundant, their filter feeding clarified the water, benefiting other species in the rivers and streams.
Dr John Taylor, Natural Resources Wales' Fisheries and Aquaculture Technical Specialist, said:
"Wildlife is an important part of our environment, our heritage and our culture in Wales. We need to do more to help the survival of species threatened by increasing pressure from society and climate change.  
 "The "Pearls in Peril" programme we co-funded has helped to restore the habitat of the freshwater pearl mussel.
 "Now we have cultured 1,300 juvenile mussels using special techniques pioneered in Czechoslovakia, Norway and Luxembourg. 
 "Adult mussels are brought into the hatchery in June and settled into a fish tank in a gravel basket. 
 "In August the mussels release spat, known as glochidia, which latch onto the gills of the trout in the tank and stay there over winter until they drop off in the following spring. 
 "At this stage the mussels, about 1/3rd of a millimetre in length, are collected in plankton nets and transferred to plastic tubs containing a mixture of organic detritus and commercial concentrated algae.
 "The mussels feed by grazing with their foot and the plastic tanks have to be cleaned out and re-fed once per week. 
 "The juvenile mussels have now reached 2-3mm and have been transferred to a special rearing trough resembling an artificial river. They are fed a daily diet of algae. 
 "It is hoped that in a year to 18 months' time, the mussels will be capable of filter feeding and be ready for controlled release. Work is currently underway to look at suitable release sites."
Historically, freshwater mussels were hunted for their much sought-after pearls - Julius Caesar's love of these pearls is reputed to have been a factor in the first Roman invasion of Britain in 55BC.
Now they are struggling from river pollution and dwindling fish stocks. 
Clean gravel and sand is essential, particularly for juvenile freshwater pearl mussels. If the stream or river bottom becomes clogged with silt, they cannot obtain oxygen and will die.
Due to the essential role they play in the life of the freshwater pearl mussel, conservation of salmon and trout is also central to its survival.
This is the first time that cultured mussels have reached this hardy size in Wales at these significant numbers.
It represents real hope that substantial numbers of mussels can be re-introduced to bolster these important freshwater mussel populations.