NRW begin flood defence project in Solva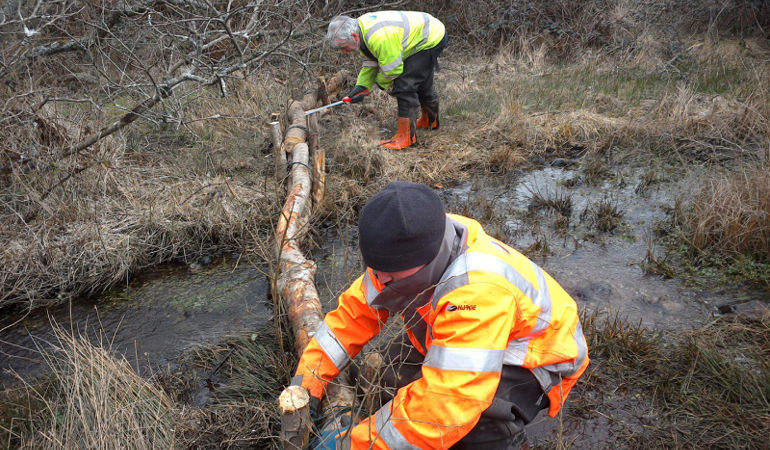 Natural Resources Wales (NRW) has started work on a two-year project in Solva, Pembrokeshire that will aim to reduce flood risk for over 40 properties in the local community.
The project, working with local partners including the Pembrokeshire Coast National Park Authority, Pembrokeshire County Council, the National Trust and local landowners, will focus on using natural flood risk management techniques along with traditional methods to 'slow the flow' and manage flood risk in the Solva catchment.
The first phase of this work involves the installation of 11 leaky dams on a tributary near St Davids Airfield on land managed by the National Trust and Pembrokeshire County Council.
Leaky dams allow normal flows to pass underneath them but restrict higher river flows and allow more water to be absorbed and stored locally.
Over the next two years NRW plan to install leaky dams at other suitable locations as well as other natural processes along the local watercourses.
This will improve the level of flood protection given by Pont y Cerbyd Flood Storage Area to the communities of Middle Mill and Solva.
Mair Rees, Technical Officer of Biodiversity for NRW, said:
"Lowering flood risk for communities is one of our biggest goals, which is why we monitor river levels 24 hours a day, find solutions to defend homes and work closely with those at risk.
"The work we've started in Solva is an example of green engineering, where a solution to a problem not only has minimal environmental impact but can also bring improvements to water quality, biodiversity and habitat creation.
"By working with natural processes, we are helping to sustainably manage the natural resources of Wales.
"We're very excited to be starting this project and we look forward to working with our partners again and with local landowners and communities in the future."
Cllr Cris Tomos, Pembrokeshire County Council's Cabinet Member for the Environment and Welsh Language, said:
"We are very pleased to support the NRW in this exciting project and are hopeful that it will result in a much-improved flood defence system for Middlemill and Solva while continuing to protect the natural habitat.
"The project is an excellent example of joint working across various organisations, with several officers providing assistance from different teams within the County Council, as well as support and advice from the Pembrokeshire Nature Partnership."
Mark Underhill, National Trust Countryside Manager for North Pembrokeshire, said:
"We are really pleased to be able to help Natural Resources Wales with this project.
"It is interesting to see this innovative low-tech approach to managing flood risk which could also bring some conservation benefits to the land we manage."