NRW attends slurry pollution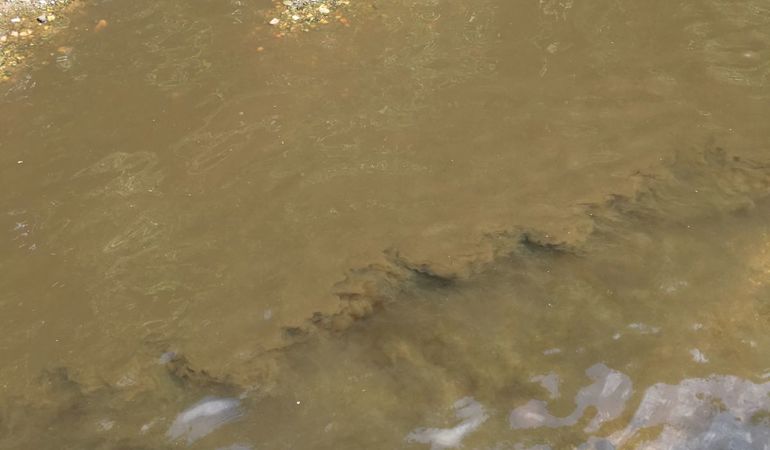 Officers from Natural Resources Wales (NRW) are on site dealing with slurry pollution in the Afon Bach in Tremeirchion, Denbighshire.
NRW received a report of suspected slurry in the river and traced it back to a farm, where they found the source to be a slurry lagoon.  Action was taken by the farmer immediately to fix the problem and stop the source of the pollution, and efforts continue to fix the damage and stop further slurry entering the river. 
Water samples have been collected to check how badly water quality in the river has been affected, and officers have confirmed that some fish and eels have been killed by the pollution. 
There is a risk that the incident could affect the quality of the bathing waters at Rhyl throughout today (16 June, 2017). Officers are working to ensure the impact on the River Clwyd, Rhyl and its bathing waters are minimised. 
As a precaution, Denbighshire County Council is advising its residents and visitors not to paddle or swim in the sea or allow their children to play on the beach for a temporary period and signs advising this course of action have been put in place at all beach entrance points. 
The Council also advises that dogs should not enter the water during this closure period. 
Nick Thomas, from Natural Resources Wales said: 
"We're doing everything we can to reduce the impact of the pollution on the river and its wildlife, and we're advising the farmer on what needs to be done to secure the slurry lagoon to stop further pollution. 
"Unfortunately, we know that it's already led to some fish deaths, and we'll be monitoring the river closely over the following days to fully assess the impact. 
"Once we're happy that the risk of further pollution has passed, our next steps will be to consider enforcement action against those responsible if appropriate. 
"We're taking the issue of agricultural pollution very seriously at the highest level and continue to work with the farming industry and its unions to deliver a step-change in reducing pollution incidents." 
If anyone sees further signs of pollution in the area they should report it to the NRW incident hotline on 0300 065 3000.
Denbighshire County Council will continue to monitor the situation and when they are confident the bathing water quality has returned to an acceptable standard, the signs will be removed and the beaches and sea can be accessed as normal.